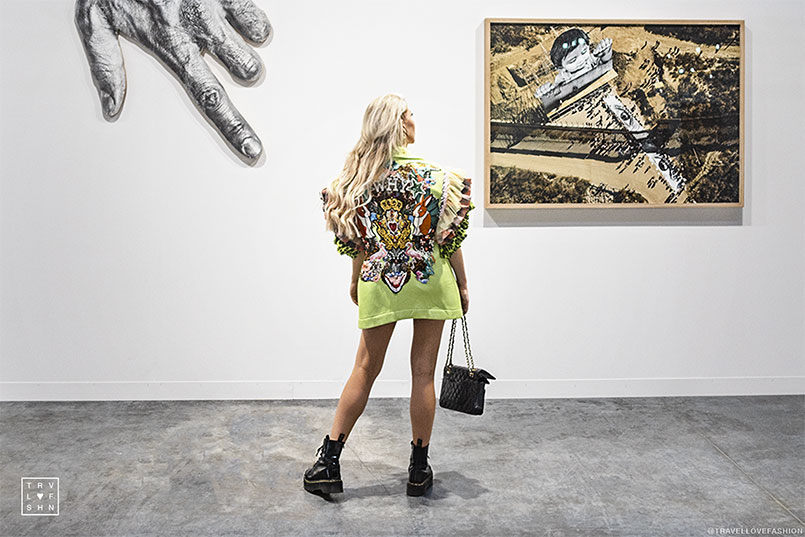 What to Wear to Art Basel Miami Beach 2023
Step into the glamorous realm of art and fashion as we unveil the 24 most captivating trends to wear to Art Basel Miami Beach 2023. In a city where every corner exudes a pulsating blend of avant-garde creativity and sun-kissed allure, your sartorial choices are your canvas. Art Basel isn't just an event; it's a vibrant tapestry of inspiration, where couture and culture collide in a dazzling explosion of color, texture, and style. With the azure waves as your backdrop and contemporary masterpieces all around, our style guide is your ticket to making a statement amidst the cultural elite. From futuristic florals to bold silhouettes, we've curated 24 trends to create ultimate fashion repertoire for what to wear to Art Basel Miami Beach 2023.
Brown Leather
Brown leather emerges as a definitive go-to trend for Art Basel Miami Beach 2023, encapsulating the essence of sophistication and modern artistry. This timeless fabric, in its various forms, harmonizes beautifully with the city's diverse and dynamic art scene. Whether it's a sleek leather jacket or sumptuous brown leather accessories, such as handbags or boots, this trend effortlessly bridges the gap between urban chic and Miami's cultural melting pot. The earthy hues of brown leather juxtaposed against the vibrant backdrop of Miami Beach create a striking visual statement, showcasing the wearer's ability to meld classical and contemporary styles. Embracing brown leather at Art Basel is like wearing a badge of appreciation for art, fashion, and the fusion of the two in one of the world's most exhilarating cultural celebrations.

Fancy Flats
This is not so much a new trend that's currently in fashion but a favored shoe silhouette that has gained recognition again. The appeal of dressy, statement flats has long been acknowledged, offering all the chic of towering stilettos without the need for added height. It's quite pleasing to observe that several renowned brands have now embraced this style. Fancy flats make an excellent choice to elevate your Art Basel Miami Beach 2023 look. Their refined design gives an air of artful elegance that complements the high-fashion artistry one can expect to encounter at the event, ensuring a stylish, and comfortable, entry into the world of art.

Futuristic Florals
Florals found a fresh interpretation on the fall runways, as they were deconstructed and transformed into intricate 3D creations. Embrace this innovative approach when packing for Art Basel Miami Beach 2023. Flowy, textured tops adorned with a harmonious medley of watercolor florals perfectly epitomize the artistic spirit of the event. Complement this look by pairing them with slip skirts that echo the same delightful, delicate theme. For an extra layer of texture and depth, consider adding printed mesh tops as a versatile addition to your ensemble. This contemporary take on florals is the ideal choice for what to wear to Art Basel 2023. It mirrors the ever-evolving and boundary-pushing nature of the contemporary art world, allowing you to make a unique statement through your fashion choices.

Bright Red
Barbiecore, marked by a resurgence of bright pink and '80s-inspired attire, eagerly embraced by ardent "Barbie" enthusiasts in anticipation of Greta Gerwig's film release in July 2023. While we don't anticipate the departure of bright pink, it is undergoing an exciting transformation as vibrant red hues prepare to take center stage this season. This trend offers a fresh opportunity to step out of your comfort zone by embracing lighter and more brilliant shades of red. But the versatility of red extends beyond monochromatic ensembles, as it serves as the perfect choice for striking pops of color, ideal for those who prefer donning black ensembles at Art Basel events. Whether you opt for a metallic red to create a scene or choose red leather pieces for an edgy touch, this trend exudes a confident energy, making it an ideal choice for making a stylish impact at Art Basel Miami Beach 2023.

Mod Moment
Embracing he mod trend at Art Basel entails gravitating towards bold, funky prints. A mini dress, in this context, exudes a playful yet sophisticated charm, seamlessly complemented by white leather boots, promising an effortlessly chic ensemble. Additionally, colorful maxi dresses introduce a vibrant and dynamic flair to your wardrobe, making them an exceptional choice for curating the perfect Art Basel outfit. The mod trend, with its striking patterns and bold colors, is exceptionally well-suited for the art fair event, as it mirrors the playful nature of contemporary art. By incorporating mod-inspired fashion into your Art Basel attire, you not only pay homage to artistic movements of the past, but also demonstrate a keen eye for style that perfectly resonates with the cutting-edge creativity on display at Art Basel Miami Beach 2023.

Kitten Heels
Kitten heels are perfectly suited for navigating the art events in Miami Beach throughout the day and into the night. Their comfort and versatility make them an ideal choice for art enthusiasts exploring the cultural offerings of the city. The fashion world continues to sing the praises of ballet flats, but this season marks the time to upgrade your Art Basel footwear to a kitten heel. These versatile shoes adorned with a 2.5 cm heel, offer valuable arch support, making them a must for Art Basel Miami Beach 2023.

Denim on Denim
The denim-on-denim trend maintains its enduring appeal. The timeless trend receives an update, replacing light-wash, low-rise jeans with a darker-wash skirt set. The city-girl-meets-school-girl-inspired ensemble emerges as a standout choice. When paired with chunky loafers or high-heeled boots, this trend transforms into a versatile and essential staple for any Art Basel Miami Beach 2023 outfit. Denim, with its ability to effortlessly blend classic and contemporary elements, epitomizes the ideal choice for this art-centric event.

Capes
Capes, including both cape dresses and cape sleeves, stand out as an exceptional choice for crafting a memorable ensemble at Art Basel Miami Beach 2023. Capes exude an air of drama and sophistication, perfectly in tune with the artistic extravagance of the event. Their flowing silhouettes create a dynamic visual impact in the diverse art scene in Miami. Cape details add a layer of intrigue and artistry to your outfit, making a bold statement without the need for excessive accessories or embellishments. The flowing lines and dramatic shapes of capes capture the essence of artistic expression, elevating your presence amidst the cultural elite.

Metallics
No need to wait for the holidays to shine in a lamé dress, silver shoes, and light-reflecting clothes. Art Basel Miami Beach 2023 is the perfect time to take these pieces out and dare to wear them on the streets. Metallic colors will make your Art Basel outfit completely unique and bring out your one-of-a-kind personality. Go all out disco ball or embrace all that glitters is by balancing it out with clean neutrals and solid-colored basics. To keep things on the minimalist side, try only focusing on accessories. If you want to go a bit bolder, opt for larger pieces such as silver metallic pants that catch the light as soon as you take a step.

Polka Dots
Polka dots emerge as a lively choice for creating fun and funky outfits in 2023. What was once considered a sweet and retro print now boasts subversive chicness, thanks to innovative silhouettes and surprising textures. An airy and sheer skirt promises an instant fashion hit at Art Basel Miami Beach 2023. A jumpsuit adorned with playful polka dots allows for a striking style statement. When thinking about what to wear to Art Basel 2023, go bold by pairing polka dot pieces of varying sizes and hues together.

Maxis
Maxi skirts and dresses have emerged as a standout trend for Art Basel Miami Beach, reflecting the city's vibrant and diverse art scene. Their flowing silhouettes and versatile designs make them the perfect canvas for showcasing artistic individuality. For a casual daytime look, pair a flowing maxi skirt with a graphic tee and comfortable sandals, exuding an effortless and artsy vibe. When it's time to dress up for more formal Art Basel events, elevate your maxi dress with statement jewelry, strappy heels, and a chic clutch. The beauty of maxi skirts and dresses lies in their adaptability, ensuring that you can effortlessly transition from exploring art exhibitions during the day to attending glamorous soirées in the evening while maintaining a fashionable presence.

Lace
Adorn yourself with layers of lace and intricate textured embroidery for opulent dressing that exudes an undeniable sense of femininity without ever feeling excessively ornate. Be it a pristine white lace maxi dress or a sleek black lace midi skirt, this fashion statement seamlessly blends elements of grunge, girlish charm, and bohemian simplicity. The beauty of lace lies in its unique ability to strike a harmonious balance between edginess and forward-thinking fashion. During Art Basel Miami Beach 2023, whether you're exploring the daytime art exhibitions or attending the evening parties, lace allows you to make an edgy and fashionable statement. Daytime calls for lace paired with casual accessories for a chic yet relaxed look, while nightfall can be celebrated with lace ensembles enhanced by bold jewelry and high-heeled boots, resulting in a captivating fusion of art and style that truly captures the spirit of Art Basel Miami Beach 2023 fashion.

Bold silhouettes
Art Basel Miami Beach 2023 calls for embracing bold silhouettes as the ultimate way to make a striking and unforgettable fashion statement. The event itself is a vibrant blend of avant-garde creativity and contemporary art, and bold silhouettes perfectly encapsulate this atmosphere. Whether it's oversized and sculptural dresses, sharp tailored blazers, or exaggerated wide-leg pants, these daring shapes reflect the event's dynamic vide. Bold silhouettes not only grab attention but also create a living art form in themselves, embodying the boundary-pushing nature of the contemporary art showcased at Art Basel. By incorporating these audacious designs into your Art Basel outfits, you'll become an integral part of the artistry and cultural celebration, ensuring that you stand out on the Miami Beach art scene.

Bows Everywhere
At present, fashion is ablaze with a celebration of girlhood, and bows have emerged as its most captivating emblem. Exuding a coquettish, feminine charm with a hint of subversiveness, bows, regardless of their size, possess the remarkable ability to transform any ordinary garment. Bows have become the cool route to elevate your attire for Art Basel Miami Beach 2023. Their whimsical touch adds an artistic flair to your ensemble, making them the perfect accessory to wear to Art Basel Miami Beach 2023.

Off-the-shoulder
The classic off-the-shoulder silhouette is experiencing a resounding resurgence, making it a perfect choice for Art Basel Miami Beach. This trend strikes an ideal balance between revealing a hint of skin and remaining cozy as the temperature dip inside the art fairs and in the evening in Miami in December. Off-the-shoulder styles have long been a fashion favorite, but this season, they are undeniably taking center stage. Their ability to accentuate collarbones and the neck adds an element of allure, allowing individuals to express their unique personal style effortlessly. Notably, the runways have showcased this trend paired with statement earrings, infusing an extra dose of drama and artistry into the look. The off-the-shoulder look encapsulates the vivacious ambiance of Art Basel, ensuring that you remain both stylish and comfortable while immersing yourself in the world of contemporary art and culture.

Peplum
The peplum is officially back on the fashion map and whether you were into them first time around you'd be wise not to disregard the look at Art Basel Miami Beach 2023. Creating a beautiful silhouette, the traditional fit-and-flare shape of a peplum piece renders it universally flattering and is a great way to dress up an otherwise more understated look.

Art Prints
Collector-worthy prints made an appearance on plenty of runways this season. Clearly, fashion has art on the brain this season and Art Basel Miami Beach 2023 is the perfect place to lean into these printed pieces. The fashion and art crowd alike covets art inspired looks. This trend is a must to wear at Art Basel Miami Beach 2023.

Gothic Chic
As the art begins to go up in Miami Beach, it's time to embrace your inner Wednesday Addams with the hauntingly stylish gothic chic trend. Picture yourself in darkly elegant outfits draped in the rich hues of black and deep jewel tones. But it's not just about color; texture takes center stage here, too. Lace and velvet become your trusted allies in crafting this bewitching Art Basel look. For daytime adventures, slip into a sheer black dress paired with funky boots to serve a bit of mysterious sophistication. But when the moonlight calls, don't shy away from unleashing your inner goth goddess. Opt for a lacy dress that captures the dark aesthetic perfectly, and layer on those accessories — even your nails can explore the Wednesdaycore trend. If this is already your style, feel free to amp it up with even edgier pieces, and if it isn't, get ready to embrace the shadows this Art Basel Miami Beach 2023 — and add a touch of dark drama to your art fashion lineup!

Statement jewelry
The resurgence of chunky accessories feels long overdue, as they now dominate the accessory scene, offering a versatile means to elevate any Art Basel outfit. Bold statement pieces like oversized necklaces, cuffs, earrings, and clutches, with even brooches making a comeback, are bringing minimalist ensembles to life. For Art Basel Miami Beach 2023, these statement accessories perfectly align with the event's creative spirit. They can turn a simple attire into a captivating work of art, adding a touch of glamour and sophistication. Whether it's donning chunky gold earrings to enhance an athleisure ensemble, adorning a minimal dress with a chunky silver necklace, or carrying an elevated clutch while wrapped in a sheer beach cover-up, statement jewelry becomes the perfect way to make an impression amidst the vibrant cultural milieu of the art fair.

Feathers
Feathers have emerged as the definitive go-to trend for Art Basel Miami Beach 2023, epitomizing a sense of whimsy and artful extravagance. During the day, consider incorporating feathered elements into your ensemble through accessories like feathered earrings, belts, or even a feather-trimmed handbag. These pieces add a touch of flair to your daytime look while maintaining comfort and versatility for art exhibitions and cultural explorations. For the evening events and glamorous soirées that define Art Basel, opt for feathered dresses, skirts, or capes, infusing a sense of theatrical drama into your outfit. Feathered gowns in bold and vibrant colors offer an exquisite blend of elegance and artistic expression, ensuring you make a striking impression during the night's festivities.

Sheer Fabric
Perfect for the steamy temps in Miami Beach, sheer clothing items can be combined with lingerie underneath and … nothing else! It's a risqué look, but one that will be in no short supply in the sexy atmosphere that Miami brings to Art Basel. To raise the modesty bar a bit, you can always add a jacket or a high-waisted pair of denim, or simply ditch the bralette in favor of a bodysuit instead. Day or night, sheer fabric is the ideal trend to wear at Art Basel Miami Beach 2023.

Cowboy boots
Cowboy boots are the perfect choice for all events at Art Basel Miami Beach, offering a blend of style, comfort, and an unmistakable edge. These iconic boots, which seamlessly bridge the gap between Western heritage and contemporary fashion, provide a unique presence at the diverse array of gatherings that Art Basel offers. Their rugged yet chic design complements the dynamic art scene of Miami. Cowboy boots offer not only a sense of fashion-forward individuality but also practicality, making them a versatile choice for navigating the art exhibitions, galleries, and cultural festivities. Whether you're strolling through outdoor installations or attending upscale soirées, cowboy boots effortlessly enhance your overall Art Basel looks.

Vests
Vests are the latest hot trend that's taking the fashion world by storm, and they couldn't be more perfect to wear to Art Basel Miami Beach 2023. Their versatility and ability to blend chic with edgy make them an ideal choice for this art-centric event. Vests offer a canvas for personal expression, allowing you to create standout looks that capture the essence of contemporary art and culture celebrated at Art Basel. Whether you opt for a tailored waistcoat for a more polished look or a leather biker vest for a touch of rebellious style, vests infuse a dynamic edge into your attire. They can be easily layered over dresses, blouses, or graphic tees, adapting seamlessly to both daytime art explorations and glamorous evening gatherings, making vests a trendy and pragmatic choice to stay fashion-forward throughout Art Basel Miami Beach 2023.

Hoop Earrings
Hoop earrings have risen to prominence as the hottest accessory trend of the moment, and their allure makes them a perfect match for Art Basel Miami Beach 2023. Their bold, circular design adds an element of drama and artistry to your overall look, aligning perfectly with the creative and avant-garde atmosphere of the art fair. Hoop earrings come in a variety of sizes and styles, allowing you to personalize your statement and elevate your outfit, whether you're exploring the day's art exhibitions or mingling at evening soirées. Their timeless appeal and ability to effortlessly complement different ensembles make them a versatile choice for fashion-forward individuals seeking to make an unforgettable impression amidst the vibrant cultural tapestry of Miami Beach.

Now that you know the hottest trends to wear to Art Basel Miami Beach 2023, click HERE to see how to wear them!