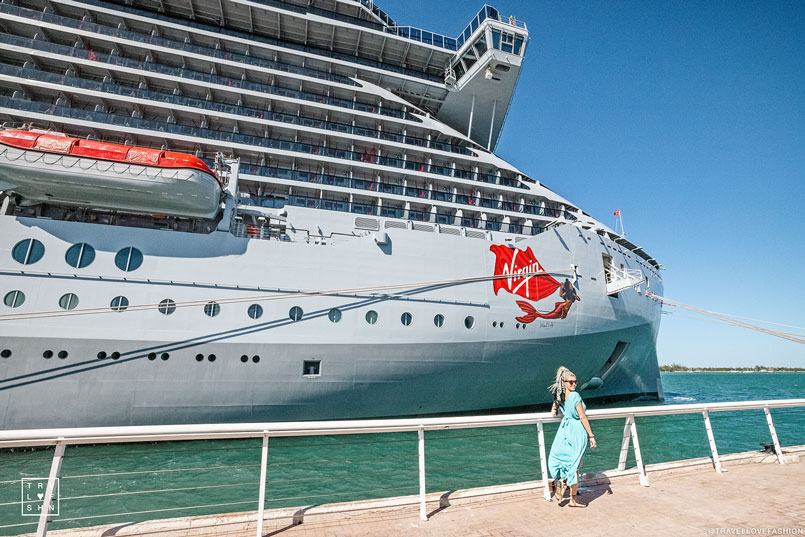 All cruise vacations are the same, right? Think again! Virgin Voyages is a brand new cruise line disrupting cruising as usual. That's great news for young professionals who think a cruise vacation isn't for them. Forget about the hordes of old folks roaming the halls, drunk college students thinking it's Spring Break. There are absolutely no screaming kids at the pool deck. Virgin Voyages is an adult-only vacation where hip and trendy people can turn things up in an environment that's bold, exciting and accepting. If you don't think traditional cruising is the best cruise for you, Virgin Voyages is here to change your opinion and make you a sailor for life. 
With unique itineraries, a private island resort in the Bahamas and Scarlet Night, one of the best parties at sea, Virgin Voyages is changing the way people view cruises and that could not be better for an industry that's gotten stale. The line's three ships; Scarlet Lady, Valiant Lady and Brilliant Lady are tech-savvy and gorgeous. They boast chic spaces to explore and lots of fun waiting around every corner. 
Here's why Virgin Voyages is the best cruise for people who don't think they like cruising! 
Virgin Voyages Cruise Vibe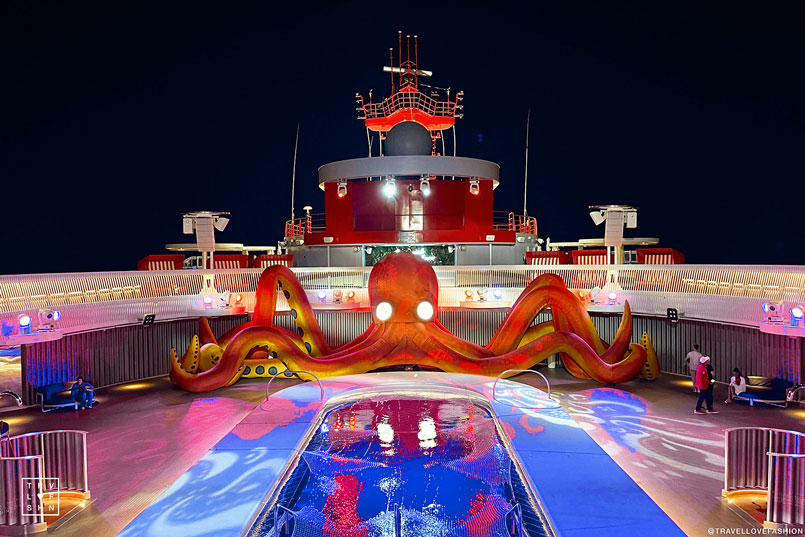 Leave your formal wear at home, unless it's bright red and beadazzled! Virgin Voyages is a fashion-forward cruise with a younger average age between 30 and 50 years old. Tight bodies, revealing attire and people who aren't afraid to be bold fill the decks. With programs available all day and night, sailors can choose the amount of wellness or partying that suits their personality. 
The laid-back atmosphere makes for an inclusive setting where everyone can feel free to be themselves. There's no pressure or judgment from crew or fellow sailors to conform to any certain mold. It's a refreshing change-of-pace from the norm when it comes to a cruise vacation. 
Virgin Voyages Entertainment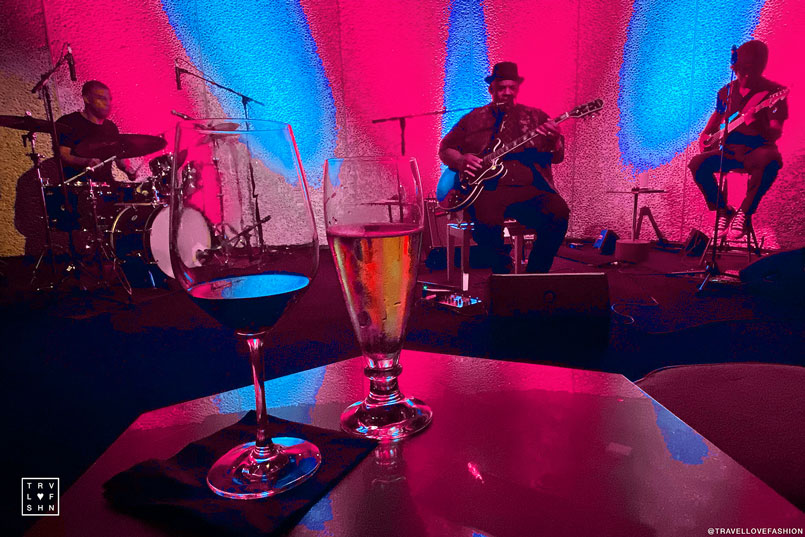 As we've come to expect from anything from a Virgin brand, the entertainment on board the cruise line is well above-average. From high-flying acrobatics to comedy shows and endless amounts of live music, a Virgin Voyages cruise has a little something for everyone. The entertainment on Virgin Voyages is more risque than other cruise lines in terms of adult themes and language, but for many people that's all part of the fun. 
Shows like Never Sleep Alone and The Miss Behave Show are certainly geared towards adults in every way and encourage audience participation. However, if you don't feel like participating, don't worry, there's usually a bunch of sailors clamoring to get onstage to join in the fun. 
If the shows are booked or you want to try something new, there are private karaoke rooms at The Groupie or even spin some classic or contemporary vinyl in private booths at the Voyage Vinyl. Ships in the Night and Duel Reality are two of the less provocative shows on board Virgin Voyages. 
Virgin Voyages Technology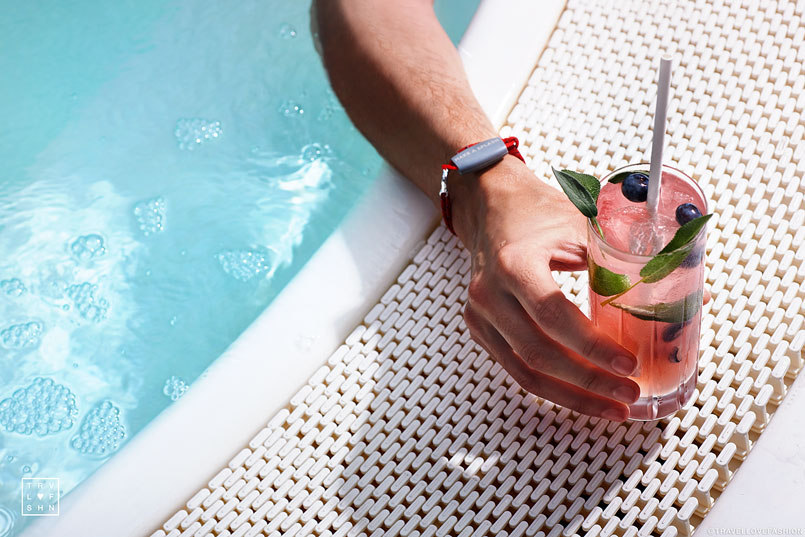 Most new ships these days are pretty tech-savvy. Cruise lines pride themselves on keeping up with the latest and greatest advancements. Virgin Voyages sailors will find the app essential to their cruise as it offers a place to do everything. Sailors can book dining and entertainment, order room service, send messages to other sailors, check their onboard account, book shore excursions, see the daily event lineup and much more. The app even allows for calls between ship staff and guests. If there's an update with something like your room service order, you know right away. 
Virgin Voyages also forgoes traditional swipe cards in favor of a wearable tech called The Band. Made from red rope with a nautical silver anchor pendant, The Band has a waterproof capsule attached to it that is your key to the ship. The Band opens your stateroom door, scans you on and off the ship, and is used to make purchases around the ship like drinks or souvenirs. 
Virgin Voyages Onboard Spaces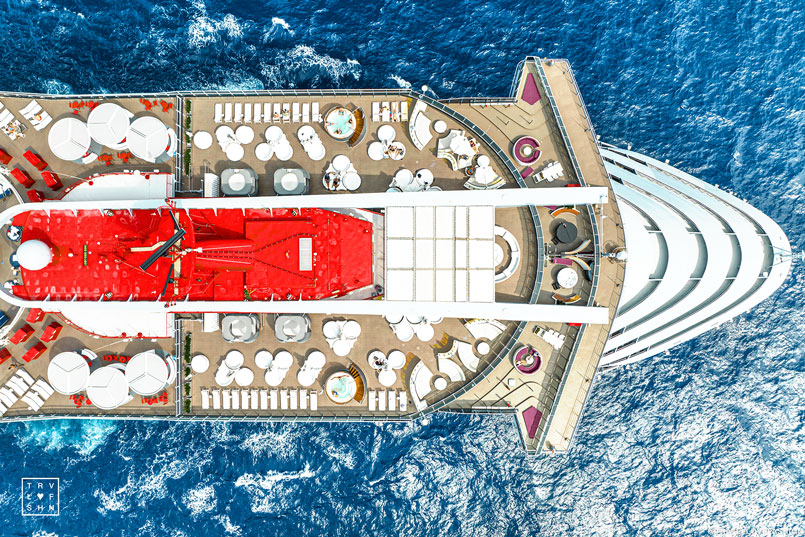 Virgin Voyages made it a point to style their ships unlike any other. From the unique gray and red color scheme to the chic and stylish decor found around the ship, the theme is modern and elegant with an edge when it comes to artwork and lighting. There are plenty of spaces on board to turn up or chill out. You can have a great time no matter what mood you're in. 
The best places on the ship to relax can be found all over. One of the most low-key and chill spots on the ship is the Dock House, an outdoor venue at the back of the ship with lots of comfortable seating, drink and food service and live music. This is the perfect spot to watch the sunset. 
On the Rocks lounge found midship on Deck 6 is a craft cocktail bar which plays host to several different singers and musicians throughout the day and evening. A latin music singer and blues band are some of the highlight performances. 
For those looking for spaces on board that are high-energy to get turnt up, the main pool deck during the afternoons on a sea day, The Manor nightclub and the Casino were all hotspots for activity and you'll find plenty of your fellow sailors to mingle with. 
Speaking about mingling with other sailers, have you heard rumors that Virgin Voyages is a sex cruise? Check out all the details HERE.
Suite guests staying in the Rockstar Quarters are also privy to an exclusive area on board called Richard's Rooftop. Virgin Voyages calls this a "members only club" where only true rock stars get to go. The secluded space is open all day and evening and features a private pool and bar area with lots of daybeds and places to relax. The space has more of a vibey decor thanks to the art, light and attentive service. 
Wellness and Beauty on Virgin Voyages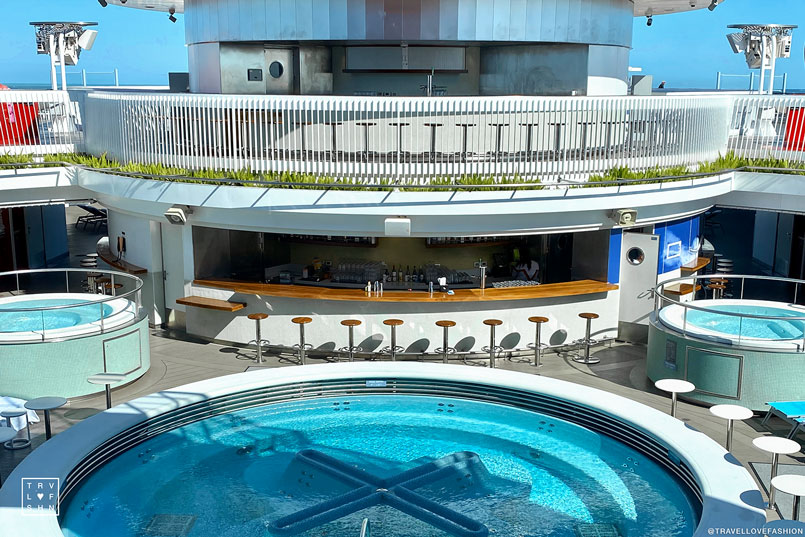 Your Virgin cruise doesn't have to be all drinking and partying with pizza and cheeseburgers mixed in. There's a full slate of wellness offerings on board the ship. From a full gym and spa to a tattoo parlor called Squid Ink, a hair salon and barbershop, on-deck gym equipment and even a boxing ring with a heavy bag. Daily programs and offerings include options like sunrise yoga at The Crow's Nest top deck outdoor yoga studio, recovery meals at the juice bar, unlimited group fitness classes, seaweed wraps and thermal suites, just to name a few. 
For a relaxing day by the pool on a Virgin Voyages ship, hit up the Wellbeing pool. This area is a more low-key vibe far from the pumping music of the main pool. It also features multiple whirlpools and a tranquil ambiance. 
Is Virgin Voyages Food Good?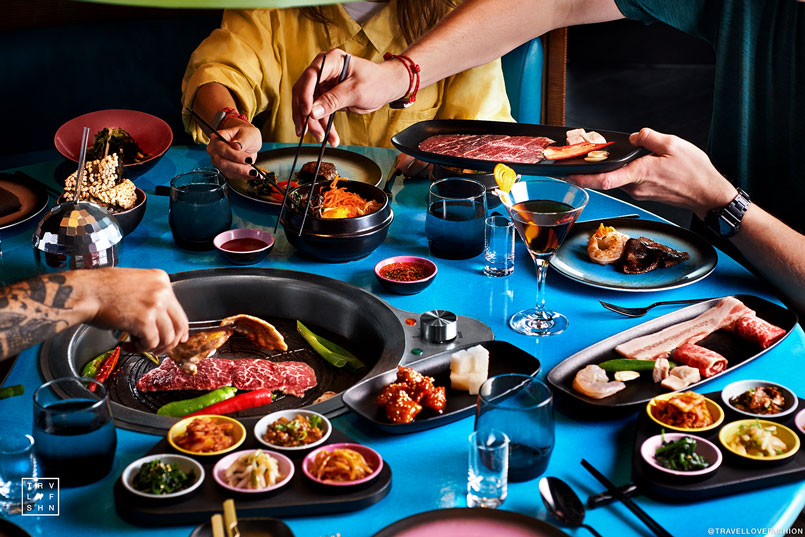 Another departure from traditional cruises is how Virgin Voyages serves up meals. Rather than a main dining room with smaller, up-charge specialty restaurants, Virgin Voyages ships have 20+ all-included dining venues available to every sailor. Some cruise lines will charge you an extra $20-$100 per person for a meal at a specialty dining restaurant, but Virgin doesn't do that. 
Starting before your cruise even leaves port, sailors can book their dining. This includes restaurants like Razzle Dazzle, Pink Agave, The Wake, The Test Kitchen, Gunbae and Extra Virgin. Other options include The Galley, which is open for casual and grab-and-go meals as well as a 24-hour American breakfast diner, The Dock and The Dock House which serve Mediterranean bites, and a pizza place serving individual specialty pies until 1:30am. 
The dishes are as gorgeous as they are tasty and the late night pizza is a must. The wide variety of menus and eateries means there's definitely something for even the pickiest eaters or those with dietary restrictions. 
Does Virgin Voyages Have a Drink Package?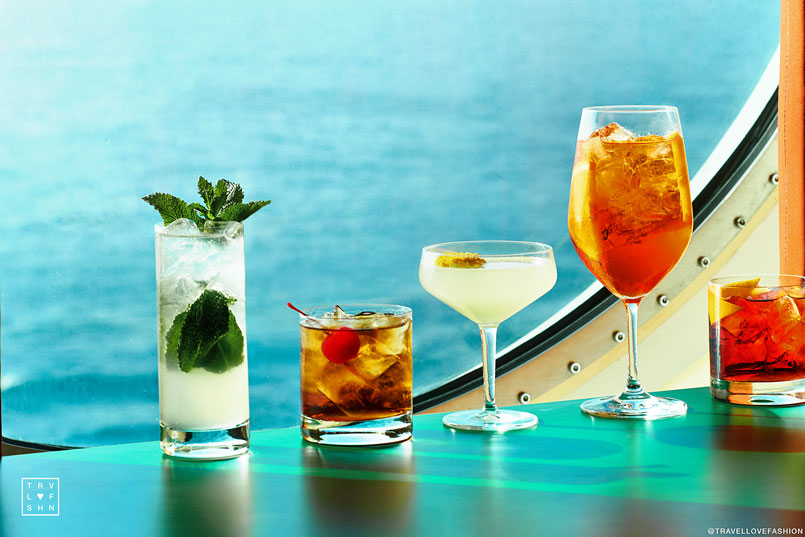 Virgin Voyages does their specialty drinks and cocktails a little differently than most cruise lines. Instead of buying a daily alcohol package prior to your cruise, sailors can pre-purchase a bar tab. The cruise line then adds some extra cash on top as a perk for booking. This prepaid tab can be used for beer, wine by the glass or bottle, mixed drinks and shots. It also includes specialty cold-pressed juices and any coffee that isn't drip. Lattes, espressos and more will cost you between $3-5 at the Intelligentsia coffee bar, but thanks to Virgin matching some of your tab, those may end up being on them. 
One of the coolest features on the ship is Shake for Champagne in the Virgin Voyages app. While on board, open the app to the feature and shake your phone and in minutes, a bottle of Moet will appear no matter where you are on the ship. It's a fun feature for an afternoon partying at the pool deck or for a more relaxed gathering at one of the chic outdoor spaces like The Dock House. 
Virgin Voyages Nightlife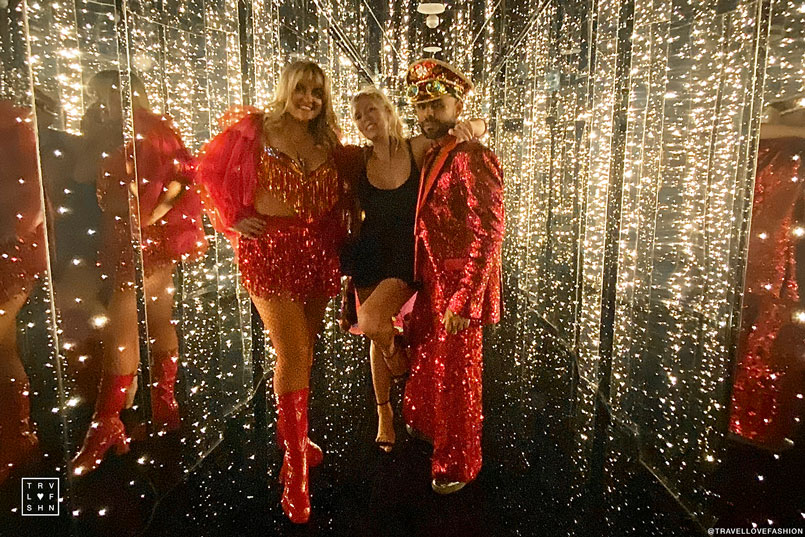 One thing that sets Virgin Voyages well apart from their competition is the abundance of nightlife found on Virgin cruises. After the sun goes down, things really start to heat up all over the ship. People get dressed to impress, different genres of music play throughout the ship, and some of the best shows on board take place. The Manor, the Virgin Voyages ship's nightclub, is modeled after one of the clubs in London Sir Richard Branson used to frequent. The club starts going off right at opening around 10:30 pm and stays packed until the early morning when you'll find your fellow sailors heading to grab a late night slice or hit the casino. 
Each sailing features a special evening called Scarlet Night. Everyone puts on their swaggiest, snazziest, flashiest red outfit and the ship itself undergoes a rouge transformation. The lights around the ship turn red. Then funky decor like giant inflatable fish and other marine life pop up around the ship. The entertainment staff can be found roaming the halls performing tricks and acrobatics for guests. The main event of Scarlet Night takes place later in the evening on the pool deck. There, a giant, inflatable octopus wraps itself around the top of the pool and performers put on a show before a dance party breaks out in the pool afterwards. The party goes well into the evening with a special afterparty at The Manor. The experience definitely will be a highlight of your Virgin Voyages cruise. 
Virgin Voyages Cruise Itineraries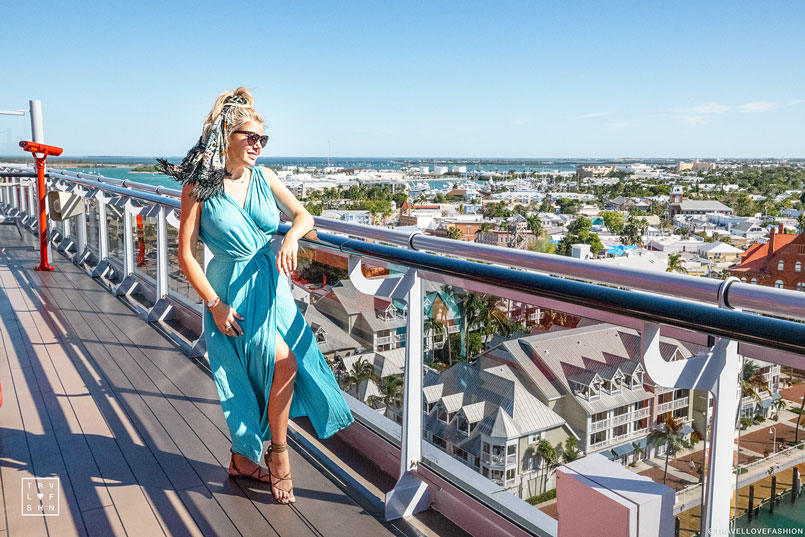 With two ships currently sailing and another soon to follow, Virgin Voyages has expanded their cruise offerings past the Caribbean and Mediterranean for the upcoming years. The cruise line has even opened bookings for cruises to the South Pacific including Australia and New Zealand.
Mediterranean summertime sailings call on some really stunning European destinations. Barcelona, Cannes, Ibiza, Mykonos and Mallorca are all perfect for a summer Euro trip. Adding a cruise to the mix can be a fun change of pace. 
Caribbean cruise destinations include some popular spots like Costa Maya, Cozumel, and Nassau, as well as more exotic locales like Roatan or Puerto Plata. All Virgin Voyages sailings in the Bahamas and Caribbean include a stop at the cruise line's private beach club on the island of Bimini. 
Virgin Voyages also started a new rewards program club recently that gives added perks to frequent sailors. Sailing Club offers guests perks for signing up.  Some include club member only cocktail parties, more money on your bar tab, free trips to the spa and more. 
Virgin Voyages The Beach Club at Bimini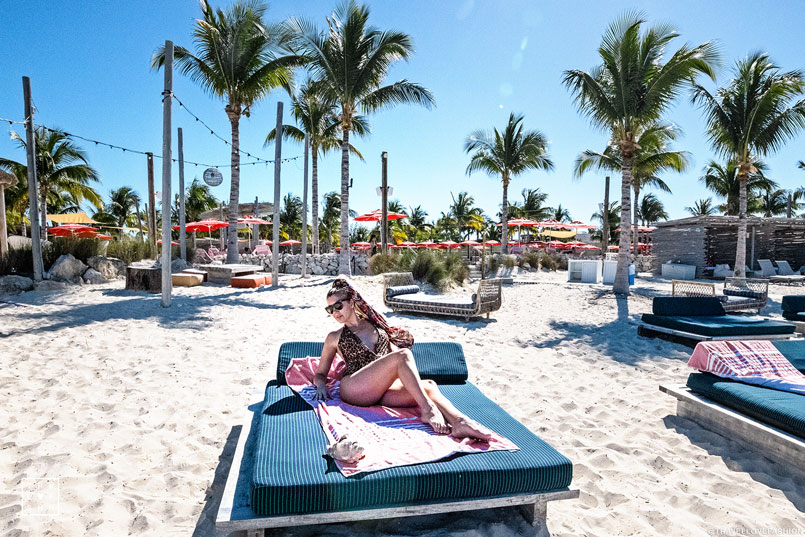 Every Virgin Voyages cruise itinerary in the Caribbean makes a stop at the island of Bimini.  There, sailors can enjoy a day at the cruise line's private resort, The Beach Club at Bimini. A pier makes embarkation on the island easy. A tram service which comes right to the ship whisks guests away to the exclusive property in about 5 minutes. 
Upon arrival, sailors will see the gorgeous, blue Bahamian waters flanked by two symmetrical pools. Plus hundreds of loungers, daybeds and beach chairs. Early in the day, the music is more chill and kept at a lower level. Guest can jump in the ocean, splash in the pool, order drinks using their band. In the early afternoon, a DJ set begins with the cruise ship's entertainment staff putting on a choreographed dance show. The staff fills the pool with different floats and the vibe turns into an all-out party. The DJ booth and speakers are only at one end of one of the pools, however. So, if you're looking for a more low-key day, going to the other pool might be more your speed. There's also a long stretch of pristine beach perfect for photos with lots of beach chairs to lounge and relax.  
Lunch service starts at Noon and goes until 3pm and features small plates. Sailors can mix and match their lunch and bring it back to their seats or eat at the dining pavilion. Some of the options included chicken or pumpkin curry, red snapper, macadamia nut salad and a Caribbean staple, rum cake. After 3pm, light bites are available for guests. In the late afternoon, the staff lights three giant, hollow metal orbs on the beach. The bonfires make for a very fun way to cap off your day! 
CLICK HERE FOR FUN AND TRENDY BEACH OUTFIT INSPO!
What to Wear on Virgin Voyages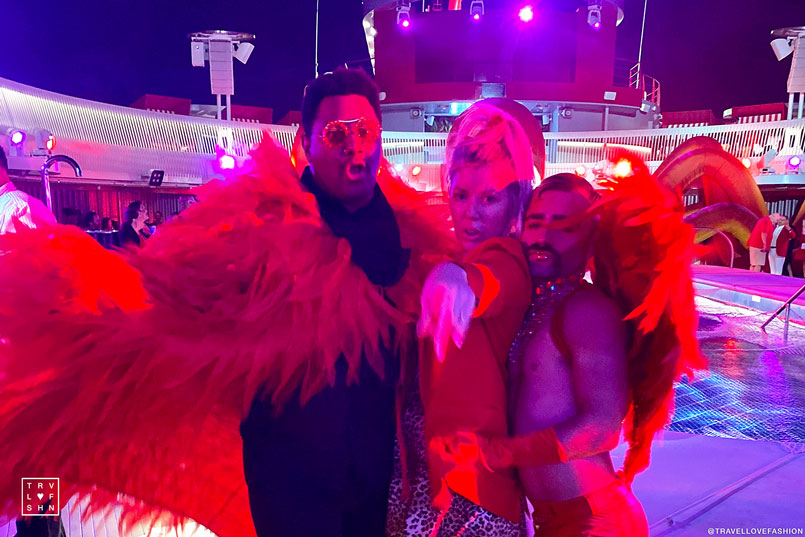 More is definitely less when packing for a Virgin Voyages cruise. Prepare to bring the glitz and glam with your outfits if you really want to stand out because people don't just put something on to head to the pool deck or The Manor. They assemble an epic ensemble that is sure to turn heads. Most importantly, don't forget to pack something with red that's flashy and fabulous for Scarlet Night. Here are some fun and flirty looks that will inspire your inner sailor.