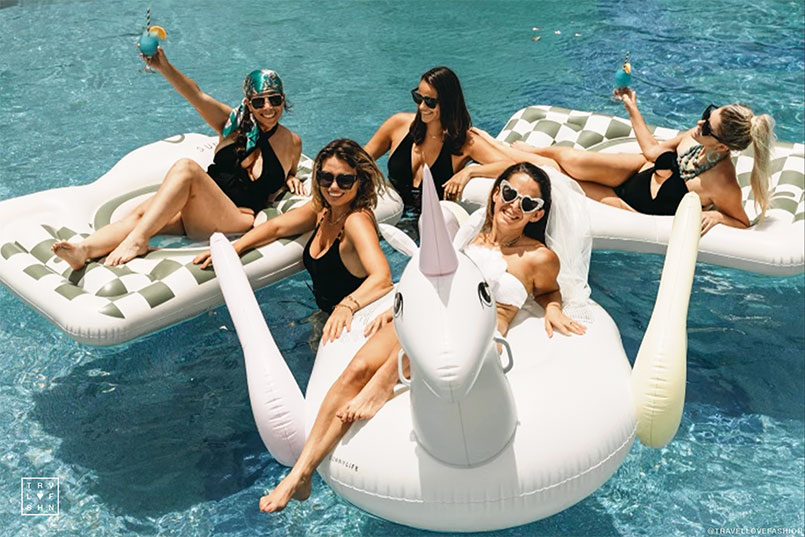 Ultimate Guide to an All-Inclusive Bachelorette Party at Sandals Royal Curaçao: Itinerary, Activities, and More!
Are you ready to embark on a journey to plan the ultimate bachelorette party that will leave you and your bride tribe with unforgettable memories? Look no further than the luxurious and exotic Sandals Royal Curaçao. Nestled on the pristine shores of the Caribbean, this tropical paradise sets the stage for a bachelorette party like no other. In this comprehensive guide, we'll walk you through everything you need to know to plan the best all-inclusive bachelorette party at Sandals Royal Curaçao, from choosing the perfect accommodations to crafting an itinerary filled with adventure, relaxation, and celebration. Get ready to experience the bachelorette party of your dreams in this enchanting Caribbean haven.
Why an All-Inclusive Resort is the Best for Bachelorette Parties
Choosing an all-inclusive resort for your bachelorette party is a decision that promises to elevate your celebration to unparalleled heights of fun and relaxation. These resorts offer a hassle-free experience, where everything from accommodations to dining and entertainment is conveniently bundled into a single package, ensuring that your group can focus on bonding, celebrating, and making memories without the stress of budgeting or coordinating various expenses. At an all-inclusive resort, you'll have access to a wide array of amenities, including gourmet dining, exciting activities, and vibrant nightlife, all within the confines of a luxurious tropical paradise. With the freedom to indulge in endless food, drinks, and entertainment, an all-inclusive resort sets the stage for an unforgettable bachelorette party that's effortlessly enjoyable and tailored to your group's desires.
Best All-Inclusive Resort For a Bachelorette Party: Sandals Royal Curacao
Sandals Royal Curaçao stands out as the ultimate choice for an unforgettable bachelorette party, thanks to a combination of factors that make it truly exceptional. First and foremost, its stunning Caribbean location provides a breathtaking backdrop for the celebration, with pristine beaches, crystal-clear waters, and lush tropical surroundings that set the stage for a picture-perfect experience. The resort's all-inclusive features ensure that every aspect of the trip, from accommodations to dining, is hassle-free and luxurious, allowing the bride and her party to relax and indulge without worrying about additional expenses. The diverse and gourmet dining options cater to every palate, while the array of special activities, from water sports to spa treatments, offer endless entertainment and relaxation. The attentive and accommodating staff go above and beyond to meet the group's needs, making sure every moment is filled with joy and comfort. With Sandals Royal Curaçao, the bachelorette party becomes an exquisite blend of adventure, relaxation, and celebration, all wrapped up in a tropical paradise where the food, ambiance, and service make it a truly unforgettable experience.
View this post on Instagram
Who Plans a Bachelorette Party?
The responsibility of planning the bachelorette party typically falls on the shoulders of the bride's closest friends or bridesmaids. These individuals often take the lead in organizing the event to ensure that it aligns with the bride's preferences and personality. However, the extent of involvement can vary widely, with some brides actively participating in the planning process, while others prefer to be surprised. Communication is key in this regard, as it's crucial to discuss the bride's desires and expectations early on to create an experience that she'll cherish. Collaboration among the bride's inner circle can be immensely helpful, as it allows for a collective effort that brings together various ideas and talents to craft a bachelorette party that's both enjoyable and memorable for everyone involved.
Bachelorette Party Themes
Organizing a bachelorette party with themed nights is a fantastic way to not only coordinate outfits for stunning photographs but also to infuse a sense of fun and camaraderie into the celebration. The "Sunset" theme sets a romantic tone, with warm and vibrant hues that create a stunning backdrop during the golden hour, making everyone look ethereal. "All White" exudes elegance and purity, ensuring a timeless and chic aesthetic. "Sparkle" adds a touch of glamour to the festivities, encouraging attendees to dazzle with sequins and glitter. "All Black" (except for the bride) offers a striking contrast, making the bride stand out while allowing her crew to channel their inner femme fatale. "Girly" is a theme that embraces femininity, encouraging attendees to embrace their favorite pink hues and frills. "Extra Fancy" elevates the party with upscale attire and a touch of extravagance, while "Metallic" adds a futuristic and shiny twist to the celebration. These themed nights not only make for stunning photo opportunities but also promote bonding among the bride's tribe, as everyone collaborates to bring these creative themes to life, creating unforgettable memories in the process.
Sunset

All white

Sparkle

All Black (except Bride)

Metallic

For more outfit ideas, Click HERE for a Stylish Beach Vacation Guide.
Bachelorette Party Decorations
When it comes to creating the best party atmosphere for a bachelorette celebration, thoughtful and personalized decorations can truly elevate the experience. Sandals Royal Curaçao Resort, known for its exceptional service, provides a fantastic opportunity to add that extra touch of magic to your party. Before your trip, you can easily contact the resort to arrange delightful surprises for the bride. Picture her walking into her room to find vibrant balloons spelling out "Bride," a chilled bottle of champagne to kickstart the festivities, delectable treats arranged in the room for indulgence, and fresh, fragrant flowers to add a touch of elegance to the ambiance. These carefully arranged surprises not only set the stage for an unforgettable bachelorette party but also showcase the resort's commitment to making every moment of your stay truly special. It's this attention to detail that can turn an ordinary celebration into an extraordinary one, leaving the bride and her gang with cherished memories of their time at Sandals Royal Curaçao.
For an extra touch to add fun to a bachelorette party, opt for easily packable decorations that add a festive touch to the celebration without the hassle of bulky items. Think about items like personalized party favors, custom t-shirts or tank tops for the bride tribe, and themed accessories like sashes, tiaras, or even temporary tattoos that can easily fit into luggage. Fun floaties are always a big hit at destination bachelorette parties. Confetti poppers, photo booth props, and themed party cups or koozies are other fantastic choices that can easily slip into a suitcase. These portable decorations not only add to the party's festive atmosphere but also make for great keepsakes and photo opportunities, ensuring that the bachelorette party remains a memorable and Instagram-worthy affair.

Make a Schedule
Creating a well-thought-out schedule for a bachelorette party is paramount to ensuring that the celebration runs smoothly and that everyone has a fantastic time. Beyond planning the main activities, scheduling downtime is crucial for relaxation and bonding among the bride's entourage. It provides an opportunity to recharge, have meaningful conversations, and enjoy each other's company without feeling rushed. Allocating time for getting ready is equally vital, as it ensures that everyone feels pampered and looks their best before the festivities. Factoring in transport time between various locations is essential to avoid stress and delays, especially if the party involves multiple venues or activities. A thoughtfully crafted schedule not only maximizes the enjoyment of each moment but also minimizes the potential for hiccups, allowing the bride and her squad to savor every aspect of the bachelorette party to the fullest.
The staff and butlers at Sandals Royal Curaçao are renowned for their exceptional service and dedication to creating unforgettable experiences. When it comes to preparing the perfect bachelorette itinerary, their expertise and attention to detail are invaluable. These highly trained professionals can work closely with the bride's party to curate a personalized schedule that caters to their preferences and desires. Whether it's arranging spa treatments, coordinating special surprises, or recommending the resort's best dining and entertainment options, the staff, and butlers at Sandals Royal Curaçao are there to ensure every aspect of the bachelorette celebration is flawless. Their commitment to exceeding expectations allows the bride and her group to relax, indulge, and revel in the magic of this tropical paradise, knowing that every detail of their itinerary is in expert hands.
Remember the Bride's Opinion is the Only One that Matters!
When planning a bachelorette party, it's essential to remember that the bride's opinion is the only one that truly matters. This celebration is about honoring and celebrating her transition into married life, so her wishes and comfort should be the top priority. While it's natural for friends and bridesmaids to have their own ideas and preferences, it's crucial to align the party's theme, activities, and overall atmosphere with what the bride envisions for her special day. Open communication with the bride is key; understanding her expectations, her desired level of extravagance, and her comfort zones will help ensure the bachelorette party reflects her personality and preferences. Ultimately, a bachelorette party that revolves around the bride's desires will not only make her feel cherished but also lead to a more enjoyable and memorable experience for everyone involved.
Don't Overbook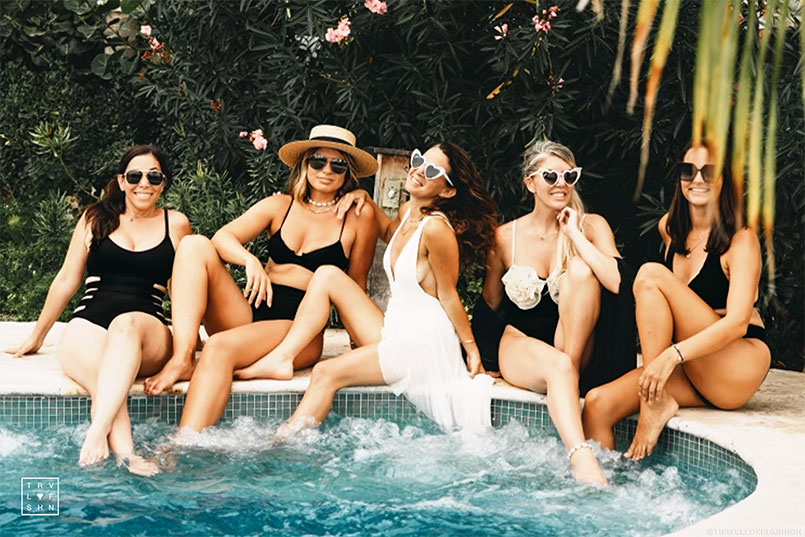 It's vital to recognize the importance of not overbooking an itinerary for a destination bachelorette party. While it's tempting to cram every moment with activities and excursions, an overly packed schedule can lead to exhaustion, stress, and a lack of time for genuine bonding among the bride's closest friends. Allowing for moments of spontaneity and relaxation is essential to create a balanced and enjoyable experience. Destination bachelorettes should offer a blend of planned activities and free time, giving the group opportunities to explore the destination at their own pace, unwind by the pool, or savor leisurely meals. Remember, the essence of a bachelorette party lies in creating cherished memories with the bride, and a more relaxed itinerary allows for meaningful conversations, shared laughter, and the space to truly connect. It's about quality over quantity when it comes to creating lasting moments and ensuring that everyone enjoys the trip to the fullest.
Staying at Sandals Royal Curaçao is the epitome of the perfect bachelorette party experience, thanks to its all-encompassing offerings and thoughtful amenities. This luxurious resort provides everything you could possibly desire in one convenient location. Whether it's world-class dining, sparkling pools, thrilling water sports, rejuvenating spa treatments, or vibrant nightlife, Sandals Royal Curaçao has it all, ensuring there's something for every member of the bride's entourage. The resort's complimentary golf cart and bike transportation within its expansive property make navigation effortless, guaranteeing a stress-free and seamless experience for the group. This means you can easily explore the picturesque grounds, from lush gardens to pristine beaches, without the hassle of long walks or coordinating transportation for large groups.
Make All Activities Optional
Opting for optional activities in a bachelorette party is a thoughtful approach that allows each member of the bride's tribe to tailor the experience to their personal needs and preferences. While the bride would undoubtedly appreciate everyone's participation in every activity, it's essential to acknowledge that every guest has their own comfort zones and desires. Sandals Royal Curaçao makes this flexibility seamless, as its vast array of activities and amenities ensures that there's something for everyone. Whether you're keen on water sports, spa indulgence, or simply unwinding by the pool with a good book, this resort offers the freedom to choose your own adventure. By making all activities optional, it fosters a stress-free and inclusive atmosphere where each guest can curate their experience, allowing for a more relaxed and enjoyable bachelorette celebration. It's a testament to the bride's understanding and consideration for her friends' individual preferences, making Sandals Royal Curaçao the perfect backdrop for creating unforgettable memories while respecting everyone's unique interests.
Incorporate Wellness
Incorporating wellness activities into a bachelorette party itinerary is a brilliant idea that not only adds a healthy and rejuvenating dimension to the celebration but also provides a perfect balance to the indulgent festivities. Wellness activities allow the bride and her guests to unwind, de-stress, and connect on a deeper level, ensuring that everyone feels their best throughout the party. Sandals Royal Curaçao offers a variety of wellness options that can seamlessly fit into your bachelorette plans. For instance, you can start your day with a yoga or meditation session on the beach, finding serenity as the sun rises over the Caribbean Sea. The resort's world-class spa facilities provide an opportunity for luxurious massages and beauty treatments, allowing the group to relax and pamper themselves. Additionally, activities like paddleboarding and snorkeling not only offer a dose of adventure but also allow you to connect with nature and stay active. By incorporating wellness activities, the bachelorette party at Sandals Royal Curaçao becomes a holistic and rejuvenating experience that ensures everyone feels refreshed and ready to celebrate.
Hire a Photographer
Hiring a photographer for a bachelorette party is an exceptional idea that transforms the celebration into a lasting visual memory. It allows the bride and her tribe to fully immerse themselves in the experience, knowing that a professional is capturing every candid moment, laughter, and heartfelt connection. At Sandals Royal Curaçao, this becomes even more enticing, as the resort boasts photographers who are intimately acquainted with its best photo spots. These skilled photographers not only understand the perfect lighting and angles but also know the resort's most picturesque locations, ensuring that every shot is a work of art. With the stunning Caribbean backdrop, luxurious surroundings, and vibrant atmosphere, hiring a photographer at Sandals Royal Curaçao is the ideal way to document the bachelorette party in all its glory, providing the bride and her gal pals with timeless memories they'll cherish for years to come.
Leave the Resort for an Afternoon
Exploring downtown Willemstad is a fantastic addition to any bachelorette party itinerary, as it offers a taste of the island's vibrant culture, colorful architecture, and rich history. At Sandals Royal Curaçao, this experience is made even more enticing, thanks to the complimentary convertible Mini Coopers available to guests staying in butler-level rooms. These stylish and compact vehicles provide a fun and convenient way to venture into downtown and discover its hidden gems. What's more, Sandals Royal Curaçao extends a generous $250 dining credit at partner restaurants downtown, making it a gastronomic adventure too. Downtown Willemstad is brimming with charming streets lined with cafes, boutiques, and art galleries. You can explore the iconic Handelskade waterfront, visit the floating market, and admire the stunning architecture of Punda. For a delightful lunch, Number Ten, a partner restaurant, is an excellent choice, offering a fusion of Caribbean and international flavors. Exploring downtown Willemstad not only adds cultural richness to the bachelorette party but also provides unforgettable memories and an authentic taste of the island's charm.
Consider a Boat Day
A boat day is undeniably the perfect activity to infuse excitement and adventure into a bachelorette party, and Sandals Royal Curaçao makes it a breeze to arrange. Whether you opt for a tranquil catamaran cruise or an exhilarating yacht charter, the crystal-clear Caribbean waters surrounding the resort offer a stunning backdrop for an unforgettable day on the sea. At Sandals Royal Curaçao, the concierge and staff are experts in helping you plan and coordinate your boat day, ensuring every detail is taken care of. They can arrange for snorkeling, scuba diving, or even a private beach picnic on a secluded island. With the ease of access and the resort's connections to trusted boat charters, a boat day becomes a memorable highlight of the bachelorette party, filled with laughter, sunshine, and shared adventures on the open water.
Bachelorette Party Games
Bachelorette party games are a fantastic way to break the ice, keep the energy high, and create lasting memories during this special celebration. Here are some of the best bachelorette party games, along with reasons why they're great choices:
Bachelorette Scavenger Hunt: A scavenger hunt can be tailored to the bride's personality and interests. It's not only fun but also a fantastic way to explore the destination. Participants can work in teams or individually, completing tasks or finding items related to the bride's future spouse, which can be both hilarious and heartwarming.
Truth or Dare: A classic game that never gets old. It encourages open and often funny conversations, especially when the dares are tailored to the bride's upcoming marriage or her friends' quirks.
Bridal Bingo: A bingo game with wedding-themed squares. It keeps guests engaged during speeches, toasts, or other formal moments. Plus, it's a great icebreaker.
Pin the Kiss on the Groom: Similar to the childhood game of "Pin the Tail on the Donkey," this bachelorette version adds a fun and sometimes risqué twist. It's a guaranteed laugh generator.
Trivia Quiz: Test your knowledge of the bride and her future spouse with a trivia quiz. It's a great way to reminisce about fun stories and learn new things about the couple.
Photo Booth Fun: Set up a photo booth with props and costumes. Guests can take hilarious pictures to commemorate the event, and the bride gets a scrapbook full of memories.
Never Have I Ever: A game that encourages guests to share funny or revealing stories. It's an excellent way to learn more about each other and create a bond.
DIY Craft Activities: Consider a craft activity like decorating wine glasses or creating custom tote bags. It's not just fun; it also leaves guests with personalized keepsakes.
Remember that the best bachelorette party games are those that cater to the bride's personality and the group's dynamics. They should strike a balance between lighthearted fun and heartfelt moments, making the celebration enjoyable for everyone involved.

Make 2 Group Messages
Having two separate WhatsApp group chats for a bachelorette party is a smart and thoughtful way to ensure the celebration goes off without a hitch. The chat that includes the bride allows for easy coordination of logistics, confirming details, and discussing her preferences, ensuring that she's comfortable and excited throughout the event. On the other hand, the second chat, which excludes the bride, becomes the perfect platform for covert planning and coordination of delightful surprises. It enables the bridesmaids and attendees to brainstorm creative ideas, share updates on secret activities, and discuss the finer details of the celebration without the risk of spoiling any surprises. This dual chat system not only adds an element of excitement but also guarantees that the bride is genuinely surprised and delighted by the special moments her friends have carefully orchestrated for her.
Prebook Transportation
Prebooking transportation for a bachelorette party, especially when dealing with larger groups, proves to be a strategic and practical decision. Sandals Royal Curaçao provides a range of transportation options that make this particularly significant. Firstly, the resort offers airport shuttles, ensuring a seamless transition from the airport to the property. This convenience is invaluable for large groups as it eliminates the need to coordinate multiple taxis or transportation arrangements upon arrival, streamlining the process and allowing the festivities to commence right away.
Moreover, the option of renting mini coopers from Sandals Royal Curaçao offers both style and functionality, especially when accommodating larger groups. These vehicles are perfect for group travel, enabling easy exploration of Curaçao's unique attractions and hidden gems, thereby enhancing the overall experience by making group outings more memorable. The availability of prebooked taxi services for specific activities or excursions guarantees that the group can navigate the island safely and efficiently, whether heading to downtown Willemstad or venturing further afield.
Bachelorette Party Welcome Bags
Bachelorette party welcome bags are a delightful way to kickstart the celebration and make each guest feel appreciated. For a beach destination bachelorette party, these bags can set the tone for sun, sand, and relaxation. Consider including fun and thoughtful gifts such as personalized beach towels to keep everyone comfortable on the shore. Beach-themed flip-flop keychains or sunglasses not only protect from the sun but also add a stylish touch to the festivities. Mini bottles of sunscreen and beach-friendly toiletries are practical additions that ensure everyone is prepared for days of seaside fun. Don't forget to include some snacks like tropical flavored candies or nuts for energy, along with a beach-read paperback or a waterproof phone case for beachside entertainment. These welcome bags not only add a personalized touch to the bachelorette party but also set the stage for a memorable beachfront celebration.

Stock The Necessities
Stocking the essentials, including water, snacks, and drinks, is crucial for ensuring that a bachelorette party runs smoothly and that everyone remains refreshed and energized throughout the celebration. At Sandals Royal Curaçao, this task becomes remarkably convenient thanks to the resort's thoughtful amenities. Each room includes a complimentary fully stocked bar, allowing guests to enjoy their favorite beverages at their leisure. This ensures that the party can kick off right away without the need for immediate trips to the store. Plus, the option of free room service further enhances the experience, as guests can order snacks and drinks directly to their rooms, making impromptu gatherings or late-night cravings effortlessly enjoyable. Stocking the essentials not only provides convenience but also guarantees that the bride and guests can focus on creating cherished memories without worrying about logistical details, ultimately making the bachelorette party at Sandals Royal Curaçao a truly carefree and unforgettable experience.
Don't Forget to Eat
Never forgetting to eat, especially when indulging in alcoholic beverages, is a crucial aspect of ensuring a safe and enjoyable bachelorette party. Amidst the excitement and festivities, it's easy to get caught up in the celebration and neglect proper nourishment. However, having regular meals or snacks helps regulate alcohol absorption, keeping everyone in good spirits and avoiding the unwanted consequences of excessive drinking. It also ensures that energy levels are maintained, allowing the bride and her friends to fully participate in all the planned activities and create lasting memories. So, while toasting to the bride's happiness is a must, it's equally essential to remember that a well-balanced meal is the perfect complement to any bachelorette party, ensuring a fun and safe celebration for all.
Sandals Royal Curaçao truly spoils its guests with a multitude of dining options, ensuring that every culinary desire is met. From room service for those private, intimate moments to a wide array of specialty restaurants, this all-inclusive resort offers a culinary journey to remember. With options ranging from Caribbean and international cuisine to seafood, Italian, sushi, and more, there's something to satisfy every palate. Not to be missed are the resort's delightful food trucks serving up mouthwatering treats, adding a fun and casual dining experience to the mix. The best part? No reservations are necessary at most of these restaurants, providing guests with the freedom to savor gourmet meals at their own pace. Whether indulging in beachfront dining, sipping cocktails at the swim-up bar, or savoring global flavors, Sandals Royal Curaçao ensures that the bachelorette party enjoys a culinary adventure that's as diverse and delightful as the island itself.
Best Bachelorette Party Outfits for Bride
Choosing the best bachelorette party outfit for the bride is all about making her feel special, confident, and ready to celebrate. A timeless classic is the little white dress, which exudes elegance and showcases the bride's unique style. Alternatively, a fun and flirty white romper or jumpsuit can provide comfort while still making a statement. Personalized items, such as a custom bride-to-be sash, a veil, or a playful tiara, add a touch of whimsy and signify the bride's central role in the celebration. Don't forget about footwear – whether it's chic sandals, comfortable sneakers for a beach party, or glamorous heels for a night on the town, the right shoes can elevate the entire ensemble. Ultimately, the best bachelorette party outfit for the bride should reflect her personality, embrace the theme of the event, and, most importantly, make her feel like the star of the show as she embarks on this memorable journey towards her wedding day.

Best Bachelorette Party Gifts for Bride
Selecting the best bachelorette party gifts for the bride is an opportunity to shower her with love and thoughtful tokens of appreciation as she embarks on this exciting journey towards marriage. Consider personalized items like custom-made bridal party robes, monogrammed tote bags, or a keepsake bridal party photo frame that can hold cherished memories from the celebration. To pamper the bride, luxurious spa or skincare products, a relaxing massage or spa day, or a cozy robe and slippers set are excellent choices. For a sentimental touch, a heartfelt letter or a scrapbook filled with messages and photos from the bridal party can be a cherished memento. The best bachelorette party gifts are those that reflect the bride's personality, celebrate her upcoming nuptials, and show her just how loved and cherished she is by her closest friends and family.

Eliminate Stress Points
Eliminating stress points at a bachelorette party is crucial to ensure that the celebration remains a joyful and memorable experience for the bride and her friends. Sandals Royal Curaçao excels in this regard by providing a seamless and all-inclusive experience. With amenities like complimentary airport transfers, fully stocked in-room bars, and a wide array of dining options that don't require reservations, the resort eliminates the hassles of transportation logistics and dining arrangements. The availability of attentive staff and concierge services ensures that any concerns or special requests are swiftly and efficiently addressed, allowing the bridal party to relax and enjoy every moment without unnecessary stress. By choosing Sandals Royal Curaçao as the venue for a bachelorette party, the focus remains on creating cherished memories and celebrating the bride's upcoming wedding, while the resort takes care of the rest.
Example Itinerary for Bachelorette Party
Day 1: Welcome to Paradise
Morning: Arrival at Sandals Royal Curaçao with convenient airport transfers. Check into your luxurious accommodations and find personalized bachelorette welcome bags awaiting you.
Afternoon: Get settled, unwind by the pool, and explore the resort's stunning beachfront. Enjoy a relaxing spa treatment or perhaps a yoga and meditation session by the sea.
Evening: Gather for a beachside welcome dinner at one of the resort's specialty restaurants, savoring delectable Caribbean cuisine and signature cocktails.
Day 2: Beach Day Bliss
Morning: Start your day with a leisurely breakfast in your room or at one of the resort's restaurants. Get ready for a day of beachside fun.
Afternoon: Head to the beach for a private catamaran cruise, complete with snorkeling, swimming, and sunbathing. Sip on tropical cocktails as you soak in the sun.
Evening: Return to the resort and enjoy a mixology class where you'll learn to craft delicious cocktails. Followed by a memorable beachside barbecue dinner with your toes in the sand and beach bonfire.
Day 3: Downtown Exploration
Morning: After breakfast, hop into your rented mini coopers and embark on an adventure to downtown Willemstad. Don't forget your $250 dining credit for partner restaurants.
Afternoon: Explore the historic streets, visit local shops, and indulge in delicious meals at the vibrant eateries. Lunch at Number Ten is a must.
Evening: Return to the resort for a themed bachelorette party night by the pool with cocktails, games, and dancing under the Caribbean stars.
Day 4: Relaxation and Farewell
Morning: Enjoy a leisurely breakfast and take your time to relax by the pool or on the beach. Take in the last moments of paradise.
Afternoon: Treat yourselves to a spa afternoon with massages, facials, or a dip in the resort's soothing hydrotherapy pool.
Evening: Gather for a farewell dinner at one of the resort's gourmet restaurants. Share stories, laughter, and toast to the bride-to-be's happiness and the unforgettable memories made during this incredible bachelorette getaway.
Day 5: Departure
Morning: Check out of Sandals Royal Curaçao, cherishing the memories of your bachelorette party in this tropical haven. Depart for the airport with hearts full of joy in Sandal's Royal Curacao airport shuttles. Note that there are two departure times available depending on your flight time.