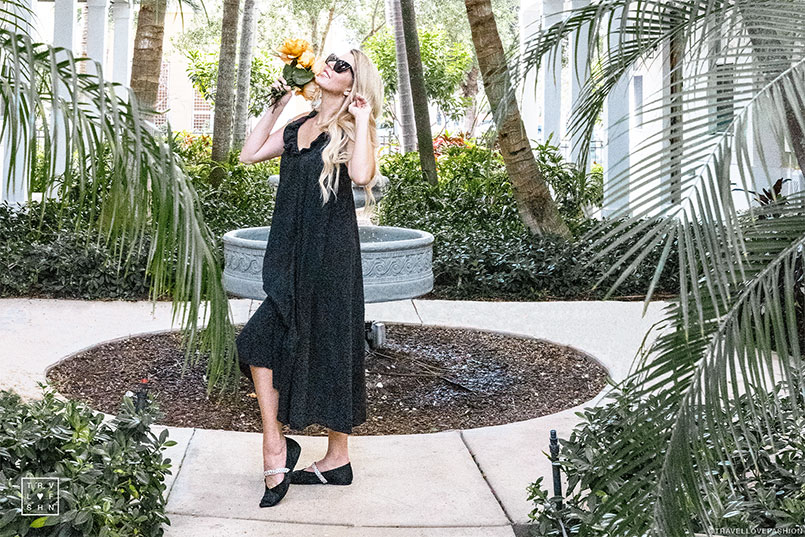 Easy, effortless, and eminently wearable, ballet flats are this season's best travel shoes for women – from classic silhouettes to contemporary versions.
The solution to many of this season's fashion forward traveler footwear dilemmas can be summed up in one phrase: ballet flats. First designed exclusively for dancing, these shoes made a pivotal shift in the 1940s, becoming a refined choice for everyday wear, and they have remained a prominent fixture in the world of style ever since. Synonymous with the elegance of Paris's Left Bank, ballet flats have adorned the fashionable feet of Hollywood icons like Audrey Hepburn and Brigitte Bardot. More recently, during the 2000s, they experienced a resurgence in popularity, frequently seen on the likes of Kate Moss and Sienna Miller. Over the past few seasons, ballet flats have steadily climbed the fashion ladder, evolving from a cyclical trend into a dependable wardrobe essential.
Ballet flats, once the darling of the fashion elite, have transcended the realm of trends and become a jet-setter's secret weapon for chic and comfortable travel. These timeless classics are no longer confined to the confines of runways and red carpets; they are the go-to footwear choice for globetrotters in the know. Crafted for both style and comfort, ballet flats effortlessly navigate the labyrinth of airport terminals, cobblestone streets, and bustling city avenues. Ballet flats are hands down the best walking shoes for travel that don't jeopardize style. Their versatility is unparalleled, making them an ideal companion for exploring new destinations, whether you're strolling through historic European towns or meandering down exotic marketplaces. In the world of travel, where every ounce in your suitcase matters, ballet flats are the sartorial choice that allows you to pack light without sacrificing elegance. So, as you embark on your next adventure, remember that these fashionable companions are more than just a trend; they're the ultimate travel essential for the modern globetrotter.
Best Ballet Flats – Classic

In the world of fashionable travel shoes, the ballet flat not only captivates with its aesthetic allure but also delights in its remarkable versatility and comfort. Crafted from supple leather that hugs your feet like a second skin, these flats effortlessly complement a wide range of ensembles, from denim midi skirts to relaxed summer tailoring. For purists seeking a blend of practicality and timeless elegance, The Row's 'Boheme' leather flats are an ideal choice, offering the perfect pairing for classic denim or flowing summer dresses. If you're in the mood for a touch of whimsy, consider indulging in Valentino Garavani's 'Toile Iconographe' satin flats or Khaite's 'Marcy' mesh style, both adorned with glistening crystal embellishments, adding a playful sparkle to your step.
Best Ballet Flats – Dressy

Countless brands have taken the ballet flat to new heights with fresh interpretations of this iconic style. For a wild twist, feast your eyes on Ferragamo's 'Siwar' flats, where the silhouette is transformed with leopard-print calf hair and adorned with the brand's signature 'Vara' bows at the front. Alternatively, venture into the realm of elegance with Mach & Mach's black satin ballet flats, bedecked in crystal-embellished double bows, making them a splendid choice for special events or captivating after-dark attire.
Best Ballet Flats – Edgy

Venture into the realm of chic minimalism with a pair of fresh white flats that effortlessly harmonize with every piece in your fashion arsenal. Alexander McQueen takes a rebellious turn, infusing their white leather flats with a punky metal-capped toe, perfect for adding an edgy twist to your ensemble. Meanwhile, Magda Butrym offers a crystal-embellished satin option that seamlessly transitions from ethereal party dresses to the crisp simplicity of straight-leg denim paired with a classic white T-shirt. For those seeking to elevate understated ensembles, consider Aeyde's striking silver design or indulge in the glamour of Manolo Blahnik's 'Veralli' flats, glistening in shimmering gold, to infuse your look with a touch of opulent allure. Vogue-approved style is all about embracing the versatility of these contemporary classics.
As you embark on your next adventure, don't forget to pack a pair of ballet flats – the best travel shoe for women that seamlessly combines style and wanderlust. Ballet flats have earned a well-deserved place in every fashionable traveler's suitcase, and with an array of fresh designs and styles available, there's a perfect pair for every journey.
PIN ME!!