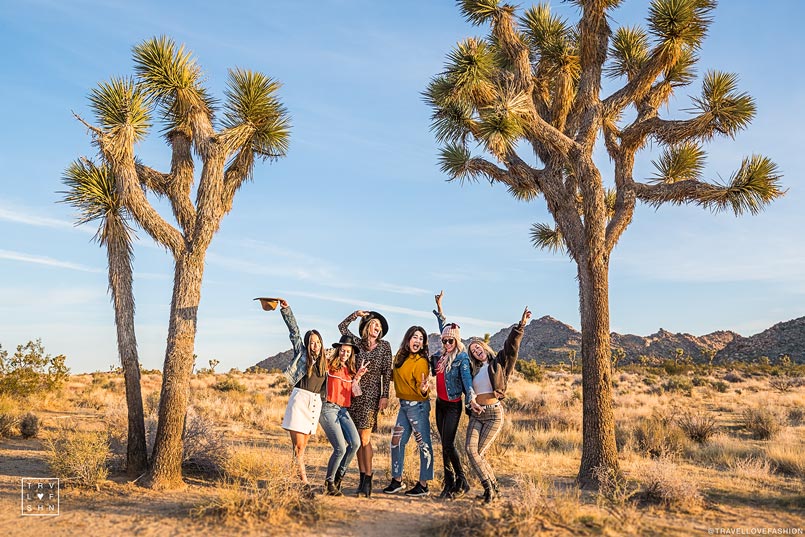 Are you ready to step into a world that seems straight from a Dr. Seuss book? Welcome to Joshua Tree National Park, a 795,156 acre National Park located in Southeastern California that is as unique as any you'll find. The park's name stems from the famous Joshua Trees, a species from the Yucca family found all over the park. These trees are unlike any other you'll find as they appear to be a cross between a palm tree and a cactus and have an other-worldly look and feel to them. This Joshua Tree travel guide has everything you need to plan your trip and have the best time possible!
While the park is excellent for camping and hiking thanks to towering rock formations and what seems like an endless expanse of space, there's also a thriving community of artists and creatives who occupy the nearby town. You won't find many commercial chains or corporate entities as they're looked down upon by the community, but what you will find is a slew of locally owned, curated shops and eateries that are as unique as Joshua Tree National Park itself. The creative energy is palpable and visitors will love the out-of-the-ordinary places to eat and stay at Joshua Tree.
Where to Stay in Joshua Tree?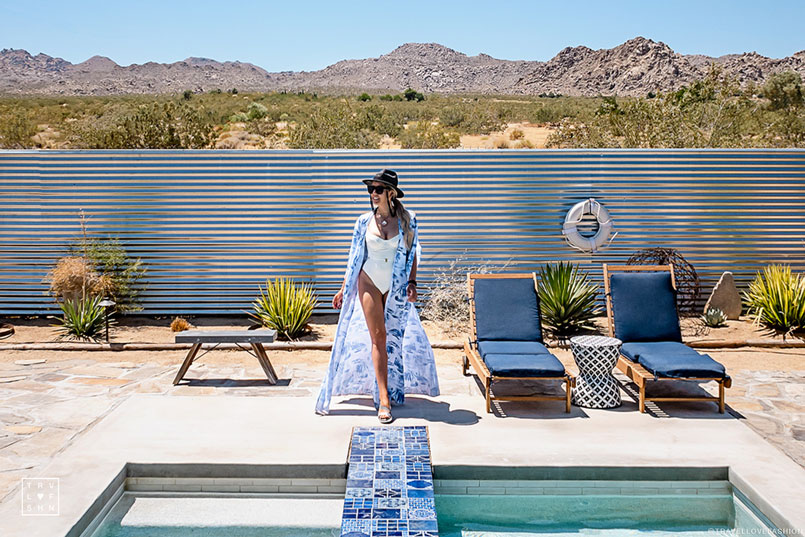 Spin and Margies Desert Hideaway
Located just over eight miles from the entrance of Joshua Tree National Park, Spin and Margies Desert Hideaway is a Western-themed hotel with four suites to choose from. Colorful and stylish, the rooms are fully outfitted with modern amenities and make for a comfortable, yet unique place to stay when traveling to Joshua Tree National Park. Amenities like kitchenettes, mini-fridges and outdoor patios make the hotel a great place for a longer stay.
Airbnb
You Can find many uniquely designed Airbnbs available around Joshua Tree and the surrounding area. Here are two of my favorites:
70s Vibe with hot tub and pool – The Coyote House
Camping
When traveling to Joshua Tree National Park, one of the most popular places to stay is Joshua Tree National Park Campgrounds. There are a wide variety of options for camping at Joshua Tree, some are first-come, first-serve, others require reservations in advance. For as little as $20 a night, you can immerse yourself in the park's natural beauty and sleep under the stars for a truly unforgettable experience. Make sure to plan ahead as the campsites do fill up quickly, with cars lining up for first-come access as early as 3am. It should also be noted that the Joshua Tree weather can fluctuate given the season and time of day so pack accordingly.
What to do in Joshua Tree National Park?
The main draw of visiting Joshua Tree, California is obviously Joshua Tree National Park. The park is ideal for hiking, biking, exploring or simply touring the sights via car. Regardless of your mode of transportation, the park is rife with outstanding beauty and ever-changing landscapes.
Things You Have to Do in Joshua Tree National Park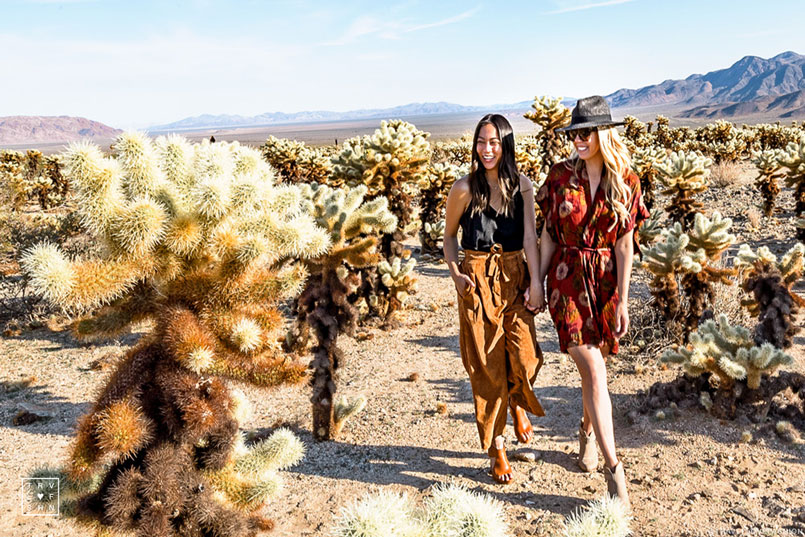 Cholla Cactus Garden Nature Trail
 While the obvious main attraction in Joshua Tree National Park may be the Joshua Trees, there's plenty of other plant life worth seeing. One particular fauna of note would be the cholla cactus, a cute-looking plant that you most certainly don't want to touch. This species of cactus has particularly sharp and difficult to remove needles that will put a serious damper on your hike should you veer off the trail and encounter one. However, the Cholla Cactus Garden Nature Trail within Joshua Tree National Park is a wooden boardwalk which allows for some spectacular views from a safe distance of the local plant life.
Bouldering
If rock climbing in Joshua Tree National Park is your cup of tea, there's an almost endless amount of terrain to explore. Those who love bouldering in particular will find the park spectacular thanks to the countless crags and slabs almost tailor-made for climbing. Bouldering, also known as scrambling, does not require rock climbing gear such as ropes, however, proper hiking shoes are recommended.
Arch Rock
Unique geologic formations like Arch Rock make for excellent climbing surfaces with an amazing photo opportunity as well. The most famous natural arch in Joshua Tree National Park, Arch Rock is just a short hike from the White Tank Campground and is sure to be one your favorite spots for bouldering.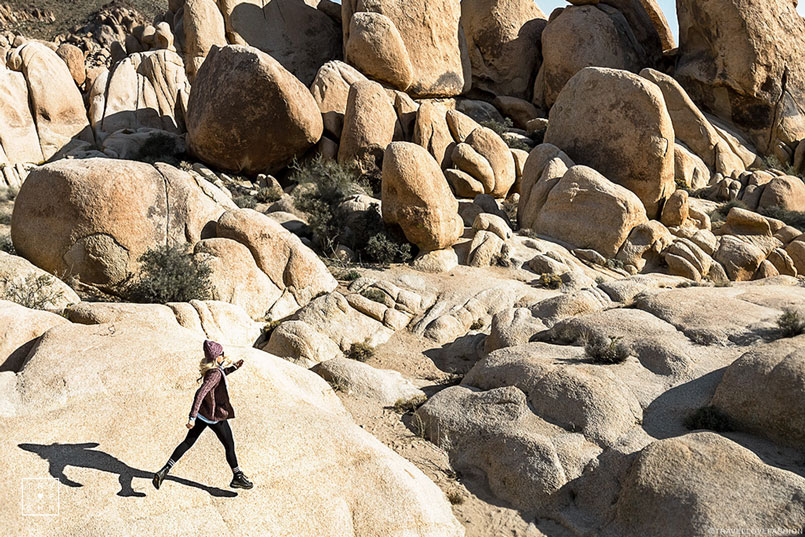 Hiking
There's almost endless places to go hiking in Joshua Tree National Park, but Ryan Mountain is one of the most popular. The park's 2nd tallest peak at over 5,000 ft, the trail to the top is more advanced, but intrepid hikers will love the view of the surrounding park from the top. Quail Mountain is another peak for visitors to explore, but beware, there's no established trail to the top, so make sure you're up to the challenge before you set out on a hike!
Joshua Trees
Growing to heights of around 40 feet at their tallest, Joshua Trees look more like something you'd find on an alien planet than here on Earth. They kind of resemble a cross-breed between a palm tree and a cactus and are found all over the park. During the Spring months, the trees grow green and white flowers and make for wonderful scenery for visitors. If you're looking to capture some spectacular photos of the Joshua Trees, Black Rock Canyon and Queen's Valley are two really great options. Don't expect to find the location where the band U2 shot their famous album cover, however. That actually wasn't taken in the park!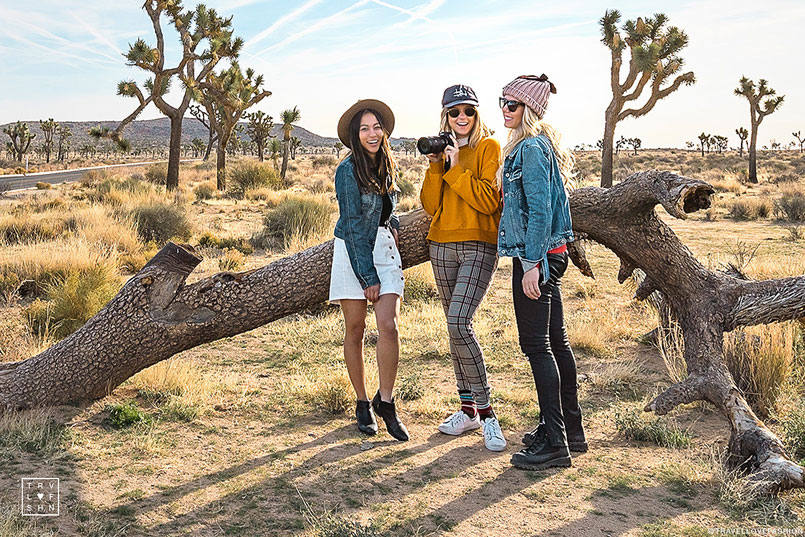 Stargazing
Miles and miles from any sort of large civilization or light pollution, the stargazing in Joshua Tree National Park is sure to delight. Millions of specks of light litter the sky and the park is even known as a "dark sky park", meaning the stars are clearly visible and new constellations track through the sky depending on the season. That means repeat visitors can see entirely new stars and planets no matter what time of year.
Things To Do in Joshua Tree Town and the surrounding area
Sound Bath
Built by a UFO enthusiast named George van Tassel back in the 1950's, Integratron is said to draw from a variety of architectural sources like Nikola Tesla, the Tabernacle of Moses from the Bible and even aliens themselves. Integratron offers the only sound bath near Joshua Tree National Park, an interactive sound experience using crystal singing bowls to help connect you with the various energy centers, or chakras, of the body. The experience can be booked in public or private sessions, with public sessions starting at $55 per person.
Pioneer Town
Back when Westerns were all the rage in Hollywood, a group of actors which included Roy Rogers and Gene Autry came together to purchase and build Pioneer Town, an authentic 'Old West' town used as the set for more than 50 movies and TV shows over the years. The experience is part show, with mock gun duels and other period activities going on all around. There are also a handful of cute shops, a great place to get a vintage leather jacket or cowboy boots. Pioneer Town is also where you will find the live music eatery Pappy and Harriet's, so plan plenty of time to spend here.
Best Shopping in Joshua Tree
As previously mentioned, the town of Joshua Tree generally eschews commercial business in favor of local shops and boutiques. From vintage stores to local artists, those with eclectic tastes and a sense of adventure will love shopping and exploring the downtown area of Joshua Tree and neighboring small towns like Yucca Valley.
The END
One of the most popular vintage shops in Joshua Tree, The END is owned and operated by local artist Kime Buzzelli. The shop features clothing, accessories, art and more so everyone is sure to find something that intrigues them while poking around the goods. If you're looking to outfit yourself for a fashion shoot in the park, The END is where you need to go first to find the perfect look.
Moon Wind Trading Company
Desert chic is what you'll find at Moon Wind Trading Company, a local boutique featuring products made from natural or repurposed materials. From clothing and beauty supplies to kitchen and other homegoods, Moon Wind Trading Company is a great place to pick out a gift for someone special or buy yourself a memento from your visit to Joshua Tree.
Hoof & the Horn
Another one of Joshua Tree's local vintage boutiques is Hoof & Horn, but you'll find a whole lot more than just vintage items. The store stocks new apparel, accessories, soaps, scents and more that free spirits and those with eclectic style will love.
Where to Eat In Joshua Tree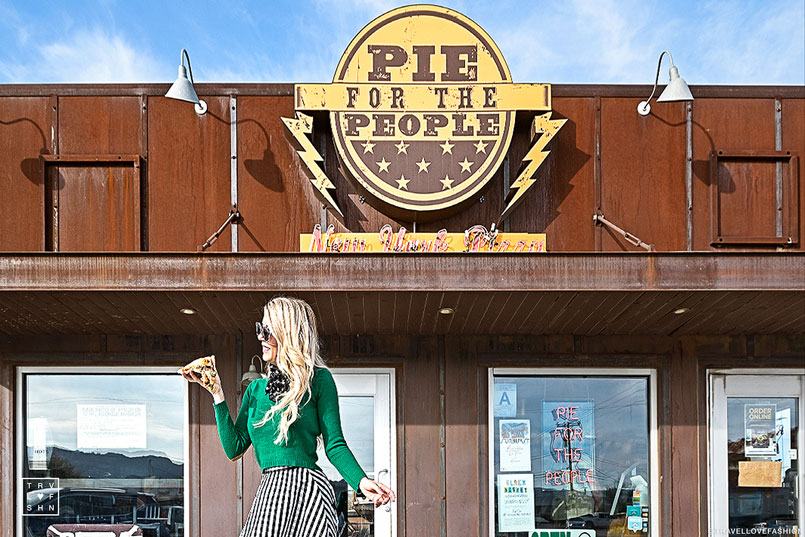 Pie to The People
Nothing hits the spot after a long day of hiking, biking, and general exploring like a hot and fresh pizza. Pie to the People is one of the best pizza restaurants in Joshua Tree and the Yucca Valley with a menu full of hand-tossed specialty pies and of course, the option to build your own. You can even order ahead online or by phone so your pizza is ready to go when you get there! The delivery is fast, too, so you can have your meal brought to you.
Natural Sisters Café
If healthy-eating is part of your lifestyle, The Natural Sisters Cafe is one of the best healthy restaurants in Joshua Tree serving up smoothies, sandwiches, wraps and more. With a focus on locally-sourced ingredients and an option for catering services, The Natural Sisters Cafe has been a staple eatery in the area since it first opened in 2009. The cafe is located near the entrance to the park so make sure you stop by and fuel up before you go exploring.
Crossroads Cafe
Breakfast is the most important meal of the day, especially when you're about to go check out the natural beauty of Joshua Tree National Park. Crossroads Cafe is one of the area's best breakfast restaurants and the hearty favorites will give you all the energy you need to explore. Breakfast is served all the way until 1:30pm and a full kids menu is perfect for those traveling to Joshua Tree National Park with a family.
Best Restaurants In Joshua Tree for Dinner & Drinks
Joshua Tree Saloon
If you're in the mood for a dive bar in Joshua Tree, there's one place in particular that fits the description! Joshua Tree Saloon doesn't have frilly drinks or a stuck-up crowd, instead you'll find a crowd of colorful characters tipping back drinks and eating burgers, wings and all manner of other bar food. If you're looking for a place that's laid back and relaxing, hitting up the bar at Joshua Tree Saloon is a great idea.
Pappy's and Harriett's
One of the best times to go to Pioneer Town is when there's a big-name show at Pappy and Harriet's Pioneertown Palace, a live music venue bringing in big names like Robert Plant, Iron & Wine and CHVRCHES to the people. The menu is full of delicious barbecue options and the old-time western decor is like stepping back in time to the Wild West!
What to Wear in Joshua Tree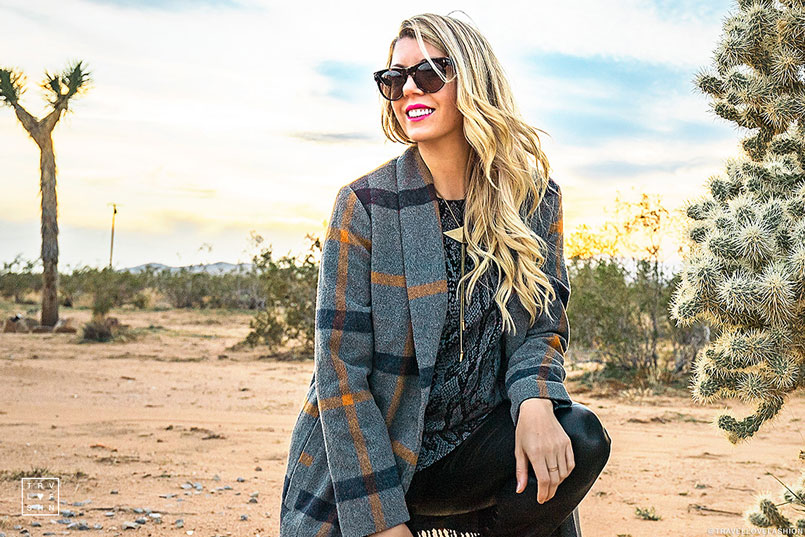 Packing for Joshua Tree National Park is important because having the right gear and clothing can make or break your trip. Warm days and cool nights mean bringing a variety of clothing options so you're comfortable no matter what the weather. The obvious gear to pack for a trip to Joshua Tree is an excellent pair of hiking boots that fit well and are comfortable. If your boots are brand new, it might be smart to break them in a little bit before you visit the park. Trekking leggings and gloves for climbing are also smart things to bring as you never know what you might encounter while exploring the park.

Extra Info to Know When Visiting Joshua Tree
The Best Time to Visit
Wondering when is the best time to visit Joshua Tree National Park? Generally speaking, the Summers are hot and the Winters can be very cold, so Spring or Fall end up being the most popular time for visitors.
Getting there and around Joshua Tree
You will need your own mode of transportation. It should also be noted that some accommodations are located on dirt roads with poor, or no street lamps. Make sure you know where you are going especially if you are planning to arrive in the evening.
PIN ME!!!