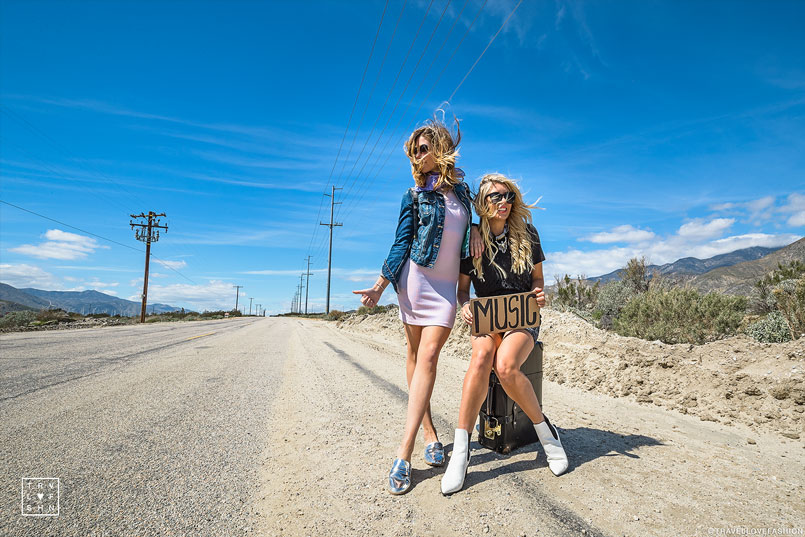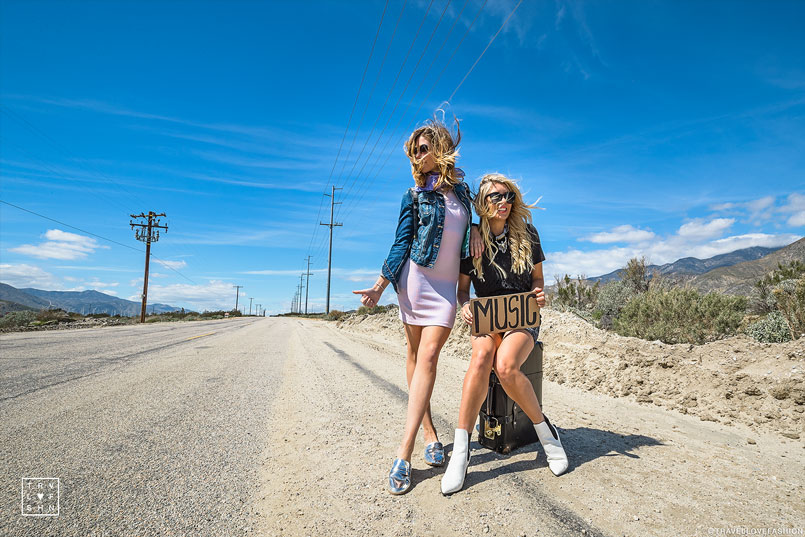 Coachella has come a long way since it debuted in 1999. What was once a weekend music festival has exploded into a two-weekend long extravaganza featuring off-site parties, pop-ups, and brand events.  There is so much going on around Coachella Music Festival that some people forgo the main event entirely. However, one thing remains constant, fashion is forward-facing throughout the desert soiree of happenings. Below is your guide on what to wear to Coachella, whether you will be marinating in the sun at a pool party, supporting a brand you love at an event, jamming out at the festival, or dancing the night away at exclusive afterparties.
For the full Coachella 2023 festival guide CLICK HERE!
What to Wear to Coachella Day Time Events and Pool Parties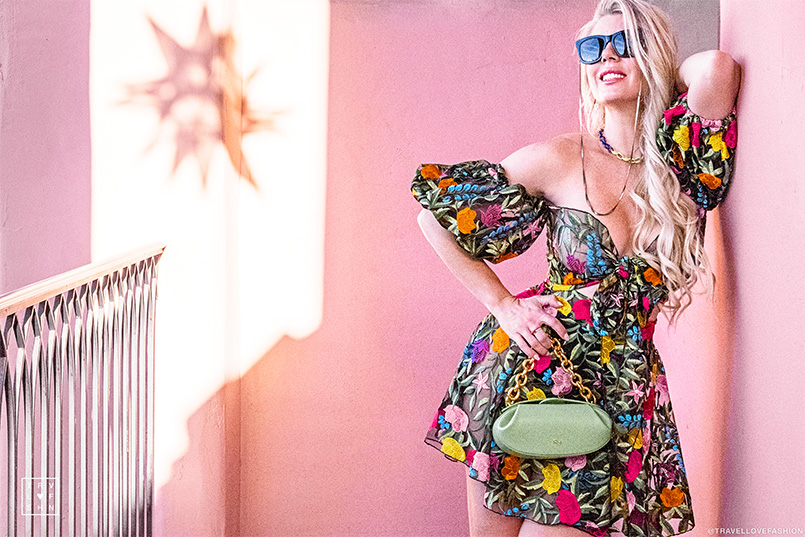 Vibe: Hot, Sexy, Flirty
With desert temperatures in California often reaching over 100 degrees in April, it's no surprise that most festival-goers attend a pool party or brand event before heading to the Indio Polo Fields. Almost every hotel in the Palm Springs area has some sort of pop-up event going on, especially the first weekend of Coachella.  Expect highly styled resort wear and pool attire with, of course, full hair and makeup.
If a pool is involved opt for trendy swimwear and a cool cover-up even if you are not planning on going swimming. Pair with a hat, sunscreen, and fancy sandals. This would be the only time wearing open toed shoes is acceptable during Coachella. If you are attending a brand event where the pool is not the main attraction, a flirty sundress, or sexy matching set will be a hit. When clothing is minimal, don't forget to accessorize to help you be the standout amongst the fashion-forward Coachella crowd.

What to Wear to Coachella Music Festival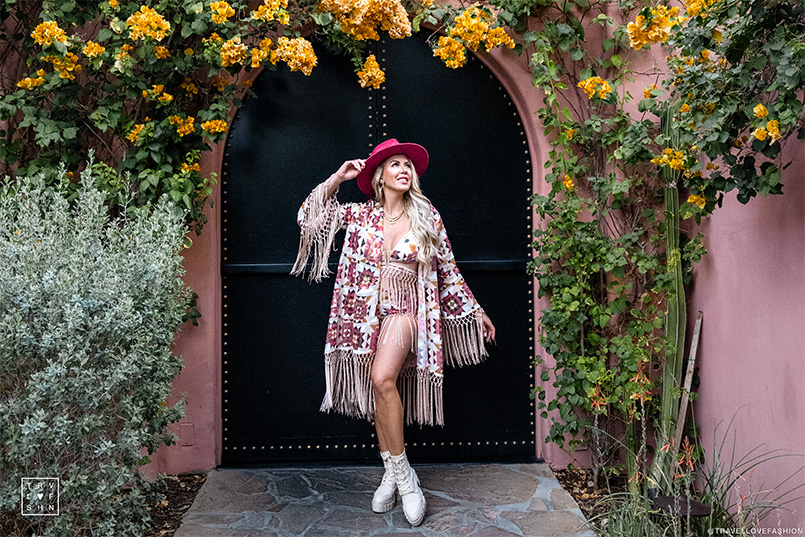 Vibe: Fashion-forward, Funky, Fun
Even the influencers and celebrities with the most packed (and paid) Coachella event schedules make sure to make it to the actual music festival. It has become popular to arrive at the festival around 3pm to golden hour when the temperatures and bigger music acts start to drop. The perfect Coachella outfit will take you comfortably from day to night while looking good tearing it up to your favorite band.
Expect to see everything from full on "festival wear" complete with headdresses and glitter makeup to more casual festival staples like denim shorts and cool girl sneakers and everything in between. For the 20 top outfits trends for Coachella 2023, click here.
Footwear is the most important decision you will make. Closed toed shoes are highly recommended. You can find a full breakdown of the best shoes to wear to Coachella here. As far as what bag to wear and what essentials to pack to Coachella, a small to medium cross-body bag or mini-backpack reign supreme so you can keep your hands free for dancing while not intruding on others in the crowds. Top off your look with a hat or funky hair accessories to complete your festival look, and don't forget a light jacket because it can get surprisingly chilly once the sun sets behind the iconic Ferris wheel.

What to Wear to Coachella After Parties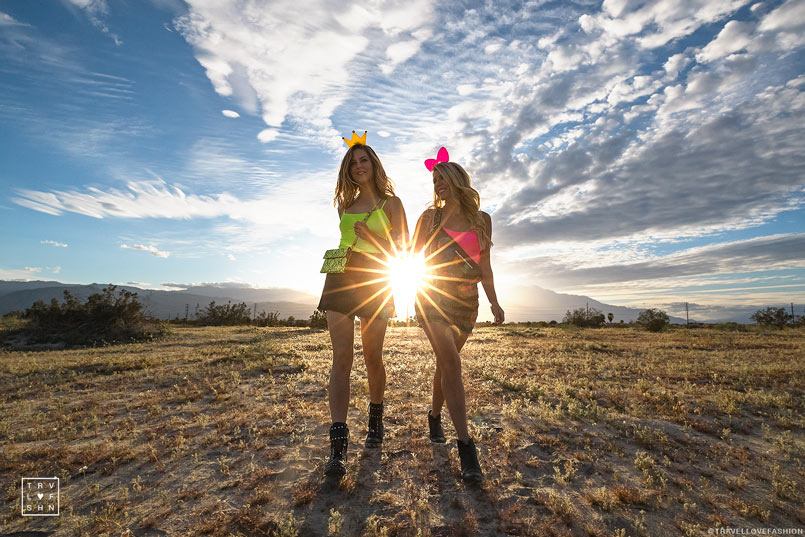 Vibe: Flashy, Functional, Electric
If you are lucky enough to score an invite to one of the exclusive Coachella after hour parties, you will want to look the part. Flashy pieces that stand out are key. There will be neon and light up headdresses complimented with leather jackets and combat boots. The wind picks up in the desert at night, so party goers often wear clear sunglasses or goggles and have a bandana handy to protect their faces from the elements while they party till the wee hours of the night.