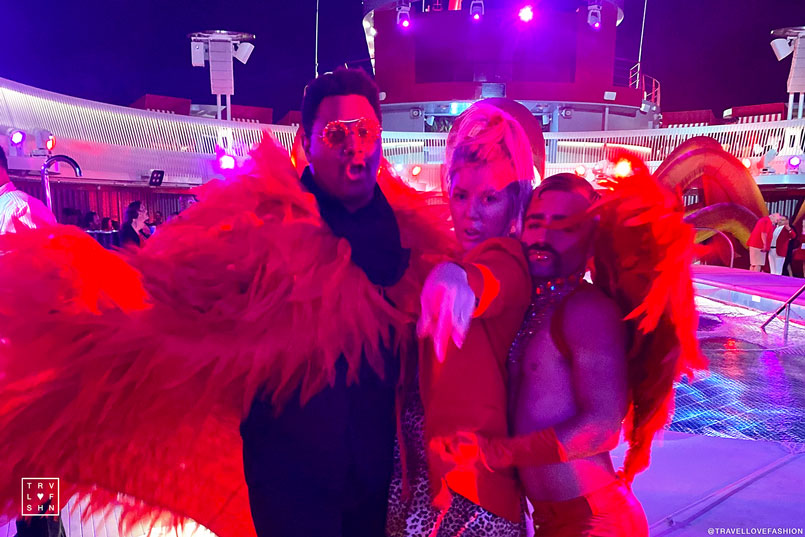 Virgin Voyages isn't your grandmother's cruise vacation. The newest cruise line at sea won't look or feel like any other ship sailing the seas these days, and that's a good thing! This new-age, adults-only cruise line is focused on curating a vacation experience for younger professionals who are looking for something new and different.
Features like champagne delivery all over the ship, entertainment with more risqué themes and ship-wide events are new to the cruise industry, but unfortunately have led to some speculation about a hidden agenda bubbling beneath what seems like a fun cruise experience. Some, without having set foot on a Virgin Voyages ship, have postulated the cruise line is operating a thinly-veiled sex cruise for swingers or those "in the lifestyle" as it's often put.
Let's put those rumors to bed right now. Is Virgin Voyages a sex cruise? Absolutely not.
Why are People Calling Virgin Voyages a Sex Cruise?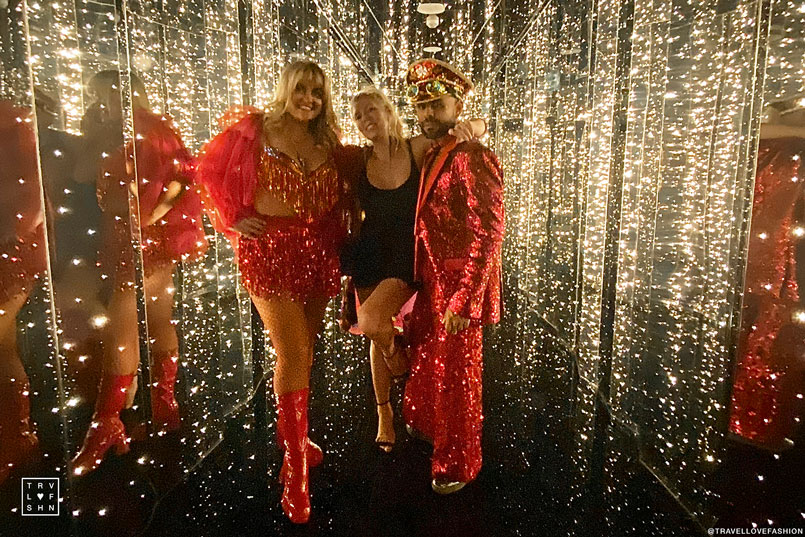 Misconceptions start when potential cruisers see what Virgin Voyages is selling. The branding and marketing efforts on their website and social media accounts have generally shown younger, attractive people (often couples) enjoying the many activities, entertainment and nightlife found all around the ship. They mingle with other guests, enjoying dinner at communal specialty dining restaurants like Gunbae Korean BBQ or dancing the night away at The Manor nightclub. Some misinterpret this as promoting extracurricular mingling when really, it's a cruise focused on everyone having their own brand of fun.
Other misconceptions might stem from the titles of the shows without the context that many of them are comedy-based. "Never Sleep Alone", for example, features a "sex doctor" named Doctor A who uses a mix of singing, dancing and audience participation to have candid, and hilarious, conversations about sex. It's understandable when you consider the name of the show that some would misconstrue the point. The bottom line is that Virgin Voyages has mature entertainment that isn't for prudes. The same goes for "The Miss Behave Show". Audience members will find themselves laughing raucously rather than feeling pressured to engage in any kind of sexual promiscuity. There's no pressure whatsoever.
Another point that many stumble over when trying to decipher what Virgin Voyages is all about is the attire of the entertainment staff and guests. Those who see scenes from the ship-wide Scarlet Night event in particular may lead to some wrong conclusions about what the cruise is all about. Entertainment staff don't hold back when it comes to their costumes and many are on the revealing side and would look very out-of-place onboard another cruise brand. Guests also don't hold back when it comes to dressing the part and unfortunately for those out of the loop, this can lead to wildly inaccurate assumptions about what's happening onboard.
What is Virgin Voyages Really About?
View this post on Instagram
Sure, Virgin Voyages offers things that other cruise lines don't. Happening nightlife, mature-themed shows and an adults-only policy, just to name a few. But these things are just a small part of what a Virgin Voyages cruise vacation is all about. At its core, a cruise with Virgin Voyages allows guests to enjoy their time on board at their own speed. If you want to stay out late, sleep in, enjoy delivery breakfast and then head to the pool deck to do it all over again, go for it! If you want to rise with the sun, enjoy a yoga session at the top deck studio, drink a green smoothie and head to the spa, go right ahead. Many opt for a mix of both for a truly fun and enriching cruise experience.
No, Virgin Voyages isn't a sex cruise. Nobody is going to proposition you and you won't find the cruise line promoting anything of the sort. The adult themes may lead some to jump to conclusions. However, it's all about having fun and doing something out-of-the-ordinary. Isn't that the whole point of a vacation after all?
Did you sail on Virgin Voyages? Let me know in the comments!
View this post on Instagram
PIN ME!!