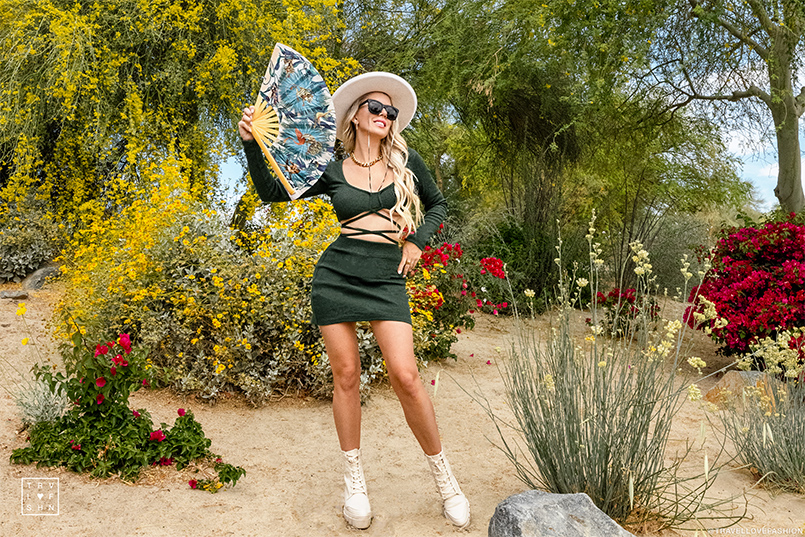 The fashion forward California music festival Coachella is back for two weekends this April 14th – 16th, and 21st – 23rd, 2023, bringing along a slew of fun, sexy and new music festival styles to wear. Below you can find 20 of the hottest Coachella outfit trends to rock while rocking out in the Indio desert.
For the full Coachella 2023 festival guide CLICK HERE!
Rosettes: Coachella's Hottest Trend
The hottest trend this spring showing up everywhere from the runways in Paris to the beaches of Mexico will be the biggest Coachella outfit trend of 2023. Rosettes are fabric shaped into the form of a rose. Coachella themed outfits embellished with Rosettes will be seen on tops, swimwear, dresses, hair accessories, and corsage inspired jewelry.

Sexy Sparkly Mesh Festival Style
Stand out in the crowd at Coachella with the sparkly styles that will be lighting up the festival. Sparkly mesh is a great outfit trend for music festivals because it can be as sexy or a conservative as you feel like making it. Sparkles look fabulous whether you wear it over a dress or layer it over a bikini.

Best Music Festival Outfits with Butterflies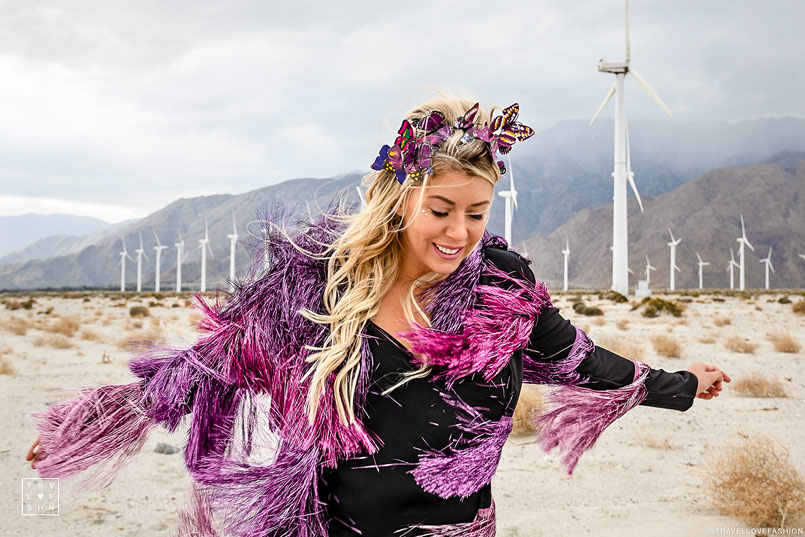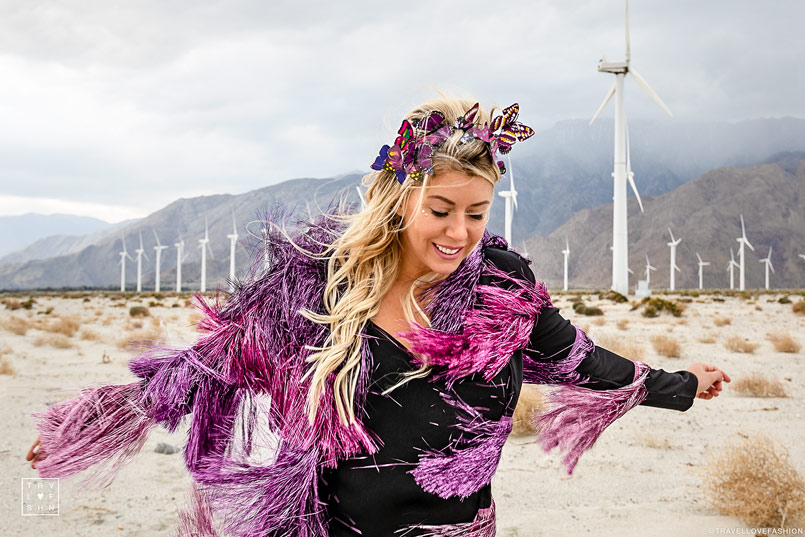 Fly away to the beat of the music with butterfly embellished festival fashion. Head pieces, sequined tops, and butterfly printed outfits are sure to be a Coachella fashion must-have in 2023.

The Best Big Bows for Coachella
Worn on the top your head, as a crop top, or styled on clothing, wrap yourself up in a big bow like the gift you are to the Coachella scene!

Coachella Weather Perfect Cut-Outs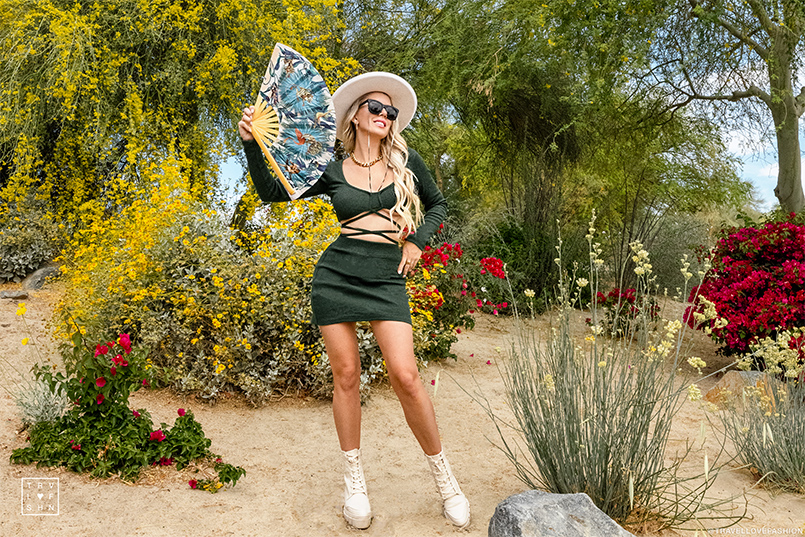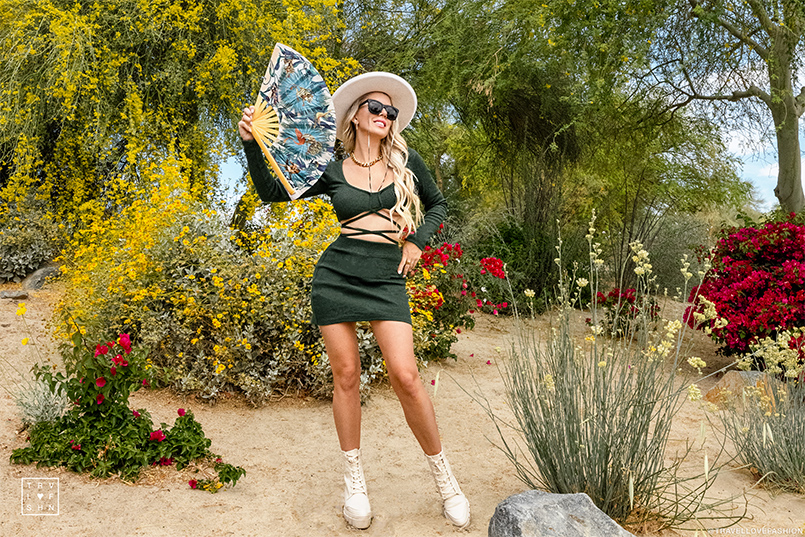 Show some skin with cut-out festival fashion outfits. This year brings cut outs to styles of all sorts. Choose a piece to show off your sexiest body part whether that's your shoulders, midriff, hips, or all of them at once.

Stylish Pleated Skirts
90's fashion continues to be on trend. 2023 festival season's most-coveted 90's piece is the pleated skirt. Comfortable, breezy, and cute, pleated skirts can be styled from ultra girlie, casual and laid-back, to edgy, making it an especially fun trend to play with in your festival fashion.

Pearl-Embellished Outfits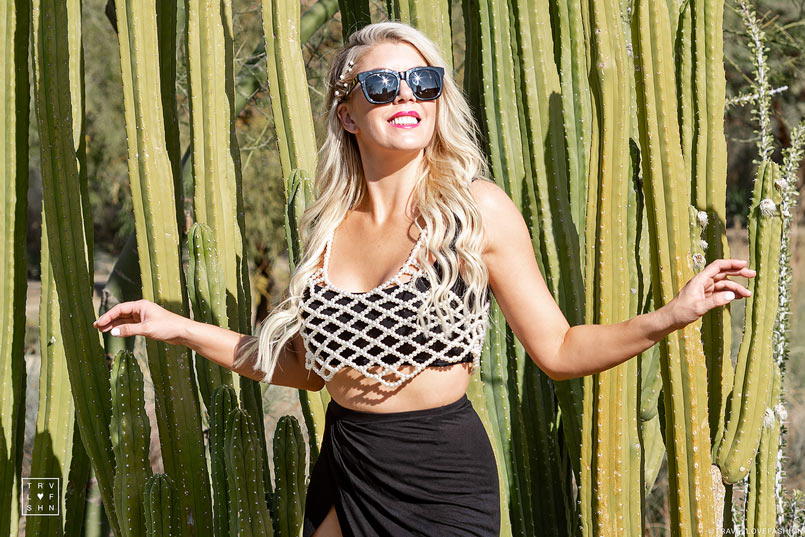 Coachella outfits don't always need to be completely out of box or outlandish! In fact, trending in-style can sometimes make you stand out even more for sheer fashion sense. That brings us to one of the biggest Coachella 2023 outfit trends: pearls. Renowned for their timeless appeal, pearls have undergone a modern makeover with endless possibilities as to where and how they can be worn. Add a little trendy elegance to your Coachella 2023 looks with pearl-encrusted clothing, shoes, handbags, jewelry, and, finally, hairstyles.

Fun Coachella Outfit Feathers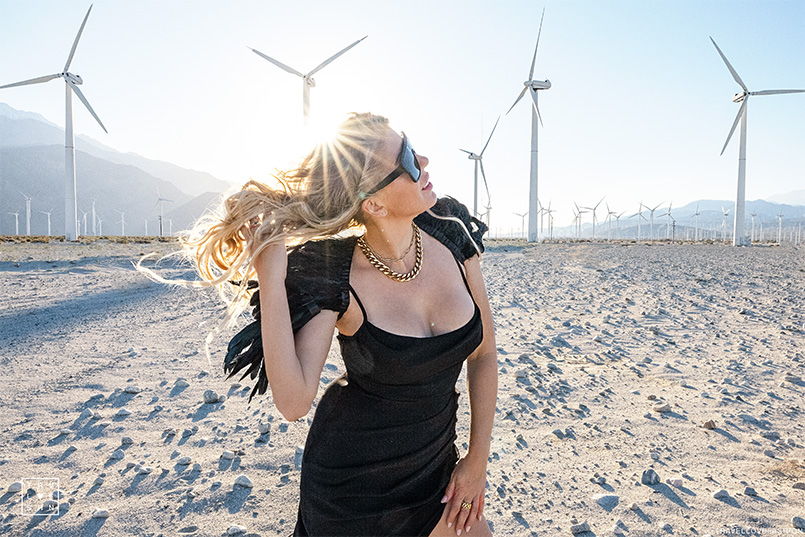 Feathers embellished festival outfits continue to be fly for 2023. Fly away to the sound of your favorite band or artist with the very cool festival 2023 feather trend. Embellished pieces, accessories, to all-out feather dresses will sway in the desert winds throughout Coachella. A feather fashion piece lifts even the simplest of festival staples like denim shorts or a simple slip dress to new heights. Soar to festival fashion fortitude with feathers at Coachella 2023.

Indio Desert Denim Skirts
Denim shorts are a forever trend on the festival fashion scene. However, easily update your Coachella look by opting instead for the in-the-moment trend of a denim skirt. It Regardless of what length or style you choose, a denim skirt is an easy way to add function and fun to your Coachella festival style for more on-trend look.

High-Slit Maxis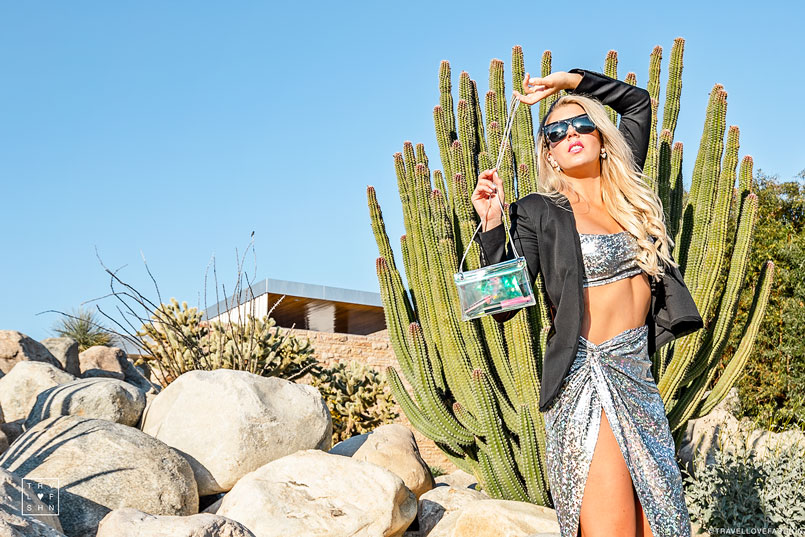 Sexy, flowy, and fun the maxi length returns to festival fashion trends in a ramped-up version with thigh-high slits. This trend can be easily styled up or down. A high slit maxi skirt looks fabulous paired with anything from a graphic tee and cool tennis shoes to a crop top and a heeled boot. High-slit dresses are the perfect easy Coachella outfit when paired with a statement boot.

 Open Button-Down Shirt Set with Bra Top
An open button-down shirt paired with shorts or pants and a bra/bikini top underneath is an "it girl" staple this Coachella festival season. This Trend makes the perfect Coachella outfit combining comfort and function with a bit of sexy. Add some body jewelry and a statement boot for a look that will have everyone looking.

Elaborate Crop Tops to Beat the Heat
An abundance of crop tops in all shapes and styles will be seen all over the Indio Polo Fields at Coachella 2023. Find the style that works best for you to help stay, and look, cool during hot desert temperatures that are to be expected during this California music festival.

Coachella Cowboy Hats for Women
Stylish and practical is always appreciated in festival fashion. Keep the sun off your face while still looking hot in the biggest hat trend for Coachella 2023. Take your pick from traditional styles to full out embellished cowboy hats to top off your Coachella outfit.

Cropped Jackets for Coachella Nights
Coachella is known for having extremely warm weather, between high 80s- 100 degrees, in Indio, California during April. However, as the sun sinks behind the mountains the desert temperatures drop requiring a light jacket to stay comfortable. While leather and denim jackets will always be a festival fashion staple, this year's trendiest looks will include a cropped jacket.
*Pro Tip: Always reserve a locker inside festival grounds. Coachella Lockers can be accessed as many times as needed during the festival and are a great place to store your jacket when it is not needed, as well as any other items you want handy but don't always need on hand. CLICK HERE TO SEE WHAT TO PACK, WHAT NOT TO PACK, IN YOUR COACHELLA DAY BAG.

Coachella Inspired Water-Colored Outfits
Take any festival look to on trend in pastels mirroring the California desert sunsets and ocean inspired hues. Water-colored pieces are a great festival trend because they can be found in an abundance of styles making it easy to suit your fashion needs.

Best Cargo Pocket Festival Style for Coachella
Every girl knows how awesome it is when clothing actually has usable pockets. The great news is cargo pockets are back in style and hotter than ever, showing up on everything from micro minis, dresses, belts, and pants. Finally, a trend where you won't need to lug around a bag but will still have everything you need on you.

Mermaid Inspired Festival Attire
The mermaid-chic beach trend comes ashore to the desert at Coachella 2023. Netting, shell embellishments, and the mermaid silequette makes a splash this festival season. Rock these looks in ocean sprayed colors for a full mermaid vibe, or neutrals for a more bohemian feel.

Musical Festival Lace
From sexy lingerie style tops and girly dresses to edgy inserts, lace will be a show-stopping trend anyone can incorporate into their personal festival style.

Breezy Parachute Pants for Festival Fashion
One of the most comfortable festival fashion trends of 2023 will be parachute pants. Available in light-weight breathable fabrics in a variety of colors, styles, and prints, this trend is the ultimate day to bight festival attire. Style with a cropped top or baby tee, and a cool pair of shoes for the best laid-back "I don't try too hard, but still look cool" vibes.

Coachella Barbiecore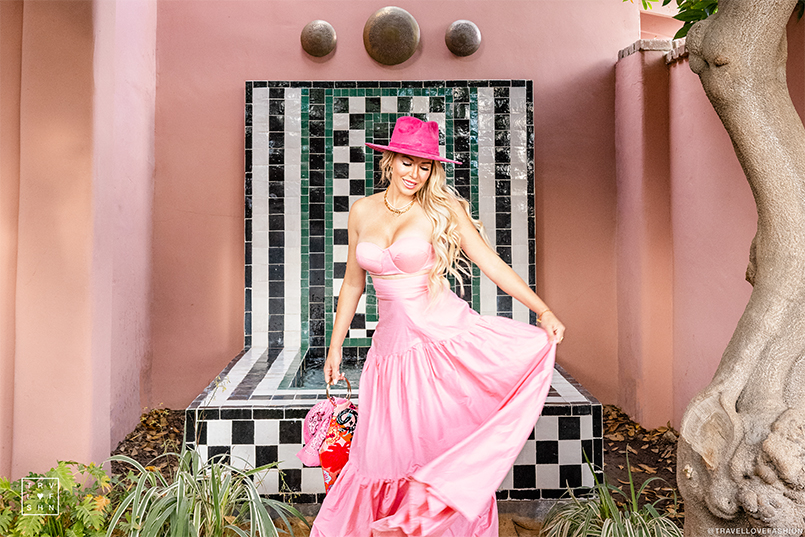 Come on Barbie lets go party at Co-chell-a! Barbie inspired all pink looks have been taking over fashion weeks around the world and will be making their way to the California music festival grounds in droves. Summon your Barbie girl by mixing shades of pink or opting for an all-hot pink outfit top to bottom.

More Coachella Style Inspo
Top off your festival looks with the best hats, headpieces, and hair accessories for Coachella Music Festival with these 7 show-stopping head-topping trends HERE.
Finish off your looks with the best festival shoes! The best shoes for Coachella need to sustain you for hours of walking, dancing, and standing in line. You also likely want to look good. HERE are 6 of the best shoes for Coachella 2023 for maximum function and cuteness.
Heading to a Coachella off-site event, pool party, or after party? HERE is what to wear!