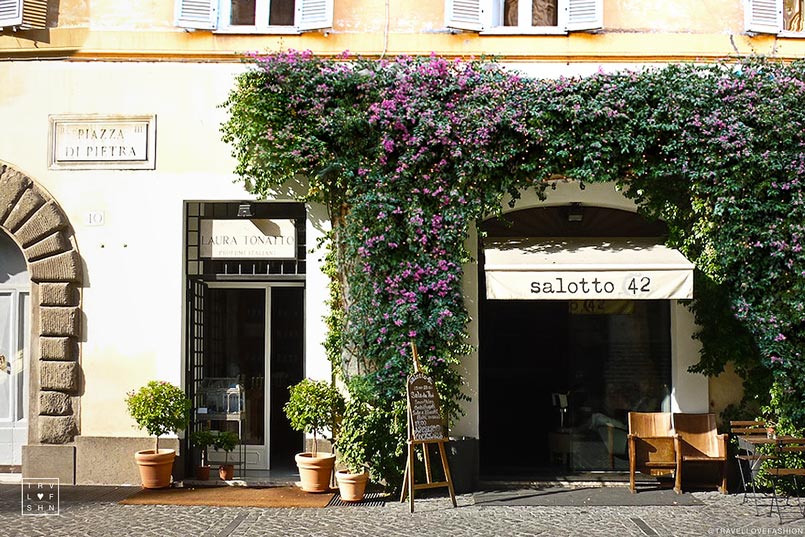 Most Stylish Bar in Rome: Salotto 42
The Best Bar to Grab a Drink in Rome, Italy
Like a perfectly paired vintage blazer over a new mini dress, Rome is the ultimate city when it comes seamlessly mixing the old with the new. The best example of this is the most stylish bar in Rome, Salotto 42. Ranked as one of the best bars in the world, Salottoa 42 has a stunning front-row spot overlooking the 2nd-century ruins of the Temple of Hadrian.
This trendy spot on lovely Piazza di Pietra draws a fashionable crowd at all hours of the day. It is a great place to enjoy a morning espresso, an afternoon tea, or take the evening into the night with an aperitivo that turns into a bottle of wine under the shadows of the looming temple columns.
Inside the bar, you will find an attractive, atmospheric space, full of charming little design touches, with its vaulted ceiling and pretty trinkets, small but perfectly formed. A rotating collection of art is displayed on the walls, complemented by a scattering of books on art, fashion, and design. A hip soundtrack keeps the mood vibey. There are plenty of comfortable and faintly retro chairs and sofas in which to kick up your new Italian sandals and enjoy the perfectly prepared cocktails served by top-notch mixologists.
The crowd swings between upscale and hipster. Salotto 42 caters to attractive, creative locals who live and work in the historic center.  And because it's right between the Pantheon and the Spanish Steps, just off Via del Corso, it also makes for a great in-the-know find for travelers visiting the monuments.
When in Rome, why not enjoy your spritz with a view?
Salotto 42
Piazza di Pietra 42
00186 Rome, Italy
Centro Storico
Phone number+39 06 6785804