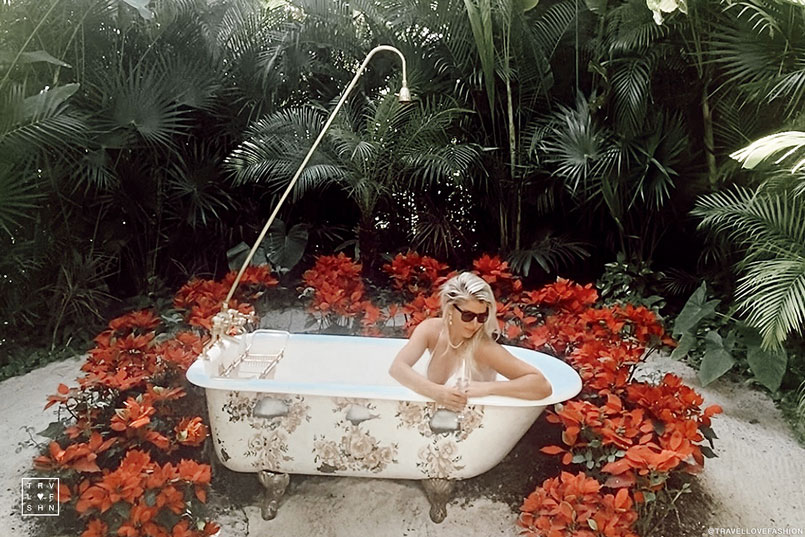 Experience the Best Boutique Hotel in Tulum: A Luxurious Stay at Casa Malca
Nestled on the shores of a pristine white sand beach, you'll find the best boutique hotel in Tulum. Casa Malca is a haven of artistic brilliance and effortless luxury. The boutique hotel's enchanting blend of bohemian chic and high-end design has earned it a reputation as one of the most stylish and sought-after luxury stays in Mexico.
At Casa Malca, the art is as much a part of the experience as the stunning beachfront location. The hotel's impressive collection of contemporary works, curated by New York-based art dealer and collector Lio Malca, adorns every corner of the property. From vibrant murals to intricate sculptures, each piece has been carefully chosen to create an eclectic atmosphere that celebrates creativity and individuality.
But Casa Malca is more than just an art lover's paradise. This Tulum boutique hotel's luxurious amenities, including a rooftop bar, beach club, and fine-dining restaurant, ensure that guests are pampered and indulged from the moment they arrive. And with its commitment to sustainability and community engagement, Casa Malca is a hotel with a heart making it one of Tulum's best hotels.
Adding to the hotel's mystique, Casa Malca was owned by the notorious Colombian drug lord Pablo Escobar in the 1980s. After his death, the property was abandoned for many years before being purchased and renovated by its current owners. The hotel has since been transformed into one of the best boutique hotels in Tulum, while still retaining some of the original features and history of the property.
Casa Malca is a destination that embodies the very essence of modern luxury – stylish, authentic, and utterly unforgettable. Click HERE to book Casa Malca for your next luxury vacation in Tulum, Mexico.
The Vibe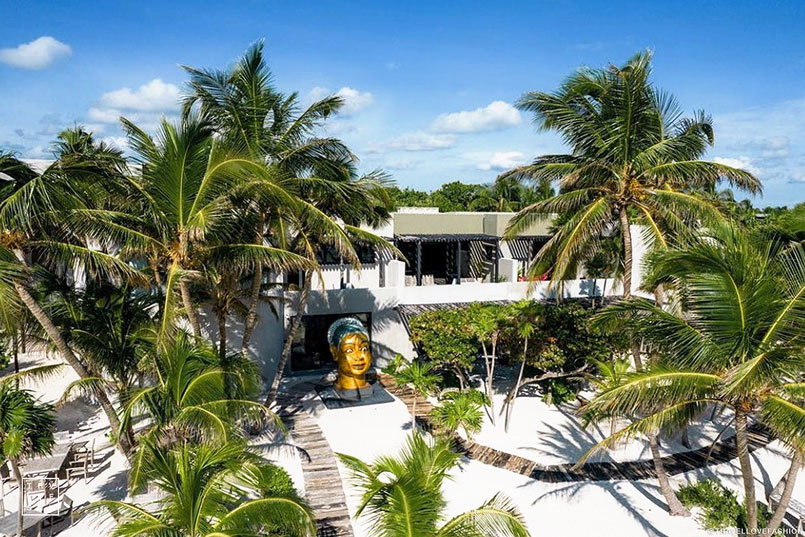 The vibe at Casa Malca in Tulum is one of creative luxury and effortless cool, with a bohemian-chic atmosphere that seamlessly blends high-end design and relaxed beachfront living.
The people at Casa Malca are another defining aspect of the hotel's vibe. The staff is friendly, attentive, and always willing to go above and beyond to make guests feel welcome and comfortable. The hotel's communal spaces encourage guests to socialize and connect with one another, whether it's at the beach club, the rooftop bar, or in the hotel's beautiful gardens.
The ambiance at Casa Malca is relaxed and inviting, with a laid-back atmosphere that feels both sophisticated and unpretentious.
Casa Malca is a paradise of artistic creativity, luxurious comfort, and warm hospitality, making it the perfect destination for travelers looking for a unique and memorable vacation experience in Tulum.
Location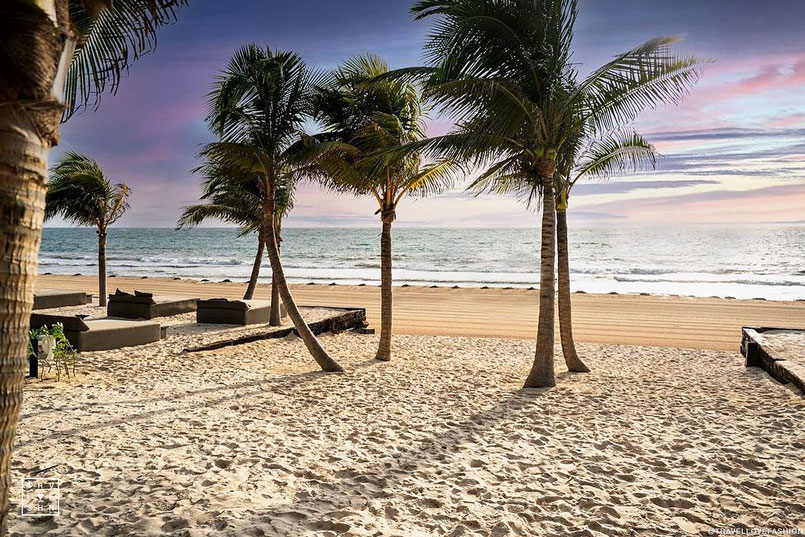 Casa Malca is located on the beautiful white sand beaches of Tulum, Mexico. The hotel is situated on Carretera Tulum-Boca Paila Km. 9.5, which is approximately 9.5 kilometers (or 6 miles) south of the town of Tulum.
The hotel's beachfront location offers stunning views of the Caribbean Sea and easy access to the area's best beaches, making it an ideal destination for travelers looking to relax and unwind in paradise. The hotel is also located close to some of Tulum's most popular attractions, including the Tulum Mayan ruins and the Sian Ka'an Biosphere Reserve.
Casa Malca is easily accessible by car, taxi, or public transportation, and the hotel offers a range of transportation services for guests, including airport transfers and private tours. Whether you're looking to explore the area's rich cultural heritage or simply soak up the sun on the beach, Casa Malca's prime location makes it the perfect home base for your Tulum adventure. Make sure you read up on the best transportation options for Tulum and the surrounding areas of Mexico HERE.
Dining at Casa Malca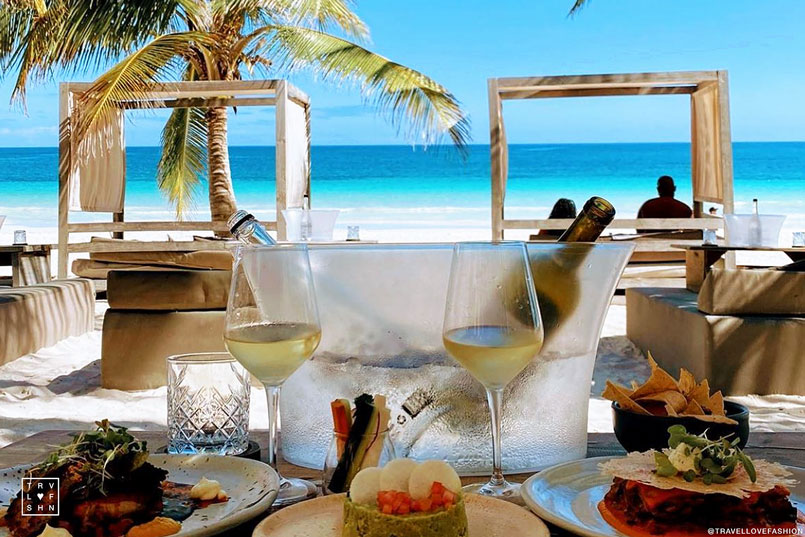 Casa Malca offers a range of dining options, from casual beachside snacks to elegant fine dining experiences, each offering a unique culinary journey that celebrates the flavors and traditions of Mexico.
Breakfast
Make sure you make your booking for Casa Malca with breakfast included because it is top notch. Breakfast includes a buffet with a full spread including pastries, tons of healthy options, fresh juices, and tons of yummy food. You can also order al a carte off a menu. Coffee and a cocktail is included. You can start your day inside or on the beach with amazing views. It is hands down one of the best breakfasts available in all of Tulum.
Philosophy Restaurant
The hotel's signature restaurant, Philosophy, offers a sophisticated and inventive dining experience that showcases the best of contemporary Mexican cuisine. Dishes are prepared using the freshest local ingredients, with a focus on sustainable and organic farming practices. Some of the best dishes to try at Philosophy include the charcoal grilled octopus with black garlic puree and the roasted bone marrow with tamarind glaze.
Beach Club
The hotel's Beach Club offers a more casual dining experience, with a menu that focuses on fresh, light bites that perfectly complement a day spent lounging on the beach. Some of the best dishes to try at the Beach Club include the fresh ceviche, the guacamole with homemade tortilla chips, and the fish tacos.
Rooftop Bar
The hotel's rooftop bar offers stunning panoramic views of the ocean and jungle, along with a menu of inventive cocktails and light bites. Some of the best dishes to try at the Rooftop Bar include the charcuterie board, the grilled octopus skewers, and the tuna tartare.
Pizza
Casa Malca offers a range of culinary delights, including their mouth-watering wood-fired pizzas. The hotel's pizza menu features a variety of classic and contemporary toppings, made with fresh, locally sourced ingredients. The pizzas at Casa Malca are cooked in a traditional wood-fired oven, giving them a crispy crust and deliciously charred edges. Guests can enjoy their pizza on the hotel's beach or poolside, or in the comfort of their own room.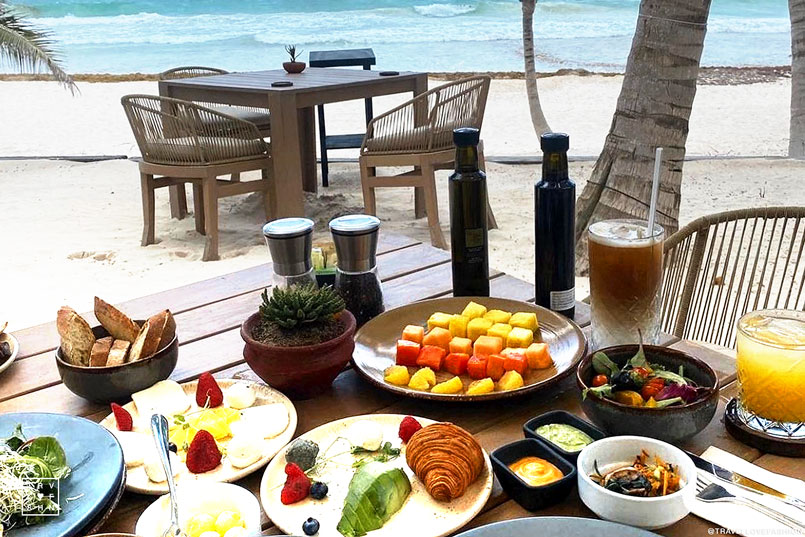 In addition to these dining options, Casa Malca also offers a range of private dining experiences, including romantic dinners on the beach and intimate dinners in the hotel's art-filled garden.
Whatever your dining preferences, Casa Malca offers a culinary journey that is sure to delight and satisfy your taste buds.
Art At Casa Malca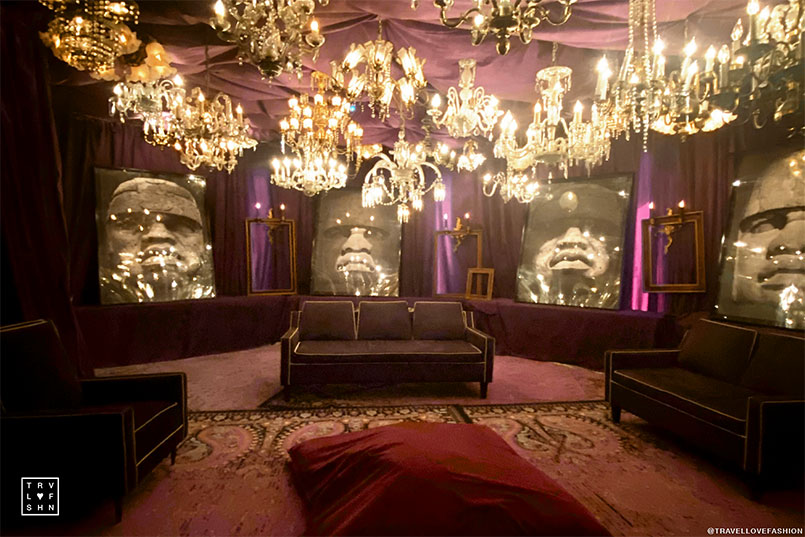 One of the most eye-catching art installations at Casa Malca is the collection of wedding dresses hanging at the hotel's entrance. The dresses were transformed into works of art by Mexican artist Jorge Méndez Blake, who used them to create a series of sculptural installations that explore the intersection of beauty, tradition, and memory. The dresses serve as a powerful symbol of the hotel's commitment to art and culture, as well as its celebration of love and connection.
Casa Malca is known for its impressive collection of contemporary art, which is displayed throughout the hotel's public spaces and guest rooms. The collection features works from some of the world's most renowned artists, including Keith Haring, KAWS, and Jean-Michel Basquiat, among others.
Here are 5 must-see pieces of art at Casa Malca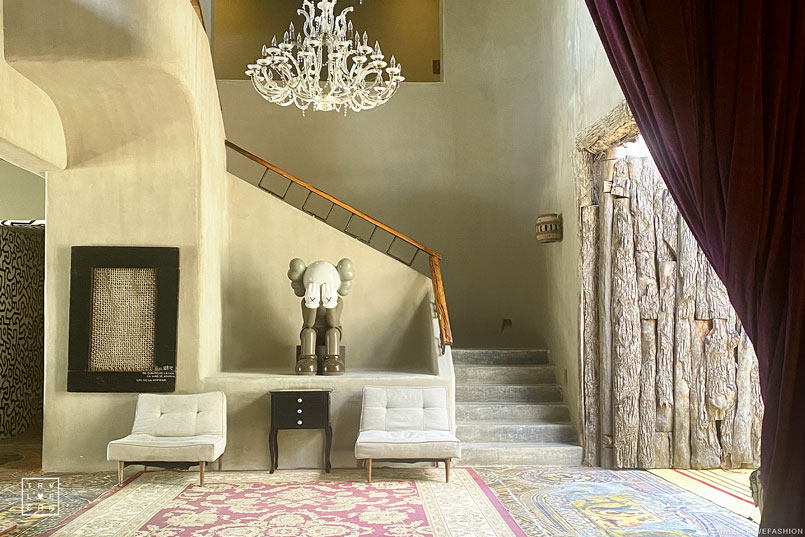 "Warrior" by KAWS: This 7-foot-tall sculpture is located in the hotel's lobby and is a standout piece in the collection. The bronze sculpture features KAWS' signature cartoon-like style.
"Untitled" by Jean-Michel Basquiat: Casa Malca displays several works by Basquiat, one of the most influential artists of the 20th century. "Untitled" is a large-scale painting that showcases Basquiat's unique blend of street art and abstract expressionism.
"Gold Marilyn Monroe" by Andy Warhol: This iconic image of Marilyn Monroe is one of Warhol's most famous works and is displayed in the hotel's lounge area. The piece is a screen print on gold leaf, which adds a touch of glamour to the space.
"Untitled (Pistol)" by Keith Haring: This vibrant painting by Haring is located in one of the hotel's guest rooms. The piece features his signature figures and bold lines, adding a playful touch to the room.
"The Sun and Other Stars" by Beatriz Milhazes: This colorful and intricate mixed media piece resides in the hotel's dining room. Milhazes often uses bright colors and patterns, and this piece is a stunning example of her work.
These are just a few of the many incredible works of art on display at Casa Malca. Whether you're an art lover or just appreciate beautiful surroundings, the hotel's art collection is a must-see during your visit to Tulum.
Rooms at Casa Malca
Beautifully designed, the rooms at Casa Malca feature a unique blend of traditional Mexican style and contemporary luxury. Thoughtfully appointed, each room comes with a range of amenities to ensure a comfortable and memorable stay.
Casa Malca is designed to offer guests a luxurious and exclusive experience. With only 41 rooms, this beachside Tulum hotel has an intimate and personalized feel. Each room at Casa Malca is unique and designed to showcase the hotel's artistic ambiance. Many of the rooms feature original artwork and custom furnishings. The property also has several private areas, such as the underground pool, that are reserved exclusively for guests.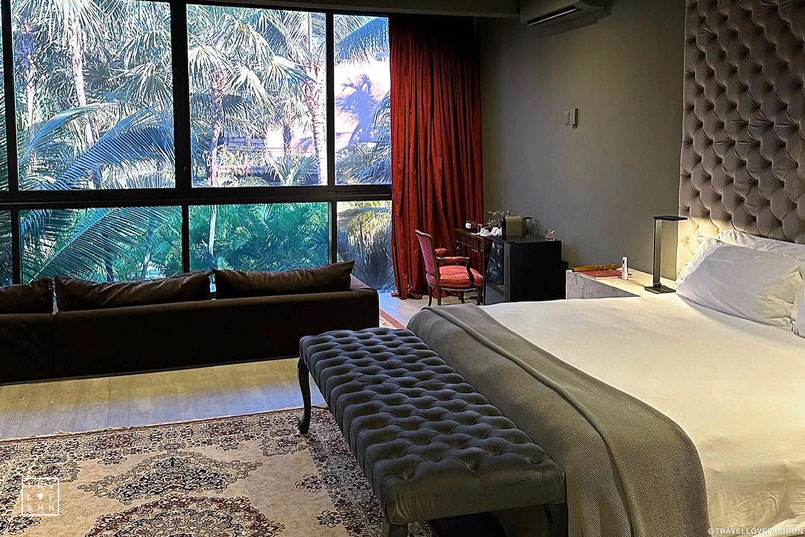 Room amenities
Luxurious bedding and linens
Air conditioning
Free Wi-Fi
Flat-screen TVs with cable
iPod docking stations
Safe deposit boxes
Private bathrooms with premium toiletries
Daily housekeeping and turn-down service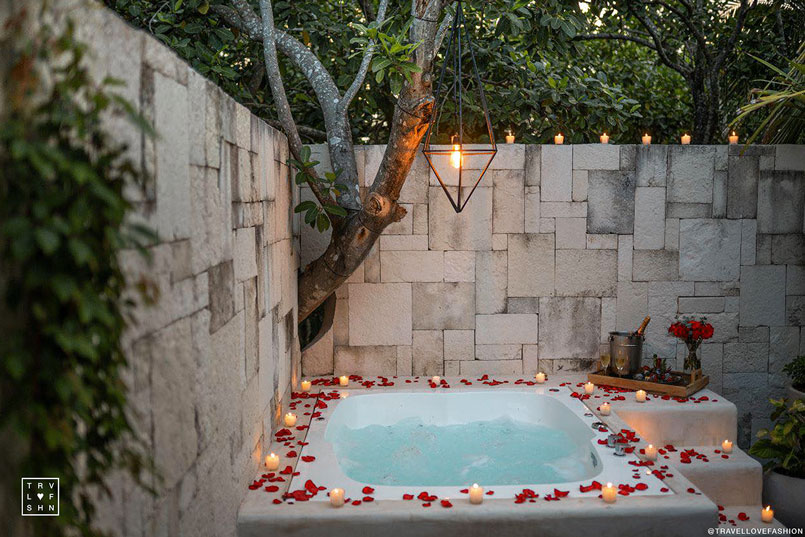 The hotel offers a range of room categories to suit every traveler's needs, from cozy garden view rooms to spacious oceanfront suites. Many rooms feature private balconies or terraces with stunning views of the Caribbean Sea.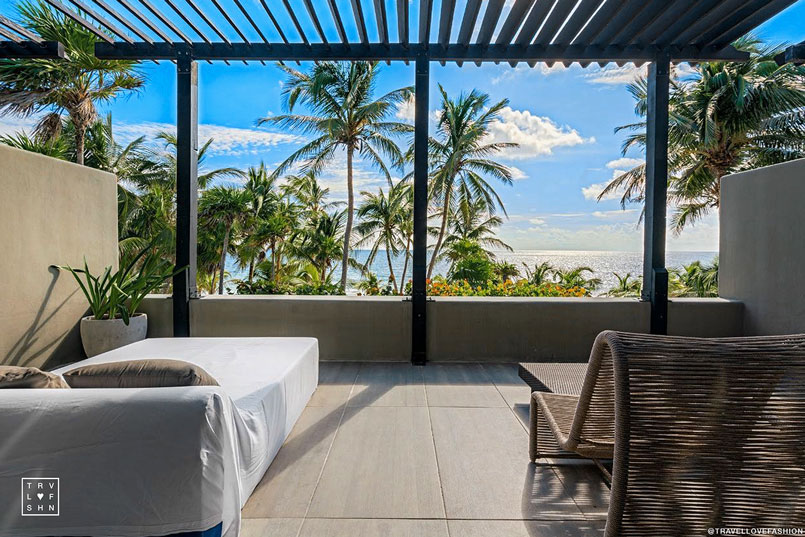 The best room at Casa Malca is the iconic "Pablo Escobar Suite," which was once owned by the infamous drug lord. The suite is located on the top floor of the hotel and features a large living area, king-size bed, private terrace with ocean views, and a luxurious bathroom with a Jacuzzi tub. The suite showcases original works of art and memorabilia from Escobar's time at the property, making it a truly one-of-a-kind experience.
The Pools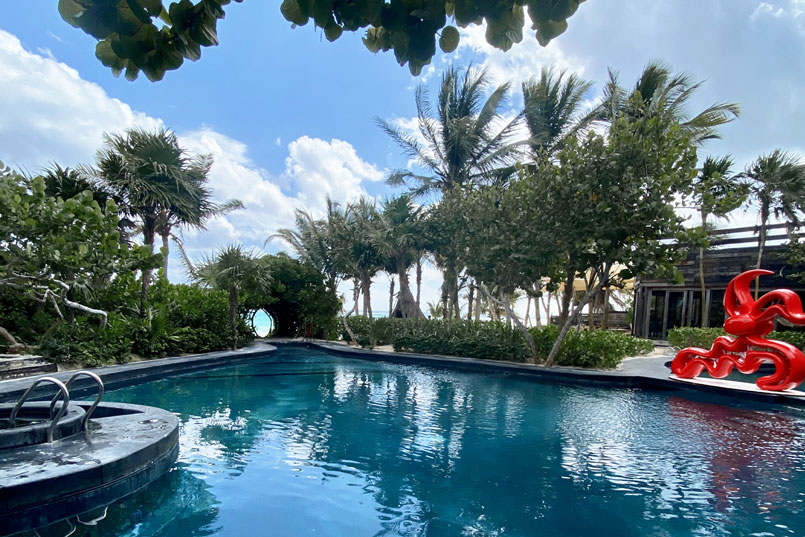 Casa Malca features two beautiful swimming pools, and a hidden underground pool, each with its own unique atmosphere and design.
The first pool is located in the hotel's main courtyard and features a beautiful mosaic design. Surrounded by lush tropical plants and comfortable loungers, the pool makes for the perfect spot to relax and soak up the sun. The atmosphere here is laid-back and tranquil, creating a serene oasis in the heart of the hotel.
The second pool is located on the hotel's rooftop terrace and offers stunning views of the Caribbean Sea. This infinity pool is surrounded by chic loungers and features a swim-up bar, where guests can enjoy refreshing cocktails while taking in the breathtaking views. The atmosphere here is more lively and social, making it a great spot to mingle with other guests or enjoy a romantic sunset with a loved one.
Both heated pools remain open year-round, making them a great place to unwind and relax no matter what time of year you visit. Regularly maintained to ensure they are always clean and inviting for guests, there's no better place to enjoy the bright Tulum sunshine.
Casa Malca also features a unique underground pool, which is located beneath the hotel's main entrance. This hidden gem is a remnant of the property's past as a private residence and has been beautifully restored and incorporated into the hotel's design.
The underground pool treats guests to a spiral staircase and features a stunning design, with exposed stone walls, intricate tilework, and moody lighting. The atmosphere here is intimate and secluded, creating a sense of mystery and intrigue.
Guests can book private use of the underground pool for a truly unforgettable experience. The pool is perfect for a romantic dip or a quiet escape from the hustle and bustle of the hotel's main pools. It's a must-see for anyone looking for a unique and unforgettable swimming experience at Casa Malca.
The Spa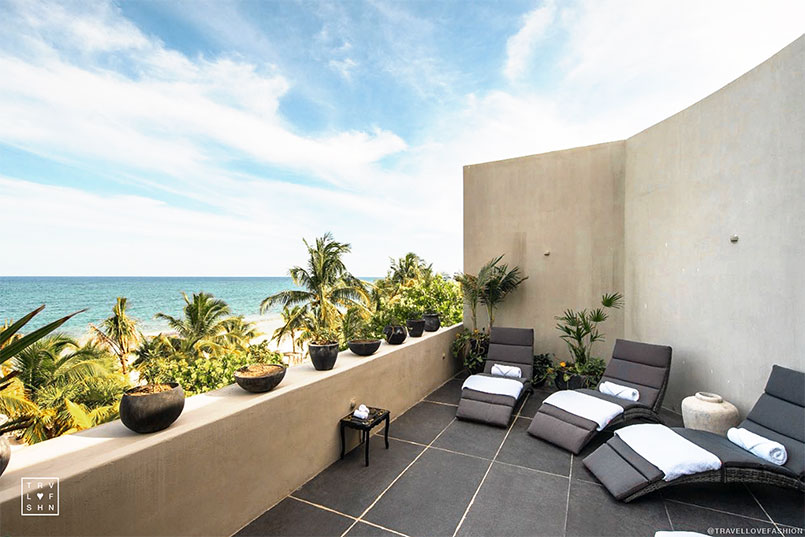 Casa Malca's spa offers a range of luxurious treatments designed to help guests unwind and rejuvenate. The spa itself is a beautiful and serene space, with an all-white decor and soothing lighting that creates a calming atmosphere.
One of the most unique treatments available at Casa Malca's spa is the "Mayan Chocolate Massage." This indulgent treatment combines the relaxing benefits of a traditional massage with the healing properties of chocolate. Guests enjoy full-body massages using a special blend of chocolate and essential oils, which helps to hydrate the skin and improve circulation. The treatment ends with a chocolate body scrub and a warm chocolate bath, leaving guests feeling relaxed and rejuvenated.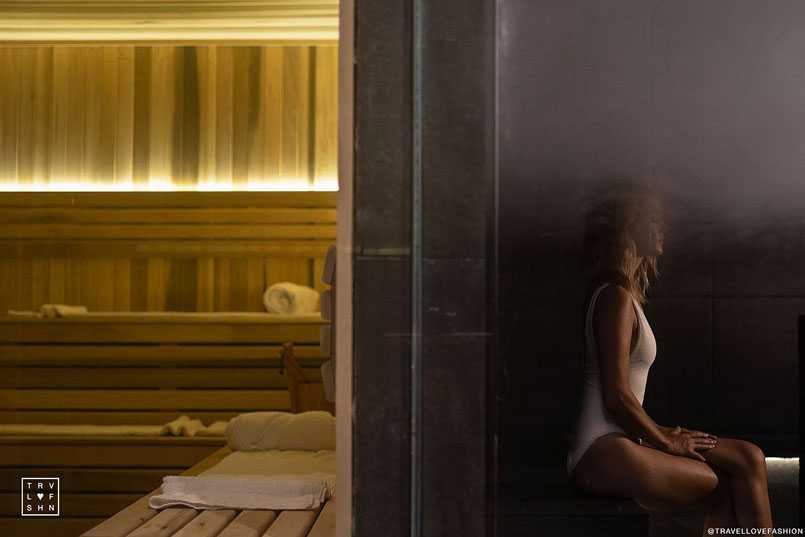 Another unique treatment at the spa is the "Agave Experience," which uses the healing properties of agave to soothe and nourish the skin. The treatment includes a full-body exfoliation using agave fibers, followed by a massage with agave oil. The treatment ends with a warm agave-infused bath, leaving guests feeling refreshed and revitalized.
In addition to these unique treatments, the spa at Casa Malca also offers a range of traditional massages, facials, and body treatments using all-natural, organic products. The skilled therapists at the spa provide guests with an unforgettable spa experience.
Casa Malca also offers poolside spa treatments for guests who want to enjoy a massage or other treatment while soaking up the sun. The poolside spa treatments take place in a private cabana near the main pool or the rooftop infinity pool, and guests can choose from a variety of massage and beauty treatments.
The poolside spa treatments at Casa Malca help guests relax and rejuvenate while enjoying the hotel's stunning surroundings. Whether you're looking for a traditional massage or a unique treatment like the Mayan Chocolate Massage, the skilled therapists at the spa can customize the treatment to your individual needs and preferences.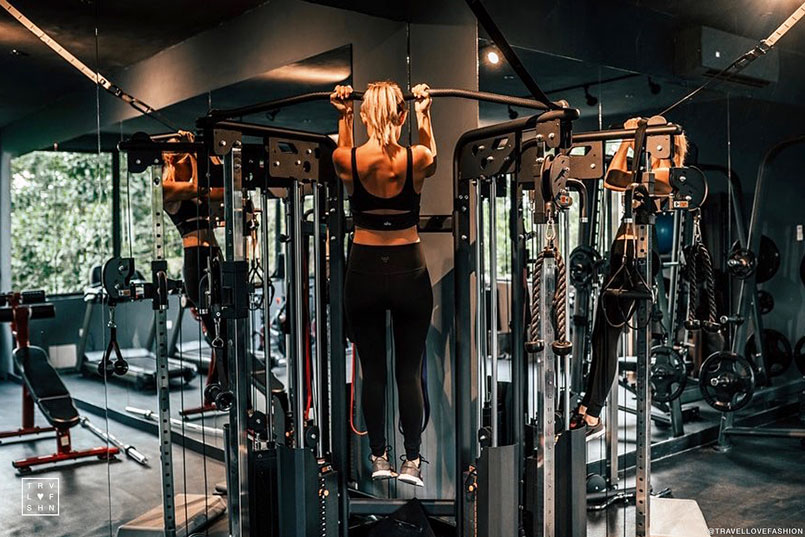 Yoga at Casa Malca
Casa Malca offers complimentary yoga classes to guests of the hotel. The yoga classes take place in a beautiful open-air studio surrounded by lush vegetation, creating a serene and peaceful atmosphere for your practice.
The yoga classes at Casa Malca are suitable for all levels, from beginners to more experienced practitioners. The classes are led by experienced instructors who are knowledgeable about a range of yoga styles, including Hatha, Vinyasa, and Yin. The instructors can also tailor the classes to meet the specific needs and preferences of each guest. Classes happen in both Spanish and English.
Attending the free yoga classes at Casa Malca is a great way to start your day and set a positive tone for your time in Tulum. The classes are a wonderful opportunity to connect with yourself, your body, and your breath, while enjoying the beauty and tranquility of the hotel's surroundings.
Drinks at Casa Malca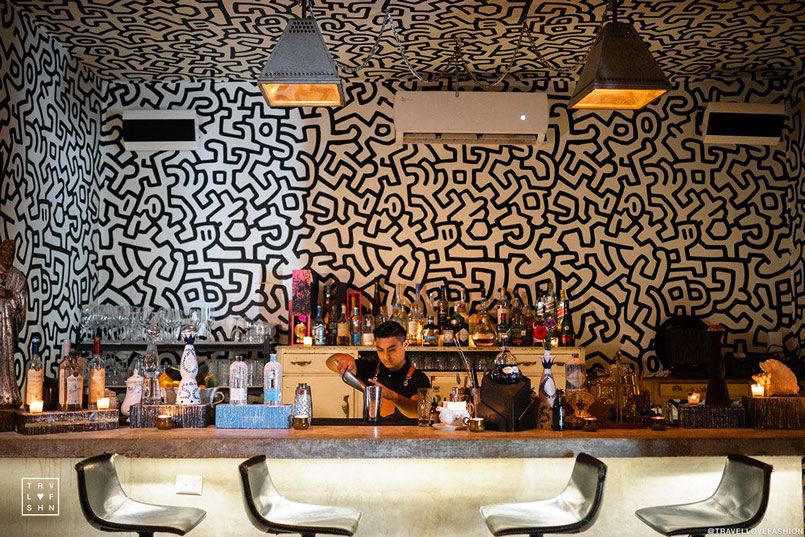 Casa Malca has several beautiful spots where guests can enjoy a refreshing drink and take in the stunning views. Here are some of the best spots for drinks at Casa Malca:
The Rooftop Bar
Located on the hotel's rooftop, the Rooftop Bar offers panoramic views of the Caribbean Sea and the surrounding jungle. The bar serves a wide range of cocktails, wines, and beers, as well as light snacks and tapas. This is a great spot for sunset views over the jungle.
The Beach Bar
Situated on the hotel's private beach, the Beach Bar is the perfect spot to enjoy a tropical cocktail or a cold beer while soaking up the sun. The bar serves a variety of drinks and snacks, including fresh fruit smoothies and ceviche.
The Pool Bar
Located near the main pool, the Pool Bar is a great place to relax and cool off with a refreshing drink. The bar serves a variety of cocktails, beers, and non-alcoholic beverages, as well as light snacks and sandwiches.
The Library Bar
Tucked away in the hotel's library, the Library Bar is a cozy and intimate spot to enjoy a drink and a good book. The bar serves a variety of wines, spirits, and cocktails, as well as coffee and tea.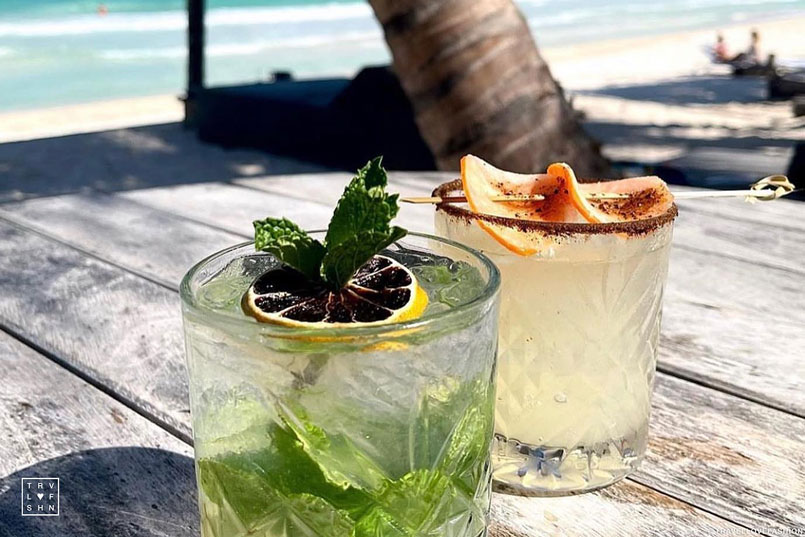 Prices at Casa Malca
The prices at Casa Malca vary depending on the room type, season, and availability. However, here's an overview of the general prices for rooms, dining, spa, and services:
Rooms: Prices for rooms at Casa Malca typically start at around $400 USD per night but can go up to $2,500 USD per night for the most luxurious suites. The prices vary depending on the room type, season, and availability.
Dining: Casa Malca has several restaurants and bars offering a range of dining options. Prices for meals at the hotel typically range from $10 USD to $50 USD per person, depending on the restaurant and menu items.
Spa: The prices for spa treatments at Casa Malca vary depending on the treatment type and duration. A one-hour massage typically costs around $150 USD, while more specialized treatments can cost up to $500 USD.
Services: Casa Malca offers a range of services, including airport transfers, car rentals, and private tours. Prices for these services vary depending on the type of service and the duration.
It's worth noting that Casa Malca is a luxury hotel, and as such, the prices for rooms, dining, spa, and services are on the higher end. However, many guests find that the quality of the amenities and services offered by the hotel justifies the higher price point.
Service at Casa Malca
The service at Casa Malca receives praise from guests for its attentive and personalized approach. The staff goes above and beyond to ensure that guests have a comfortable and enjoyable stay. From the moment you arrive, you will be greeted with a warm welcome and offered assistance with any needs or requests you may have.
The hotel also offers a range of services and amenities to make your stay as comfortable as possible. These include 24-hour front desk service, concierge services, room service, and housekeeping. The staff can assist with booking tours and activities in the area, arranging transportation, and making restaurant reservations.
Security at Casa Malca
Casa Malca takes the safety and security of its guests seriously. The beachfront Tulum hotel has a range of security measures in place to ensure that guests feel safe and secure during their stay.
Gated and guarded, security personnel are on duty at the property 24 hours a day. In addition, the hotel has CCTV cameras installed throughout the property to monitor activity and ensure guest safety.
Guests rooms have a safe for storing valuables, and the hotel recommends that guests keep their room doors locked at all times.
Is Casa Malca Open to the Public?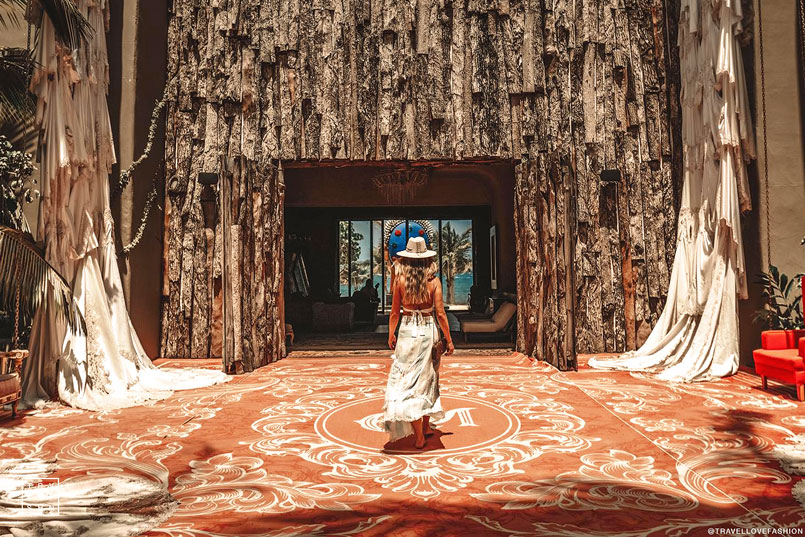 Yes, Casa Malca is open to non-guests. The hotel's beach club and restaurant are open to the public. Visitors can enjoy the beautiful beachfront location, fantastic art collection, delicious food and drinks, and relaxing atmosphere even if they are not staying at the hotel. However, access to some areas of this boutique hotel, including the pool, remain for guests only. Don't miss it on your next vacation to Tulum! Click here to book Casa Malca, the best boutique hotel beachside in Tulum, Mexico.