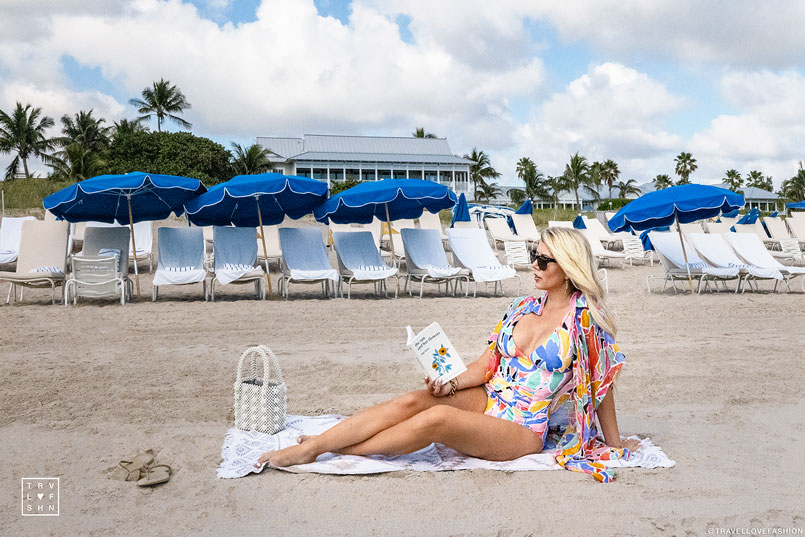 Downtown Delray Beach Florida Travel Guide
When most think of South Florida, the teeming metropolises of Miami, Fort Lauderdale and West Palm Beach are what come to mind. However, sprinkled in between these tourist meccas are smaller towns offering the same amenities and experiences. One such town with a whole lot to do is Delray Beach. Located in Palm Beach County just about 11 miles South of West Palm Beach, Delray is a vibrant seaside community with a bustling downtown, excellent dining and accommodation options, hip local boutiques and plenty to do if you're visiting on vacation. This Downtown Delray Beach travel guide is your ticket to having the best time possible on your Florida vacation! 
Where to Stay in Downtown Delray Beach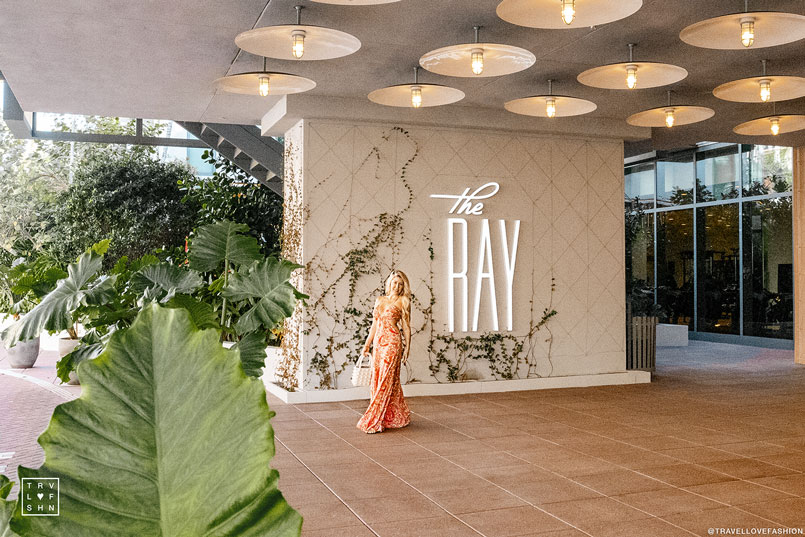 There's no shortage of hotels, Airbnbs and other places to stay in Delray Beach and that variety means you can craft your perfect vacation. Whether you're looking to stay right on the beach or in the heart of the downtown section, Delray Beach accommodations are plentiful, but also cater to all budgets and needs. Here are some of the places to stay when you're visiting Delray Beach! 
Located just a block from the beach, Crane's Beach House Boutique & Luxury Villas is one of the more unique places to stay in Delray Beach. Hidden away behind a lush outcropping of palm fronds and banana leaves, this oasis features a pool and tiki bar along with a wide variety of rooms catering to all needs. Guests can book studio rooms which come complete with a kitchenette and other amenities for a longer stay, or opt for one of the suites or the luxury villa for a more high-end experience. So, which would you choose on a vacation in Delray? BOOK HERE!
One of Delray Beach's top luxury accommodations, The Seagate Hotel and Spa features not one, but two properties in town; the main hotel on Atlantic Avenue and a private beach club and restaurant for hotel guests just steps from the ocean. The hotel also features a 8,000 square foot spa, luxury bath products in-room and a stylish restaurant called Atlantic Grille serving up fresh fish, poultry and red meat. The hotel is a popular spot for weddings and other events as well. BOOK HERE!
For a true beachfront vacation, the Opal Grand Resort & Spa is one of the preferred options for those looking to soak up the sun in Delray Beach. Located along A1A, the main road which goes up and down the coastline, the hotel is just across the street from the beach at the end of Atlantic Avenue. Newly renovated for better views, more amenities and a tranquil atmosphere, the Opal Grand Resort & Spa is an elevated experience that's worth the higher price tag. BOOK HERE!
One of several hotels in Delray Beach with a rooftop pool, the Courtyard By Marriott is an excellent option for those who don't need the pampering and price tag which come with a luxury resort. Clean, comfortable and with a rooftop pool and bar, this hotel is perfect for business travelers or those who are looking to stay closer to the action downtown. BOOK HERE!
One of the newer hotels in Delray Beach, The Ray is a modern luxury hotel catering to those who love a classy and unique experience. The hotel features three restaurants, including one on the rooftop next to the pool and cabanas. Located in Delray Beach's Pineapple Grove district, the hotel is just a short walk from the main drag of Atlantic Avenue, but it's a little bit too far for those looking to walk to the beach during the day. BOOK HERE!
Colony Hotel & Cabana Club
One of the oldest hotels in the area, the Colony Hotel & Cabana Club has been in operation since 1926. Guests are immediately immersed in the history of the hotel thanks to original wicker furniture, Cuban tile floors and the hotel's original telephone switchboard. Located on the main stretch of Atlantic Avenue, the hotel is just a short walk from the beach and all the restaurants and nightlife Delray Beach has to offer. Those looking for a truly unique stay will love the Colony! 
Things to Do in Delray Beach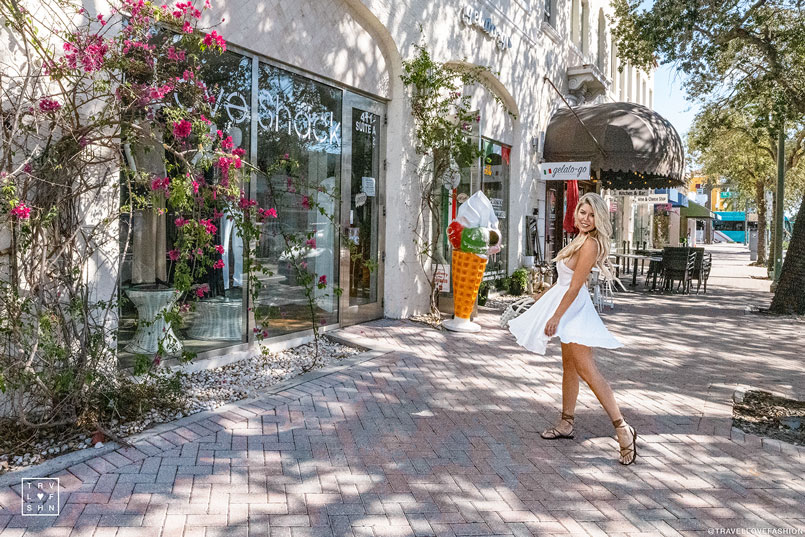 There's a lot of things to do in Delray Beach. Make sure you budget your time so you don't miss anything. Here are some of the best ways to spend the day in Delray Beach for your next vacation or visit! 
Beach Day and Visit to Sandbar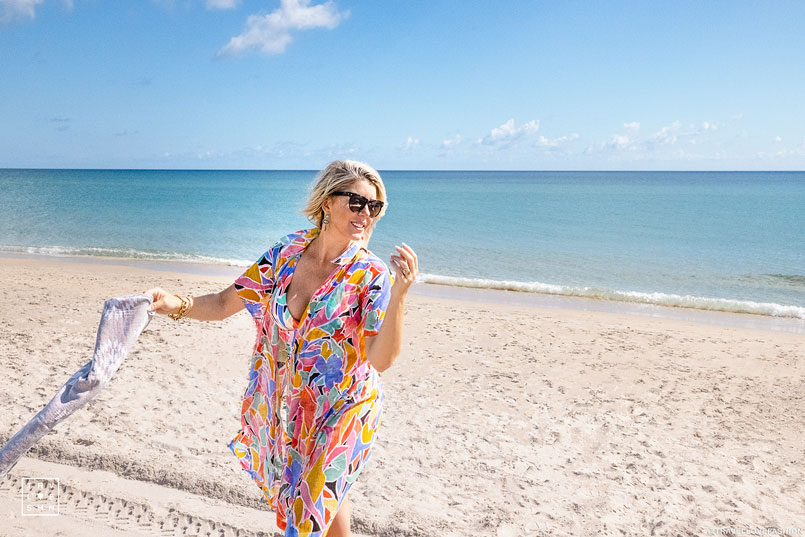 With a name like Delray Beach, it's safe to assume this town is on a pristine stretch of South Florida beach. Visiting Delray Beach isn't complete without spending a day in a lounge chair in the sand catching a great tan and watching the waves roll in. Bring a cooler with some cold drinks, something to eat, and plenty of sunscreen, especially if you're going to spend the whole day! Oceanside Beach Service offers daily rentals for chairs and umbrellas, and they're located at the entrance to the sand at most of the beach access spots near the end of Atlantic Avenue. $60 for the day gets you two chairs with padding, a table and an umbrella. You can also pay a $15 hourly rate. 
After spending the day on the beach, hop across A1A to Sandbar and you'll find yourself in a classic tropical tiki bar setting with a huge bar, DJ booth, sand games, and a food menu with some delicious bites. Sandbar is popular during the day, but it really gets packed on weekend afternoons when the DJ is spinning and everyone is having a blast in sexy beachwear. 
Green Market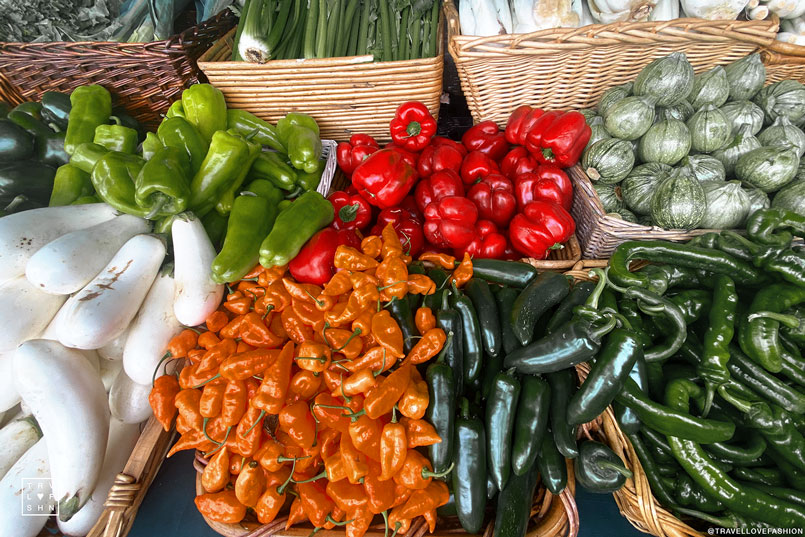 Every Saturday in the winter, Delray Beach is home to a Green Market. It features local vendors of fruits and vegetables, baked goods, cheese, fish and meats, and also a whole lot more. The Green Market is held in Old School Square in Delray's downtown and runs from 9am to 2pm. You'll see a wide variety of people, dogs, kids, and more so bring the family or all your friends along. It's a fun way to spend a Saturday morning and is the perfect place to explore after brunch in downtown Delray Beach! 51 N Swinton Ave, Delray Beach, FL 33444
First Friday Art Walk
On the first Friday of every month, the Delray Beach art scene is wide open for visitors with the majority of galleries in town participating. From early evening to around 9pm, galleries along Delray's Atlantic Avenue play host to self-guided tours of art lovers and curious vacationers alike. You can visit the Downtown Delray Beach website to see a map of art galleries participating. 
Coco Market
Once per month on a Sunday you'll find the Coco Market, a health and wellness fair focused on supporting small business and fostering healthy communities. Get there early for a good spot for group yoga at 9am, followed by a community sound bath, live music and a row of local vendors. The Coco Market in Delray Beach held in Veterans Park. It's 802 NE 1st St.,  right before the bridge over the intracoastal waterway on Atlantic Ave. 
Rent a Cart from The Cart Shop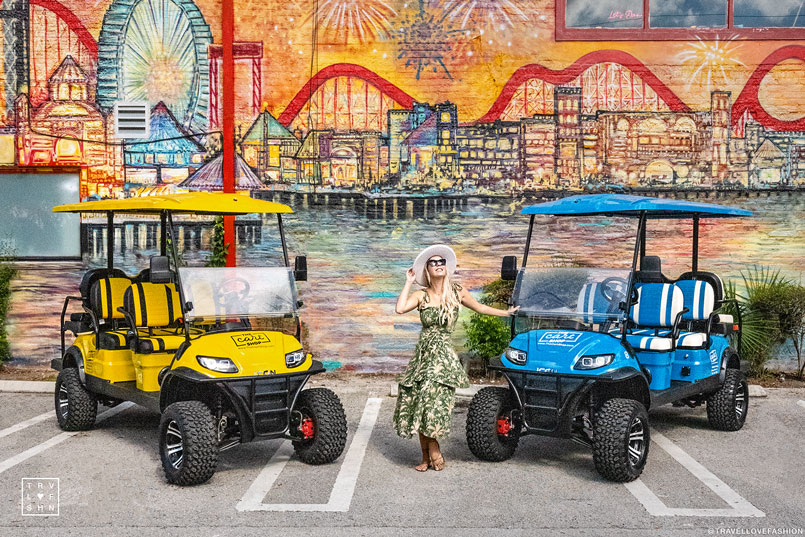 Getting around Delray isn't that much of a hassle, but did you know you don't even need to rent a car when you fly in on vacation? A much more fun alternative is to rent a golf cart from The Cart Shop. These aren't just any old golf carts, either. They're colorful, have big tires, radios with bluetooth, room for the whole family, and are fully legal to drive on the street. It makes for a much more fun way to get to the beach or around town! 
Best Restaurants in Delray Beach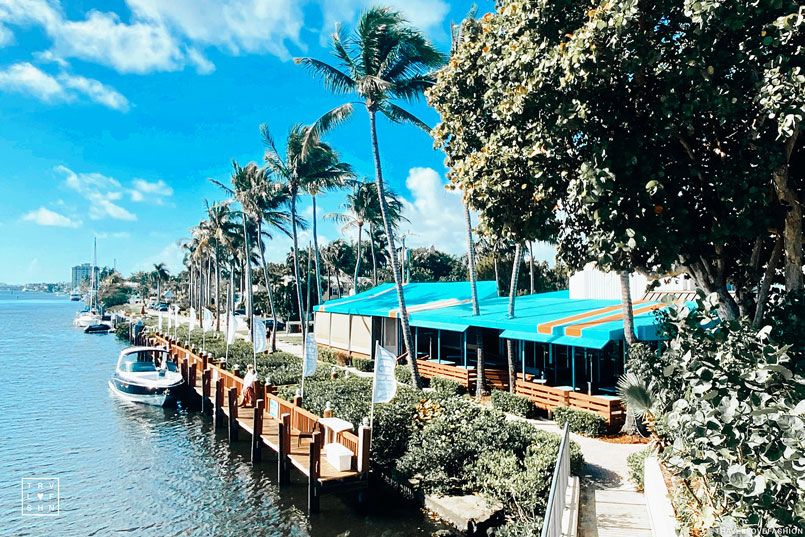 Here's a good problem, there's a half dozen places that could be called the best restaurants in Delray Beach. No matter what kind of cuisine you're craving, there's great dining in Delray Beach waiting to be had. Here are a few places to check out if you're planning on eating out on Atlantic Avenue while you're in town! 
Best Brunch in Delray Beach
With beautiful weather all year round, Delray Beach isn't a town that sleeps in. Atlantic Avenue gets busy in the mornings on the weekends with a number of excellent brunch places to choose from. 
Deck 84
If you're looking for brunch in Delray Beach with a view, Deck 84 is hard to beat. Found along the intracoastal waterway, Deck 84 is one of the only places in town where you can eat, drink, and watch the boats float by. It's even more fun when the drawbridge goes up and the bigger boats head up and down the intracoastal! 840 E Atlantic Ave, Delray Beach, FL 33483
Park Tavern 
For those looking for bottomless mimosas in Delray Beach, Park Tavern is your spot. The menu is full of hearty favorites and the restaurant also does bottomless bloody mary's and their own El Camino IPA. There's also a selection of brunch cocktails to choose from for those who don't want to get that boozy at brunch! 
Best Lunch in Delray Beach
The Office
For a cool spot for lunch in Delray Beach, check out The Office! This gastropub is located in the heart of Atlantic Avenue and is a hotspot serving up a menu full of American classics. The atmosphere is a refined casual where everyone can feel welcome when enjoying their lunch in Delray Beach!
Rocco's Tacos
One of Delray Beach's most popular restaurants, Rocco's Tacos is the best place for fresh guacamole, authentic tacos, and a delicious margarita to go with it. Rocco's makes their own chips so make sure you get the tableside guacamole made right in front of you. They also have a huge selection of tequilas to choose from! 
Best Happy Hour in Delray Beach
With vibrant nightlife all around, you can bet that there's a best happy hour in Delray Beach. Well, a few of them actually! Dining on Atlantic Avenue in Delray is priced higher than average, so if you're just looking for a bite and some fun, happy hour is a great option. Most places in Delray offer some kind of happy hour running anywhere from 3pm to 7pm. Here are a few of the places you shouldn't miss for a great happy hour in Delray Beach! 
Salt7 
Salt7 is a modern, American steakhouse in Delray Beach that also boasts one of the best happy hours in town. The bites menu has a lot to choose from like oysters, truffle mac and cheese, duckfat fries, fish tacos, and more. The bar is fully stocked with a variety of spirits, wine and beer, both on draft and in bottles. They even have a few specialty cocktails like a Key Lime Martini rimmed with crushed graham crackers. 32 SE 2nd Ave, Delray Beach, FL 33444
Rosewater Rooftop
One of the coolest new places to grab happy hour in Delray Beach is Rosewater Rooftop. Offering 360 degree views of the city from the top of The Ray hotel, Rosewater Rooftop is chic, it's gorgeous, and it's one of the best sunset spots in the entire city. The bar and lounge, found alongside the hotel's rooftop pool, is open to all, but making a reservation is a smart idea as it's a popular spot for visitors and trendy locals alike. 
Best Places to Eat Dinner in Delray Beach
Beg for More Izakaya
There are a lot of restaurants in Delray Beach, but Beg for More Izakaya stands out among the crowd. A hole-in-the-wall Japanese watering hole and eatery, Izakaya is a great place for dinner or happy hour. Some highlights of the menu you won't want to miss are the Hamachi Jalapino and the Begformore Gyoza. 19 SE 5th Ave, Delray Beach, FL 33483
El Camino 
Alongside Rocco's Tacos, El Camino is one of the best places for Mexican food in Delray Beach. The menu is packed with authentic Mexican favorites and the happy hour has deals like $5 margaritas and $3 tacos. Be warned, however, happy hour is only at the bar and it fills up fast. Be there right at 4pm if you don't want to wait long for a space to open up. 15 NE 2nd Ave, Delray Beach, FL 33444
Dada
What makes Dada stand out from some of the other top restaurants in Delray Beach is that it's found in a converted 1920's home complete with wraparound porch. On the front lawn is a massive banyan tree adorned with lights and decoration so outdoor seating in the evenings is usually at a premium. Indoors feels like eating in the home of a very wealthy person from a hundred years ago and the food is not only tasty, but beautifully presented. 52 N Swinton Ave, Delray Beach, FL 33444
Hawkers
One of the coolest places in Delray Beach to eat is Hawkers. Serving up Asian-style street food, the bar and restaurant has indoor seating plus a long wraparound bar. It also has a fun outdoor area with gas fireplaces and couches. The menu is fun to explore and encourages trying a bunch of smaller dishes. Try the Bao Buns and the Pad Thai if you're really hungry! 640 E. Atlantic Ave Delray Beach, FL 33483
Best Nightlife in Delray Beach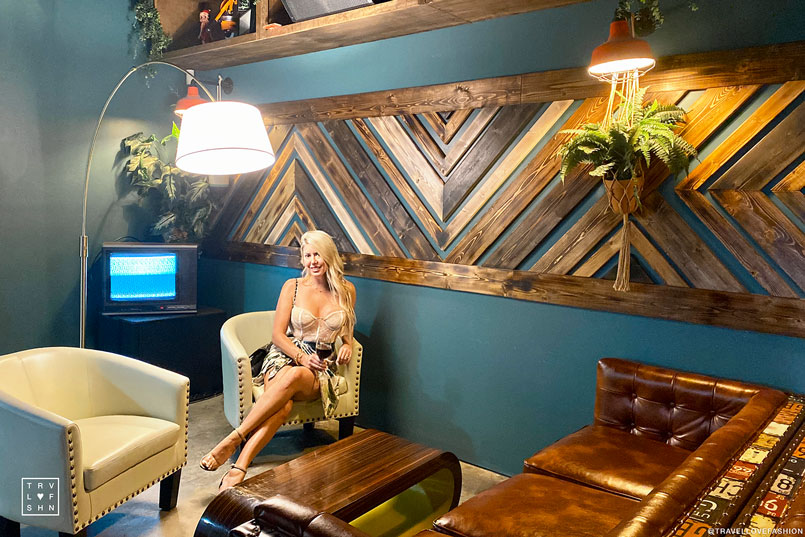 Everyone in Delray goes downtown in the evenings so that's where you'll want to be! The main strip, Atlantic Avenue, features a number of trendy dance venues, hip local spots and off-the-beaten path dives perfect for enjoying an evening out. Whether you're looking to dance the night away to live music or have a craft cocktail at a rooftop hotspot, Delray Beach nightlife is an experience you won't want to miss out on. Here are some of the best nightlife spots in Delray Beach so you can experience them when you visit!
THRōW Social 
If you're looking to dance the night away to a live band or DJ, there's no better nightlife in Delray Beach than THRōW Social. The space itself is huge with bars both inside and outside. For those who don't like to dance, the venue features a number of fun games and activities like cornhole, ping pong and even ax-throwing. The venue features a large stage so it has a proper concert-vibe when things really get rocking on the weekends. On busier nights, you might encounter a cover charge at the front door, but usually never more than $10 per person. It's an energetic, fun crowd, so come prepared to dance! 29 SE 2nd Ave, Delray Beach, FL 33444
Tin Roof
A newer addition to Delray Beach nightlife, Tin Roof is a rockin' bar and restaurant with two performance stages. You can usually find live music at Tin Roof no matter what day of the week it is, so come ready to groove. The drinks are reasonably priced compared to some other spots along Delray's Atlantic Avenue. It can get crowded with a long line to get in, so bigger groups may want to get their early or try some other bars on the main strip. 8 E Atlantic Ave, Delray Beach, FL 33444
The OG
What was a hidden gem local spot for years, The OG recently closed for renovations. It emerged one of the best places to get drinks in Delray Beach. The venue added an outdoor seating area and kitchen serving up tacos by Miami favorite Taquiza. They also added significantly more outdoor space with a DJ booth. It's great for happy hour and things really get fun on the weekends in the evenings. Wear something that stands out and is comfortable to walk in because The OG is a few blocks South of Atlantic Ave. 166 SE 2nd Ave, Delray Beach, FL 33444.
Hurricane Bar & Lounge
For those who love getting groovy after midnight, there's no doubt Hurricane Bar & Lounge is the place to be. On a Friday or Saturday night, things really get fun later on in the evening. There's a band rocking the inside bar and also a fun, outside bar with tables and tvs. Beware, Hurricane serves strong drinks so make sure you mix in a water! 640 E Atlantic Ave, Delray Beach, FL 33483
What to Wear in Delray Beach, Florida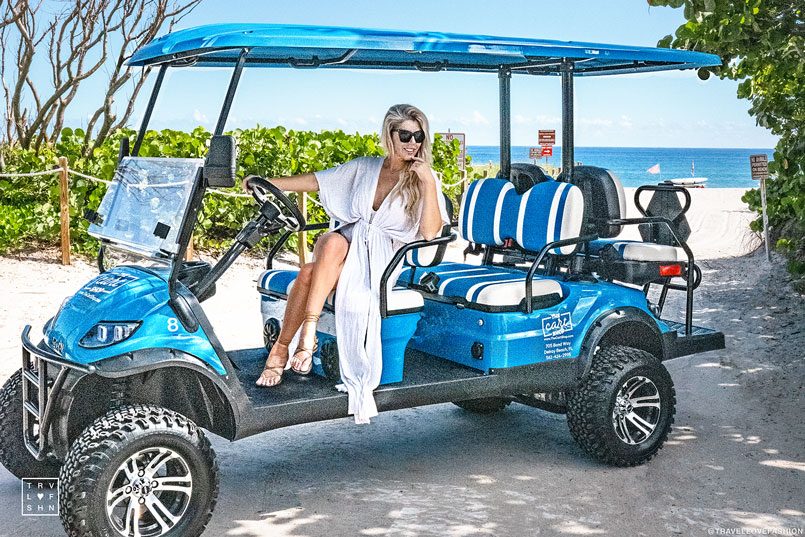 With sunny skies throughout the year, the only real question to ask is "how hot will it be?" when packing for a Delray Beach vacation, so come prepared. For daytime, elevated resort and beach wear reign supreme with sundresses, swimwear, and cute cover-ups acceptable for all activities. Miami style spills into Delray Beach for evening attire. Short cocktail dresses and sky-high heels are the norm when hitting the downtown Delray nightlife and bar scene. A light jacket might be needed when traveling during December – March, but is usually not necessary. So, what are you going to wear?