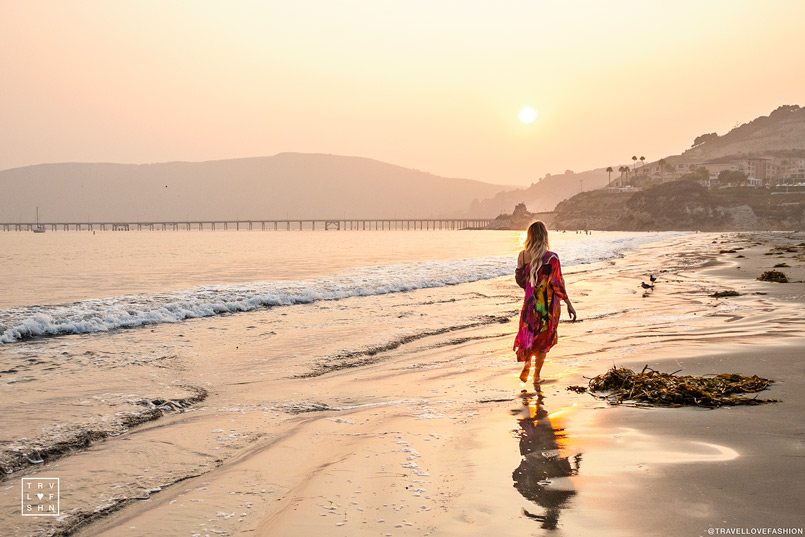 Wine, Hot tubbing, and Hiking: The Perfect Weekend Getaway Guide to Avila Beach, California
Perched perfectly in a south facing cove on California's central coast, just two hours north of Los Angeles, is the picturesque resort town of Avila Beach. This relaxed, but modern, coastal town is perfect for a girl's getaway or romantic weekend, and a must-see on any California coast road trip. While small, Avila offers multiple beaches, as well as a variety of things to do, from sipping local wine and soaking in natural hot springs to admiring ocean views from one of Avila's piers or hiking trails. Avila Beach's quaint downtown boasts a collection of tasting rooms and waterfront dining ideal for leisurely evenings enjoying the sunset and soft ocean breeze.
Where to Stay in Avila Beach
Peaceful, serene, and rustic, the Sycamore Mineral Springs Resort rests atop hot mineral springs and spans more than 100 acres of forest, hills and meadows on the picturesque Central Coast of California. All rooms and cabins have private hot tubs on private patio or balcony, with sulfur springs water piped in. The resort provides easy access to two great trails, the Bob Jones Trail and the Sycamore crest trail (*see details on both trails below). In addition, there is an excellent spa with massages and other services to enjoy, yoga classes in the morning (free), and outdoor hot tubs with sulfur spring water, set on the hillside, yet enclosed for privacy.
What to Do in Avila Beach
Bike on The Bob Jones Trail
The Bob Jones trail is a shaded, oak-lined, 2-mile paved trail to the coast and the town of Avila Beach, along a creek and a golf course. There is a deli and cafe close to the official start of the walk for fuel before you start or for cold beers when you get back. This season (2022 summer/fall) there is also have an outdoor beer and snacks food truck on the Sycamore Mineral Spa Resort grounds in a meadow. The trail is relatively flat the entire way making it perfect for a casual walk or bike ride to the sea. Bike rentals are available at the Sycamore Mineral Springs hotel gift shop.
Wine Tasting
Sipping wine at Kelsey See Canyon Winery, nestled among apple orchards in the heart of See Canyon, while peacocks and fluffy chickens saunter about the grounds will be a highlight of any trip to Avila Beach, California. All tastings have been moved to  (socially distanced) garden seating right next to the vineyard with table service. This makes every tasting feel like a luxurious private event. A tasting is $15 for 4 pours. I recommend the hard cider 2 Fathoms, and the 2018 "Secret Spot" red blend – both of which we purchased to enjoy at home after our trip. Picnic supplies are welcome, and pre-made charcuterie boxes and small snacks are available for purchase.
Hot Tubbing
whether you are a guest at Sycamore Springs Resort and Sap or not, you can experience 'The Water' and nurture your skin, body, heart, and soul. The naturally heated mineral spring water at Sycamore is sourced from over 100 acres of natural, underground resources. When you slip into one of our hot tubs or the remarkable Oasis Waterfall Lagoon, you immediately feel the water's soothing features. Click here for prices and booking information.
Best Beaches
Hiking
Whether you're getting ready to hike, bike, trail run, or explore other outdoor activities, Avila Beach has many scenic trails, something for everyone, and all levels.
Sycamore Crest Trail – Level Moderate, Length1.5 mi
Head out on this 1.50 mile, out and back trail near Avila Beach, California. Generally considered a moderately challenging route, it takes an average of 50 min to complete. This is a very popular area for birding, hiking, and trail running, so you'll likely encounter other people while exploring. The trail is open year-round and is beautiful to visit anytime. Dogs are welcome, but must be on a leash.
Experience this 4.00 mile, out and back trail near Avila Beach, California. Generally considered a moderately challenging route, it takes an average of 2 h 14 min to complete. This trail is great for hiking, trail running, and walking. Dogs are welcome, but must be on a leash.
The Bob Jones trail – Level Easy, Length2.9 mi
This is a paved bike path right from Sycamore Springs Resort and Spa to downtown Avila Beach that is a great local spot for families. I highly recommend renting bikes at the hotel gift shop, or grabbing coffee for a peaceful morning stroll.
Avila Valley Barn
Enjoy down-home fun at the Avila Valley Barn. A favorite roadside stop since 1985, this sprawling farm is a hoot for the whole family! Shop for seasonal fruits and vegetables, including world-famous See Canyon apples grown just down the road, as well as jams, jellies, baking mixes and flowers. Kids (and kids of all ages) will love the petting zoo with goats, sheep, ponies, ducks, alpacas, and even peacocks. The shop offers decor, cookbooks, linens, a legendary children's toy section, and other goods, while the deli sells piled-high sandwiches, ice cream, candy and handmade fudge. The Avila Valley Barn is open year-round, with a pumpkin patch and hayrides each fall, Christmas trees and greenery in winter, and pony rides and U-pick berries and peaches in the summer.
Sea Caves
Avila Beach's Sea Caves is located south of Avril Beach and is a wonderful place to explore and spend the day at Pirates Beach. Just note, Pirate's Cove Beach is a well-known for being clothing optional.  The parking area is called 'Pirates Cove Parking" and is located on a beautiful bluff overlooking the Pacific Ocean. From the parking lot, head down the main trail that leads to Pirates Cove Beach and follow the signs to Avila Caves.
Where to Eat in Avila Beach
Inspired by European influences, Blue Moon Over Avila is a Wine Bar & French Bistro offering wines from around the world and expertly prepared dishes in a beautiful seaside setting on California's Central Coast.
Dine at Blue Moon Over Avila Tuesdays through Sundays!
Brunch served Saturdays and Sundays:
11:30am – 3pm
Lunch: 11:30am – 3pm
Bites Only: 3pm – 5pm
Dinner: 5pm – 8:30pm
Dine on fresh, delicious seafood, grab a drink at the bar and enjoy the awesome views from the Harford Pier in Avila Beach. Pro tip: Bring a jacket, it can get chilly at the end of the pier.
Open daily 11Am-8PM
Where to Drink in Avila Beach
Located right on the ocean in Avila Beach, PierFront Wine & Brew is the perfect place to enjoy a beverage while downtown in Avila Beach, on a dog friendly patio.
A variety of delicious appetizers, chocolate tastings, and non alcoholic beverages are also available. Enjoy live music on the patios on most Saturdays. You can check for events on their event page.
Address: 480 Front St, Avila Beach, CA 93424
Hours: 
| | |
| --- | --- |
| Thursday | 12–8PM |
| Friday | 12–9PM |
| Saturday | 12–9PM |
| Sunday | 12–8PM |
| Monday | 12–8PM |
| Tuesday | 12–8PM |
| Wednesday | 12–8PM |
Nestled among apple orchards in the heart of See Canyon, sip amongst the vines while peacocks and long haired chickens roam nearby. There is a $15 tasting fee for 4 pours. Furthermore, outside food is welcome, but no outside beverages. Kid and dog friendly.
No reservations necessary.
Address: 1947 See Canyon Rd, San Luis Obispo, CA 93405
Hours: 
| | |
| --- | --- |
| Thursday | 12–5PM |
| Friday | 12–6PM |
| Saturday | 12–6PM |
| Sunday | 12–5PM |
| Monday | 12–5PM |
| Tuesday | 12–5PM |
| Wednesday | 12–5PM |
What to Wear in Avila Beach
In true laid back California style, casual beach vibes are appropriate at all Avila Beach restaurants and attractions. The coastal temperatures in Avila Beach are mild throughout the year, but it can get a bit chilly in the evening or when the fog rolls in. Sneakers are recommended if planning to hike or explore the sea caves. And don't forget your bathing suit for the beach or hot springs!