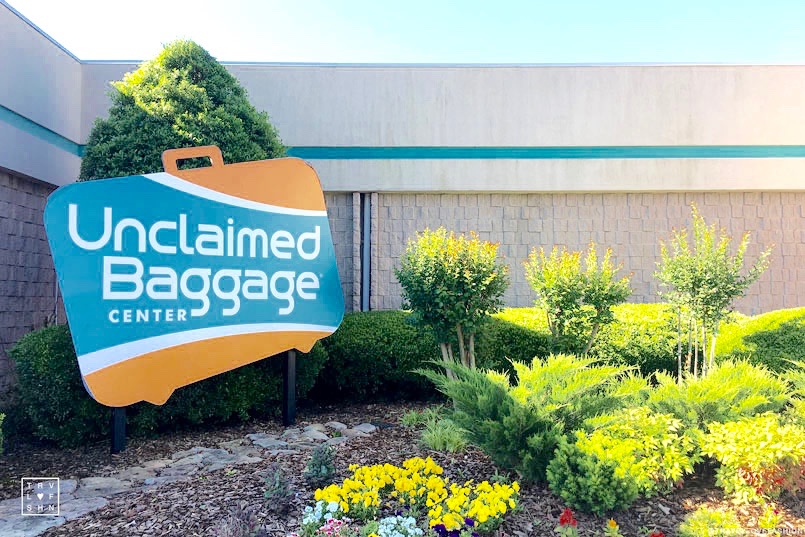 Shop Designer Items From Lost Luggage + Tips To Keep Your Bags Safe While Traveling
If you have ever lost your bag while traveling, someone else (perhaps me) could be wearing your favorite dress. That's right, when baggage is mishandled by an airline, the company attempts to find its owner for 90 days, and if the owner can't be found during that time, the luggage is sold to Unclaimed Baggage Center (UBC). Making this one-of-a-kind shop in Scottsboro, Alabama a true gem for unearthing incredible finds at discounted prices.
Walking into Unclaimed Baggage Center feels a bit like entering a massive, albeit very organized, thrift shop. Here's the thing though, everything being sold in UBC, is stuff people loved and wanted to keep. Not the stuff people are actively parting with that you would find at any other second hand shop. On top of that, everything is professionally sanitized and dry cleaned.  UBC is home to one of the largest dry cleaning facilities in Alabama, so rest assured you will not be purchasing anyone's dirty vacation laundry!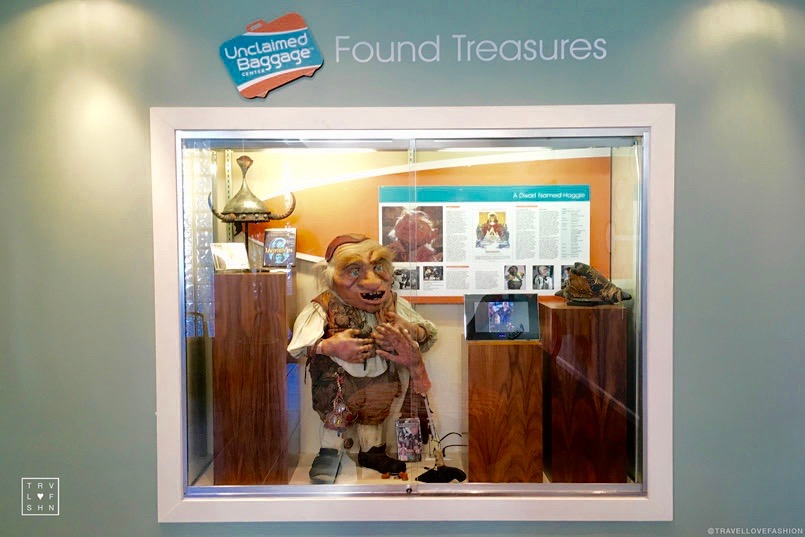 It is unbelievable the stuff uncovered in lost luggage. Over the years, UBC has unpacked full suits (yes plural) of armor, a puppet from The Labyrinth movie, and a $65,000 Rolex! What's the craziest thing ever found? A live rattle snake!!! Which means that snake was alive and chilling in a suitcase for 90 days! This is on top of countless wedding gowns, high end cameras, and more designer shoes than you could ever want – Ok, I want them all, but that is beside the point.
At 2:30pm, daily, UBC does a demonstration of opening an unprocessed piece of luggage. A customer volunteer can help showcase the procedure of how the processing team sifts through the contents, and decides what to clean, donate, or throw away. I had the chance to help out in one of these demos, and was amazed when opening the suitcase, I promptly pulled out a pair of Louis Vuitton shoes (watch the video here)!
I recommend at least five hours to shop at UBC. That may seem like a ton time to shop at one store, but with the amount of interesting merchandise to browse, you could easily turn the outing to Unclaimed Baggage Center into a weekend experience. There is a café in-store serving up breakfast, lunch, and dinner, making treasure hunting for the whole day easy.
Unfortunately, I had under two hours to shop. I never even made it to the jewelry or electronics section. However, I was still able to style FIVE ENTIRE LOOKS IN UNDER TWO HOURS! This is a testament to how many fabulous items there are waiting to be discovered. Because the inventory comes from random traveler's bags, there is something for everyone, at every price point. And even if you are unable to devote an entire day to shopping, the density of truly great buys, evident through my shopping experience, rewards even the shortest of stopovers.
Below are the five looks I put together, along with some tips on how you can keep your precious cargo from ending up at Unclaimed Baggage Center.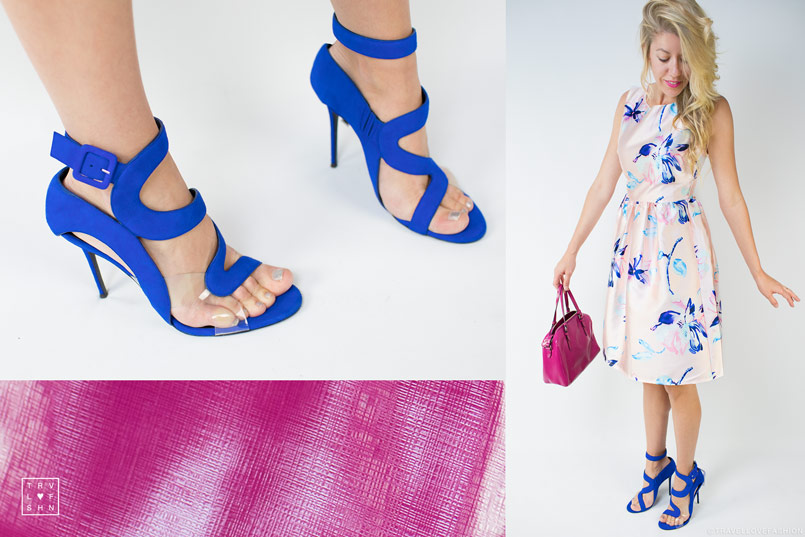 Heels Giuseppe ZANOTTI $299 (Retail $1,150), Purse COACH $96, Dress $13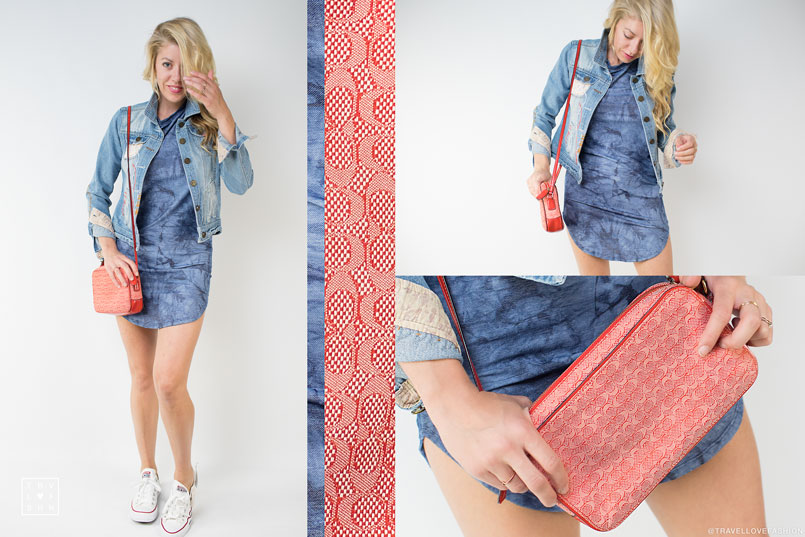 Shoes CONVERSE $29.99, Dress LOVE $8.25, Purse COACH $30, Jacket Elf Sak $15.59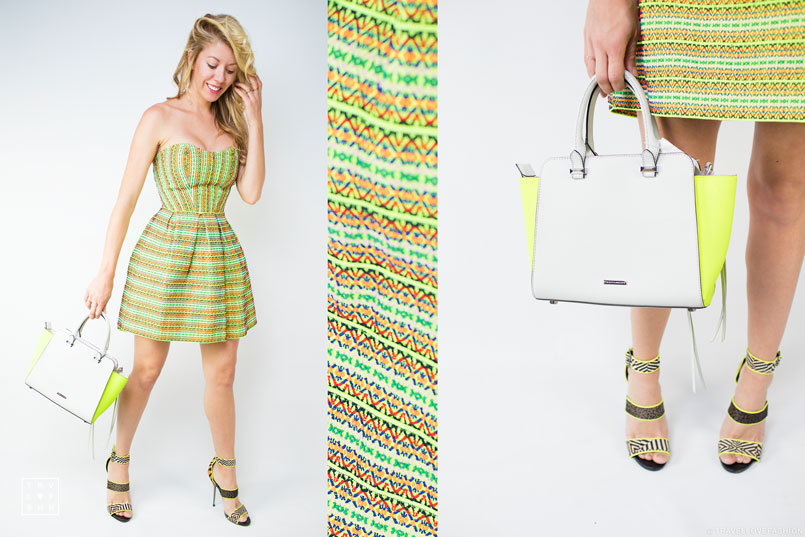 Dress WOW COUTURE $12.59, Heels Steve Madden $10.59, Bag Rebecca Minkoff $130 (Retail $295)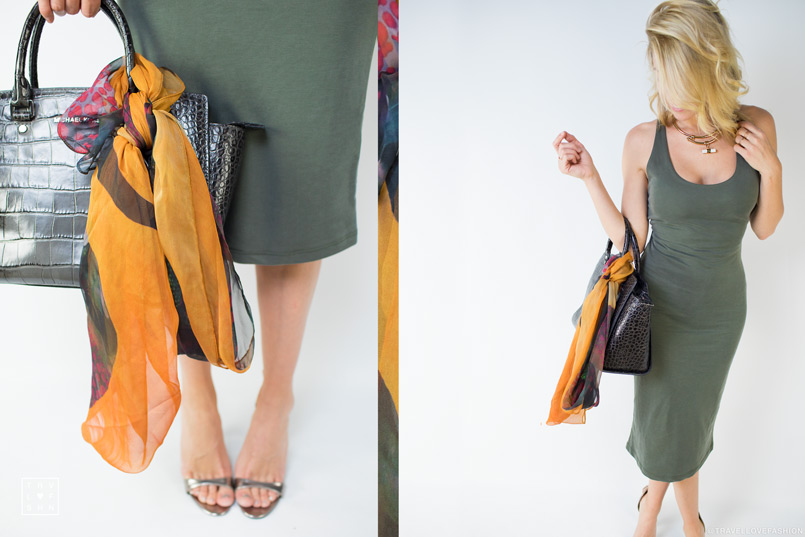 Bag Michael Kors $99.99 (Retail $348), Heels $6.29, Dress glare $8.29, Scarf Born Free $60.99 (Retail $120), Necklace $4.25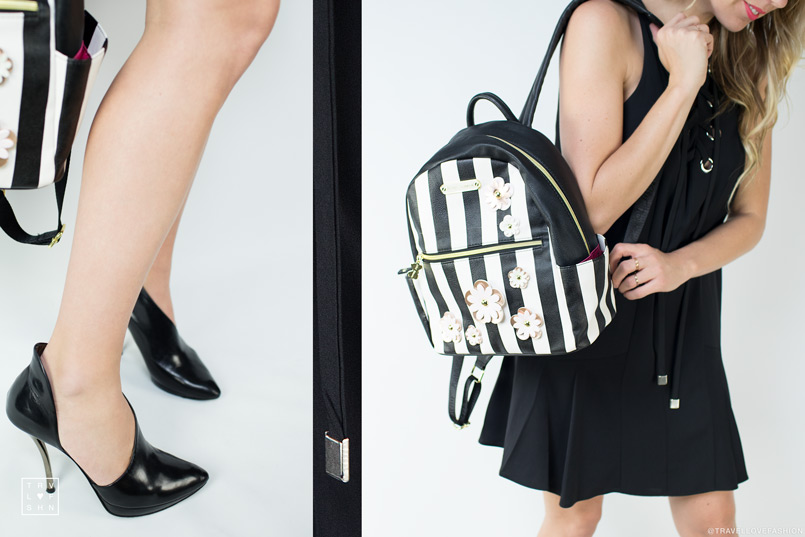 Backpack Betsey Johnson $29 (Retail $98), Booties LANIN $129 (Retail $1,115), Dress Parker $99 (Retail $298)
Tips to help you find your baggage, should it be mishandled while traveling.
Take detailed photos of your bag. Make sure you know the brand name and model type. This will help enormously when asked to fill out a detailed description. You need to know more than a "medium sized black roller bag".
Take photos of everything you pack. (We knew flat lays were good for more than just a pretty photo!) If, in fact, the airline cannot recover your bag, having these photos will make all the difference in being reimbursed correctly.
Put your information – name, phone number, address- INSIDE of your luggage, as well as on the outside. Tags on the outside go missing. Having your info inside your luggage is your best and easiest chance of getting your bag back!
Photos by Matt Pittman.
PIN ME!!