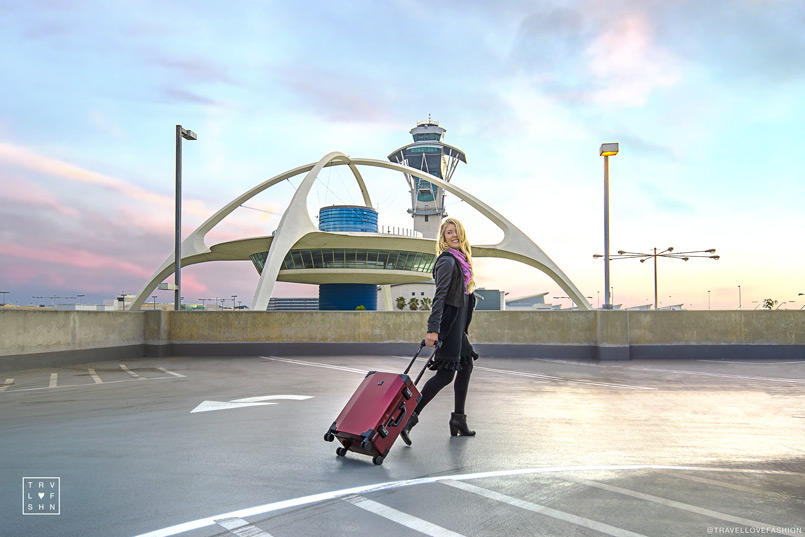 Anytime I fly 4+ hours this is my go-to plane outfit. It is comfortable, stylish, and provides different styling options if, god forbid, my luggage is lost (possibly ending up here). It is almost like a small capsule wardrobe in one outfit!
This airplane outfit formula works to ensure you are comfortable in multiple temperatures. It also guarantees you will always look presentable, be comfortable, and are prepared for any hiccups in your journey. REMEMBER ONLY INCORPORATE CLOTHING YOU WILL USE ON YOUR TRIP IN YOUR AIRPLANE OUTFIT!
The perfect airplane look should always be planned to optimize clothing options at your destination, but still be able to keep you comfortable at your current location, and while inflight. It's all about layers, and here is the perfect formula that never fails.
Formula:
Base + Light Sweater + Jacket + Leggings + Accessories + Great Carry-on = Perfect Plane outfit
Base
Cotton Dress/Tunic –
Choose a tunic long enough to wear on its own, or a cotton (or any natural fabric) dress. Go for a short sleeve or tank, and preferably in black. Having a comfortable LBD, that can be dressed up or down is a travel staple. My go-to is a cotton dress in black.
Shoes –
Wear your bulkiest shoes to save valuable real estate in your suitcase. Boots are always a winner, or if traveling without boots, sneakers are the second best choice. Choose a comfortable closed toe shoe you are going to wear on your trip. I will repeat: you want to incorporate only clothing you will wear during your travels into your airplane outfit.
Light Sweater
Choose a light sweater, cardigan, duster, or hoodie that can fit underneath your jacket of choice. This will come in handy when it's not cold enough to wear your coat, but not warm enough to just be in a tank or short sleeve.
Jacket
The coat you choose will depend on your destination. Always wear your bulkiest jacket you are bringing to save space in your luggage. My favorite airplane coats are a leather jacket, denim jacket, or parka if necessary.
Leather Leggings/Pants
Leggings are a must-have travel item! They are compact, making them easy to pack, can be slipped on and off at ease depending on your temperature, and can be dressed up or down while traveling. Some pairs can even double as workout pants. I never travel anywhere without my leather leggings. Choose a leather look over regular leggings to elevate your style, but keep your comfort. My favorites are Sandro leather pants and Spanx leather look leggings.
Accessories
Scarf –
Again, choose something that you will be able to reuse on your trip. If traveling to a location with a cold climate, choose a warm knit scarf. If heading to a warm destination, choose a silk scarf or a scarf that can double as a sarong.
Hat *optional –
A beanie, fedora, or sunhat, whatever your preference; hats tend to be easier to wear than to pack. Pick the option that you will be able to wear at your destination, not just where you are departing from.
Warm Socks –
Having nice socks to slip on during a plane ride is always a treat. No one likes cold footsies. My favorite socks are happy socks and smart wool, depending on my destination.
Jewelry *optional –
When flying, jewelry should be simple and comfortable, like stud earrings and a dainty necklace. Nothing that would be uncomfortable to sleep in while on the flight.
Watch –
Having a watch while traveling is always useful, and helps keep you from having to constantly pull out your phone to check the time. Remember to set it to your  destination's local time as soon as you board the flight to help mentally with jet lag.
Great carry-on bag 
A sturdy, good looking bag, with built in organization is a must to complete the perfect airplane look. My favorite is the Andiamo Classico carry-on. Not only are Andiamo bags made with aluminum frames for optimal strength, they include multiple organizational pockets for easy access, and a compression pad to keep your belongings in place.  You can choose your Andiamo Classico carry- on from three stylish colors: black onyx, royal sapphire, and, my favorite, ruby red. Shop your Andiamo Classico carry-on here.
PIN ME!!