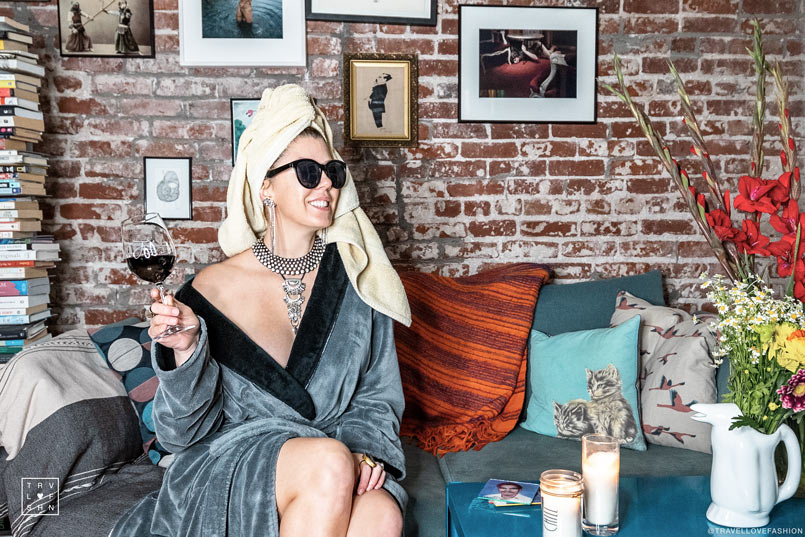 Sometimes it's impossible to travel, whether it be because of funds, time-off, health, or even a worldwide pandemic. However, with these simple tips and tricks, you can elevate your space to look and feel like a luxury holiday away. Follow the steps below to turn your home into the ultimate luxury staycation.
Create a calming atmosphere through scent.
Essential oils are a great way to evoke all sorts of beautiful emotions, as well as having added health benefits. For example, lavender oil has amazingly calming properties. Apply some oil at your temples or wrist for a little boost of bliss. Eucalyptus or tea tree oils have great antibacterial benefits, making these oils a great choice to add to a humidifier or spray bottle with water for a room spray. Candles and diffusers are another way to add gorgeous scents, while also adding beautiful décor to your space.

Get all the spa vibes with a humidifier.
With benefits ranging from added hydration for your skin and hair, all while making it easier to breathe, a humidifier is a no brainer for an added touch of luxury to your space. Don't forget to add some essential oils to your humidifier to create an even more luxurious staycation vibe at home.

Design a cozy corner.
A cozy corner will up your luxury staycation vibes at home by a lot. To create your cozy corner find a space in your home you want to elevate, arrange a couple blankets and pillows, add soothing candle, and some beautiful decor for the perfect spot for some zen. The cozy corner is the ideal place for meditation, reading, creating, or a nightcap—a welcoming spot to relax and unwind.

Set the mood with lighting.
Candles and/or dimmable lightbulbs are great options for controlling the light in your space to help enhance the luxury staycation feel at home. Lighting is so important to support mood, energy, and sleep patterns. For those stuck indoors without a lot of natural light, consider checking out a light therapy lamp that emits full-spectrum, non-UV light to brighten up those days when you have less sun.

Soothe your ears.
There's a reason why all high-end hotels have music playing in lobbies and common areas. What you hear has a significant impact on how you feel. Drown out street traffic noise with soft music that uplifts and relaxes. Need something more mellow than music? Nature sounds, such as the ocean or jungle noises, are incredibly calming. A sound machine is an excellent purchase to place by your bed to feel like you are waking up at a beachfront retreat or in a luxury hidden hideaway in middle of the forest.

Move your body.
Movement is proven to enhance mood. Prioritizing an at-home workout, even if just a simple stretch, will always have positive impacts in the present and the future. Here are some favorite, tried and tested, home workouts to check out: Melissa Wood Health for a low impact but high results. BBG by Kayla Itsines for anyone looking for a challenging high energy at-home workout plan. Check out Youtube for simple but effective stretching routines for all levels. The products listed below will help you create an at home gym space that feels like a high-end wellness retreat.

Bring on the at-home beauty treatments.
Nothing says luxury staycation like beauty self-care! Savor the downtime by lighting a candle, putting on a face mask, and relaxing in the tub while reading. At-home beauty treatments have come a long way in the past year with many spa like gadgets available for at home use. It has never been easier to create a luxury spa experience at home. Furthermore, makeup-free time spent at home is the ideal time to up your skincare game for refreshed, happy skin.

Level up your comfy clothes game with stylish leisurewear.
Lounging at home will  have you feeling like  you're on a luxury vacation when you put on these chic leisure sets. Leisurewear is all the rage right now, and these cute sets will keep you comfy and stylish in true luxury staycation style.

Beautify your home.
It has been said beauty is love manifested. Add some décor to your home that makes you happy when you see it. Whether it be art, flowers, plants, or home accessories, surround yourself with things you love to look at and evoke all elevated staycation vibes.

Create a personalized home butler with AI.
It doesn't get more high-end at hotels than a personal butler, and now you can have one at home. Add things to your shopping list, control the lighting, play and change music, as well as look up anything you need, ALL with a voice command. A live-in personal assistant is now available to all with AI systems such as Amazon Alexa, Google Assistant, or Apple HomeKit. Check out more of what a smart home system can do here.

Clear your head by clearing your space.
All luxury retreats are thoughtfully organized and designed to help give the feeling of peace to guests. With a few minor tweaks you can create this same feeling in your home. Proper organization and cleaning of your area will help you feel more in control, and help with focus, especially if working from home. If the idea of a full day of house tidying feels overwhelming, break it up into small chunks. It's incredible the amount of cleaning and organization you can get done with just 20 mins a day.

Elevate your bed situation.
Upgrading your linens can create a true luxury vibe. Having a comfortable place to rest your head at night is the ultimate luxury.  Are you a hot or cold sleeper? Changing the sheets to accommodate your special sleep needs is something beyond what even most luxury hotels can do for you. Can't splurge on all-new bedding right now? Get a silk pillowcase which feels divine, and helps keep your skin and hair healthy, while you sleep.

Find your bliss through mindfulness.
Luxury mindfulness retreats are all the rage these days. The products below will transform your home into a luxury staycation experience, equipped with everything you need for some introspection. Taking a bit of time to reflect inward will help you stay calm and optimistic. Journaling, gratitude lists, and meditation are all great ways to bring peace to your staycation, making it feel like a luxury retreat. Morning Pages and The 5 Minute Journal are great places to start for a journaling and gratitude practice. For meditation newbies, check out the Calm or Headspace app.

Fancify your nightcap.
Being at home is a great time to test out new drinks and hone your bartending skills. Wine clubs are also great for home delivery of unique and delicious sips. Upgrade your glassware for all the fancy feels of a luxury getaway right from your home. Alcohol, not your thing? Substitute kombucha or fizzy water in an elegant glass to elevate at-home drinks.

Keep satisfied with healthy refreshments.
Of course, we couldn't forget about snacks! Nothing screams luxury retreat like a plentiful array of healthy snacks and treats. Juices, teas, or even just lemon slices to add to water, are great to have on hand. Nuts, veggie platters, and some healthy sweets set out and available for all your snacking needs will help keep you healthy, satisfied, and happy!