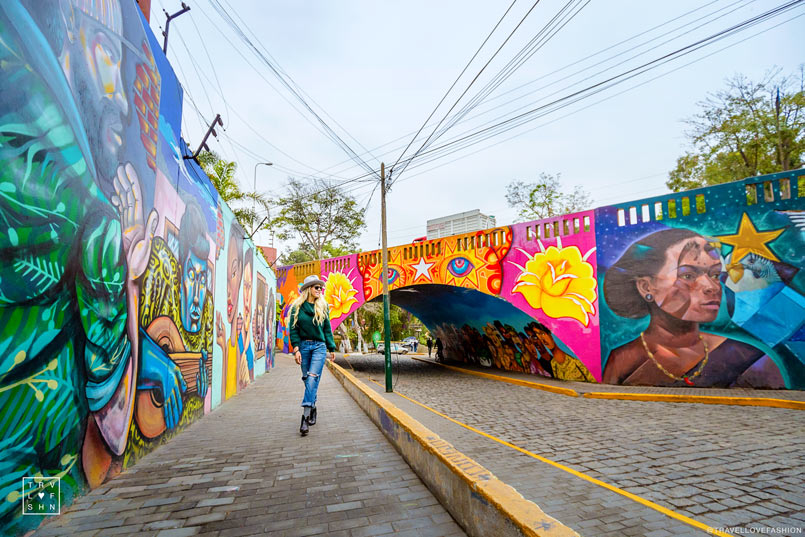 In an otherwise quite gloomy city, Barranco brings the art, color, and cool to Lima.
While being the second smallest neighborhood in Lima, Barranco is so densely packed with cool spots it gives places like Williamsburg, NYC and Wynnwood, Miami a run for their money as "hippest neighborhood" in the world. Situated along the coastal cliffs overlooking the Pacific Ocean, Barranco is full of renowned art galleries, trendy coffee shops, and cute boutiques, many housed in restored popsicle-colored colonial mansions once home to Lima's elite.  Each colorful street within the bohemian neighborhood gives way to delicious food, hip places to hangout, and artisanal shops to buy a Peruvian souvenir (or two), making it our top neighborhood pick in Lima, Peru.
Stay
Villa Barranco
With all the gorgeous restored mansions in Barranco, Lima, it only makes sense that you should stay in one. The best colonial-home-turned-boutique-hotel is Hotel Villa Barranco by Anaway hotels. Villa Barranco stuns with its pale blue colonial exterior, and fashionable interior styled with a mix of modern and antique furnishings and art throughout. The hotel boasts nine suites, all unique, many with high ceiling, French windows with balconies, and ocean views. Villa Barranco sits in walking distance from all fashionable haunts within the neighborhood. In the evening, head up to the spacious rooftop terrace and bar to enjoy a Pisco Sour while paragliders dance over the Pacific Ocean in the setting sun.
Calle Carlos Zegarra 274, Barranco 15063, Peru
Do
Street art and colorful buildings
Everything is very walkable in Barranco, and oh-so-charming to look at. You can easily just step outside your hotel, pick a direction, and start wandering through Barranco's tiny streets to admire loads of vibrant street art and candy colored houses.
Surf
The Pacific Ocean meets Lima's coast with long soft off-shore breaks, perfect for beginners. There are a variety of surf schools found along the sand with boards, wetsuits, and instructors readily available for riders of all skill. Even if you're not down to venture in to the water, take a walk down to the sand to enjoy sweeping views of the city, surf, and paragliders along Lima's sprawling coastline.
Bridge of Sighs
Who doesn't love charming architecture with a little local folklore mixed in? Legend has it if you hold your breath the first time you cross the Puente do Los Suspiros (the bridge of sighs) a wish will be granted. The bridge is the inspiration behind the famous song, by the same name, "El Puente de los Suspiros" by composer Chabuca Grande. Be sure to check out the path, Bajada de los Banos, that runs down to the coast below the bridge. It is lined with shops, cafes, and street vendors selling handmade jewelry.
Art Gallery Hop
Borranco is brimming with art, with new galleries opening all the time in this hip neighborhood. Most galleries feature local artists, and you can find some really interesting (and affordable) pieces to bring home with you. A must see is the Museo Mario Testino, known as MATE. MATE, houses the largest collection of Peru's most famous fashion photographer Mario Testino's work in the world. It does not disappoint, especially for fashion lovers.
MATE
Av. Pedro de Osma 409, Barranco 15063, Peru
Shop
Puna Shop Gallery
This contemporary lifestyle concept store is in a refurbished colonial home just across from Barranco's main square. Filled with funky design pieces including furniture designed by the owner and interior designer Marianna, statement décor, and art by contemporary Peruvian artists. Be sure to check out the awesome selection of Peruvian 'chicha' tropical music vinyls for the coolest souvenir.
Colina 128, Barranco 15063, Peru
Dedalo
It is an exhibition space, home goods store, clothing atelier, and storybook- charming outdoor café all in one. If you can only hit one place to do all your shopping in Lima, Delado has you covered. This shop is jammed packed with goodies and is huge. You could realistically spend hours here with all the merchandise to be looked at, and all the drinks to be had in the courtyard.
Jirón Sáenz Peña 295, Barranco 15063, Peru
MATE Museum Shop
You will want everything in this museum shop. High fashion clothing, jewelry, bags, and accessories, from Peru and neighboring South American designers, line the shelves in this bright modern store. There are A LOT of SUPER COOL pieces of contemporary takes on traditional clothing sold here. Pricy, but forever treasured items from your travels are to be found here.
Av. Pedro de Osma 409, Barranco 15063, Peru
Eat
Canta Rana
Ceviche to die for will have you returning to Rana Canta for multiple meals. The small tables and chairs crowded in to the restaurant with the walls covered in soccer memorabilia, and old family photos, gives this place an old timely Peruvian feel – that the food backs up tenfold.  Great value and portion sizes.
Genova 101, Barranco 15063, Peru
Central
Ranked as the fifth restaurant in the world, and number one in Latin America, Central, is a once in a lifetime culinary experience. The new location in Barranco is big, austere, and minimal allowing the creative food take center stage. The degustation menu is brilliantly conceived, taking one on a tasting journey across Peru from below sea level, over the Andes, and finishing in the Amazon. Reservations must be made well in advance.
Lima, Av. Pedro de Osma 301, Barranco 15063, Peru
Cala
Bright and airy, Cala, perched right on the ocean, is an upscale seafood spot. Watch the sunset as the surfers dance on the waves right in front of you, all while you feast on some of the best seafood in Barranco. Don't leave without trying the conchitas parmesan or zesty tiradito.
Circuito de Playas, Barranco 15063, Peru
Drink
Barra 55
The trendy, cozy, and unique style of Barra 55 will captivate even if you're in doubt of the bitterness of gin. They serve each brand of gin with spices that will enhance the flavor of the spirit, turning them into a great experience. Service is really great, but since the location is very small and gets crowded quickly, try to arrive on the earlier side. (8-10pm, which is early in Lima). Drinks are expensive but totally worth it. They also have one of the best burgers in town.
28 De Julio 206, Barranco 15063, Peru
Victoria Bar
With a drink list that includes both classic and signature cocktails, Barranco's Victoria Bar attracts a beautiful crowd looking for classy mixology and great music. Housed in the beautiful mansion, Casona Cilloniz, with a cozy brick basement and a leafy patio. Music ranges from jazz to live rock and acoustic sets, and electronica on the weekends. With three hours of two-for-one drinks daily, this hot spot packs out most nights.
Pedro de Osma 135, Barranco 15063, Peru
Dada Restobar
Currently the "it" spot with the cool crowd of Barranco. Creative cocktails, funky décor, and a fabulous patio, with wood fire pizza ovens, makes this the spot to see and be seen. A beautifully stylish place for the hip young dressed up crowd. The bar and restaurant has a great dinner menu to compliment the drinks. Dada Restobar often has live music and art events as well, so check their calendar for when you are in town.
 Av San Martin 154, Barranco 15063, Peru
Nightlife
Live Music: La Noche
La Noche is the best place to see live music in Lima. Some of Peru's most well-known bands play at this small, cozy venue in Barranco. The venue, connected to a lively bar where you can hear the music from, is intimate and fun. There's a floor section and an upper level, without a bad view of the stage. Drinks are reasonably priced and once the show ends, walk down Barranco's happening nighttime street just outside the front door.
Sanchez Carrion 199, Barranco 15063, Peru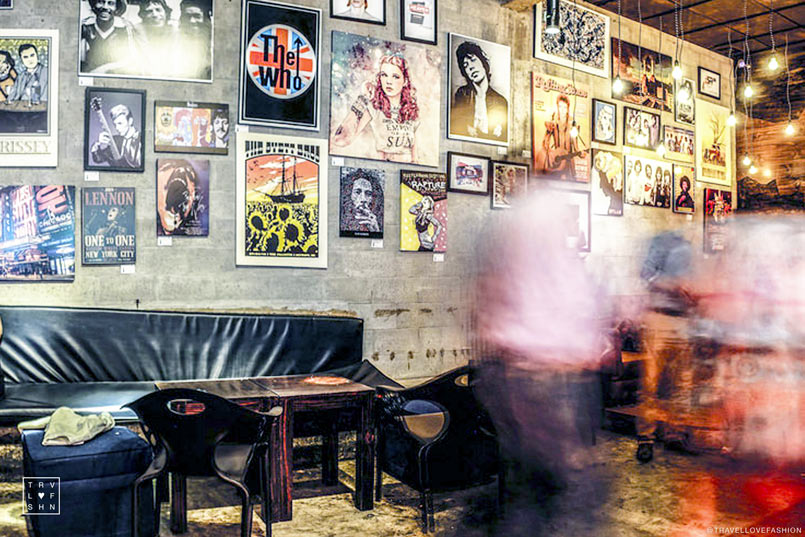 Dancing: El Dragon
Considered by most locals the best place to dance in Lima, El Dragon will have something happening going on, especially on the weekends. Check their website because their events change frequently, but expect either a dj playing anything from 80's rock (which Peruvians love), to raggaeton, or a local band. The bar is separated into two rooms. One larger room with a stage and a bar, the other with a bar and a lounge area. Entry fees change depending on the act, but the standard is about 10 soles (around $3USD).
Nicolas de Pierola 168, Barranco 15063, Peru
What to Pack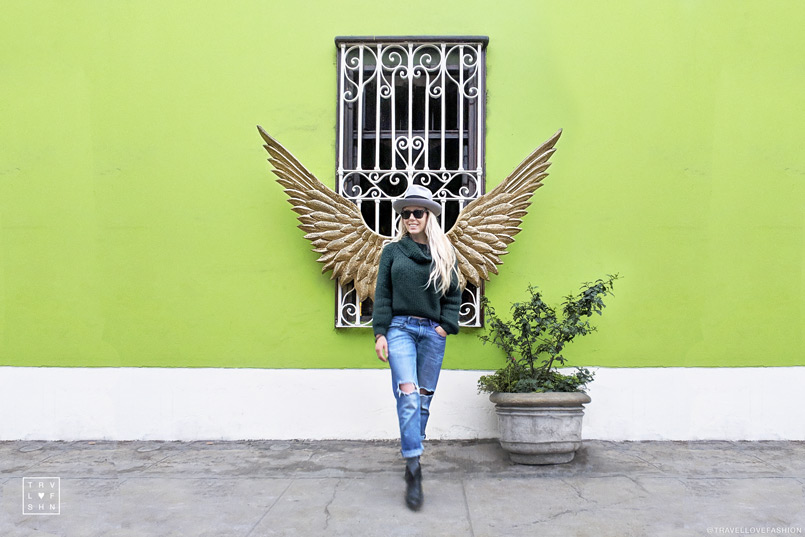 Weather
Lima is moderate in temperature, staying in the mid-50s on average, but seems to have an ever present mist that hangs in the air, which can make it seem a bit colder. Bad weather for your hair, but great weather for cool hats and light jackets. The overall feel of the city is casual hip, even in fancy restaurants and nightclubs. There are sidewalks throughout the city, but also cobblestone streets, making a wide heel bootie the most practical choice of footwear.  The ideal outfit for Lima's hippest neighborhood would consist of a sleek pair of leather pants or jeans, with a nice top or sweater, topped with a hip hat, and finished off with a bootie and a light jacket.
Packing list
Leather pants
Leather jacket
Cool hat
Booties
Warm sweaters
Rain trench
Jeans

Extra Info
Addresses: There are quite a few shops, restaurants, and even hotels without signs on the outside of the building, and you have to ring a buzzer at the gate to gain entry. This is normal in Lima, so don't think you are at the wrong place if you don't see an obvious sign.
Transportation: Barranco is small and very walkable. Going to and from the airport, or other areas of Lima, Uber works well and relieves the hassle of haggling with taxi drivers over fare.
Safety: Peruvians are sweet natured South Americans, and I felt extremely safe while traveling throughout Peru. However, I would recommend tucking away camera gear while not using it, and avoiding flashy jewelry. Lima gets a bit rougher outside of the Barranco and Miraflores neighborhoods, so take the necessary precautions.
Money: Most upscale places accept credit cards, but many smaller stores, cafes, and restaurants are cash only. However, most places do accept American dollars.
To see more of the best boutiques and things to do in Peru, check out my guide to the best boutiques in Cusco, Peru here!
PIN ME!!