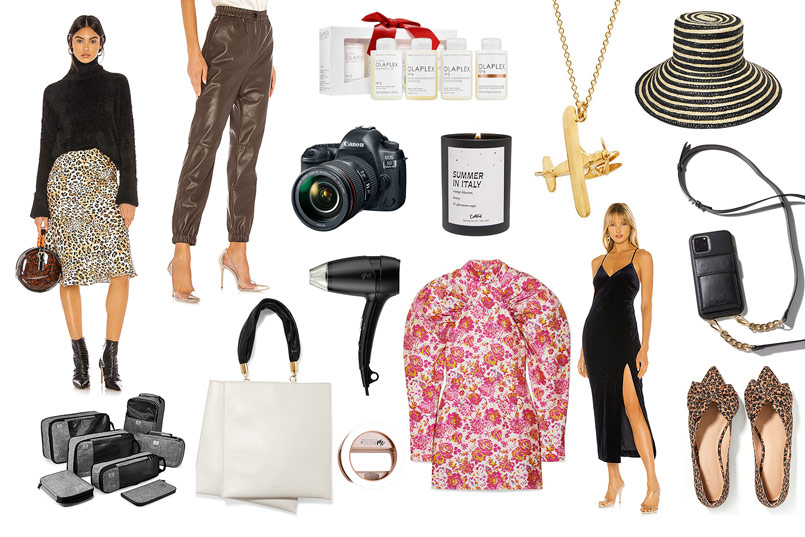 Looking for the perfect gift for the traveler in your life? Look no further than this ultimate gift guide for travelers 2019. It can be challenging to know what to buy a traveler because everything has to be worth its weight. Since it's clear that travelers value experiences above nearly all else, get them a gift that upgrades their adventures — by making things easier, more fun, or really just upping the epic factor.
Find the perfect gift for the jet setter below. These are the best travel gift ideas for wanderlust lovers, no matter what your budget. So skip the money belt, and buy a gift this year that your favorite globetrotter will actually use.
*You can jump to different sections of this article using the table of contents listed above.
Travel Gift Essentials
You cannot go wrong with the gift of any of the travel essentials below.  These popular gifts for travelers can help make any journey more comfortable and convenient.

Travel Gift Stocking Stuffers
These smaller but essential pieces are perfect for stuffing the stocking of your favorite traveler. The gift cards for travel-related experiences like flights, Airbnbs, and hotels are an especially treasured gift for any traveler to receive

Gifts for the Technology Obsessed Traveler

Gifts for the Stylish Traveler
The perfect gifts for the traveler who always looks good on the go.
Clothing

Shoes

Gifts for the Beauty Loving Traveler

The Perfect Travel Bags
There's no more important item to a traveler than a good piece of luggage.

Jewelry Gifts for a Traveler

Home Decor Gifts for the Traveler
The perfect gift for the traveler's home that will remind them of the places they have been, and inspire them to seek out new destinations.

Gifts For the Travel Instagram Boyfriend
A special selection of some of the coolest and most unique travel gifts you can buy for the Instagram boyfriend (or any travel loving guy!).

Gifts for Travelers with Kids
Towing a little person around the world  introduces a whole new type of travel — and  the products below are worth their weight in gold when traveling with children.

PIN ME!